Today, so far, is a long, cold, rainy, dreary December day.  And today we broke our second cardinal rule – don't travel in the rain.  Due to weather conditions, we traveled 60 miles at a very slow pace.  One good thing about going slow is that you don't have to pass or confront so many commercial barges.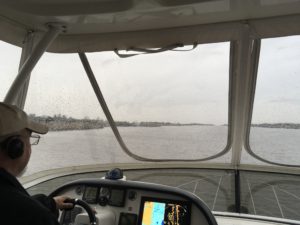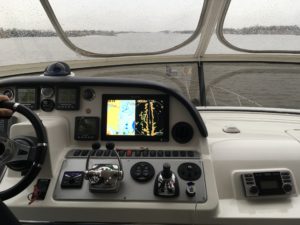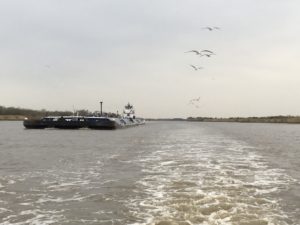 When we arrived at Morgan City, Jerry and Mack (his dog) helped us arrange our two boats on the short municipal dock.  Jerry lost his sailboat during one of Florida's hurricanes.  His brother had this sailboat, "Tenacious", in Texas.  Jerry is slowly moving it from Port Aransas to the Florida Keys.  No hurry Mon!  We shared a visit and cigars with Jerry before having another seafood platter at Cafe JoJo's.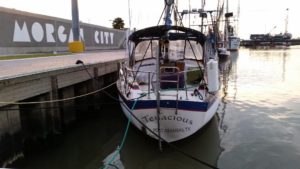 Look closely here – a lesson in tides.  When we arrived the "dock" was well above Karen's office window.  When we returned from dinner, the "window" was well above the dock.  You can also see the seawall gate in the background – it closes during floods and hurricanes to protect the city, similar to the discussions Nashville is considering to do at it's riverfront.