HAPPY BIRTHDAY BROTHER "CAPTAIN RONNIE" IN HOUSTON!
We got an early start out of Lake Charles.  Smooth sailing most of the day, some really glassy waters and dolphins swimming in our wake again.  With 2 locks, 2 bridges and a bit of tow traffic, it took us 6 hours to travel 92 miles on the ICW.  The tankers out of Lake Charles are still intimidating when you're only feet away from a 700-800 foot tanker (reference:  nearly 3 football fields long).  Only in southeast Asia would they have such a bright orange tanker!  The orange tanker, "Eagle Klang" is a crude oil tanker from Singapore and over 800 feet long.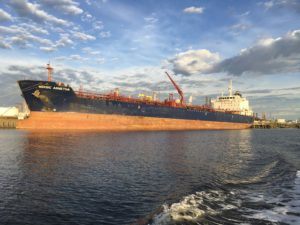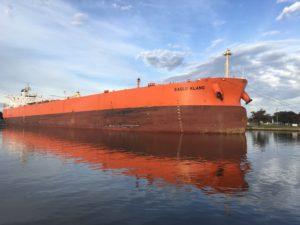 We passed Captain Kirk again on the rebound, he was glad to see Santa.  We always delight in seeing the abundant wildlife and fowl along the way.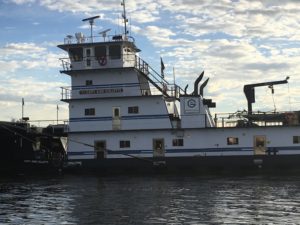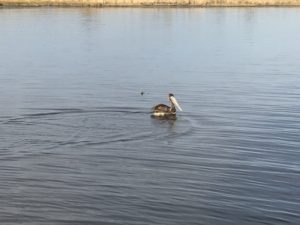 Karen will be glad to trade all of these tows and barges and snow and wind in for some tropical palm breezes and sail boats!  It's funny, we pass tows and barges one day and a day or two or three later the same tow will pass us.  The reason we see them numerous times is that they run 24 hours a day.  We pass them and stop for the night, they pass us back during the night, which allows us to catch up and pass them again another day.
Today Karen moved from her corner office (with a view) – to the Penthouse.  Scenery is really nice up here so when she is not assisting with navigating or relieving the Captain, she is catching up on paperwork (or playing solitaire).  That's what great First Mates do!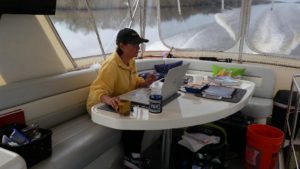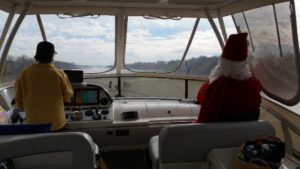 We are staying at Shell Morgan again, in Abbeville, Louisiana.  Great people and great fuel prices!  No other amenities, just great people and fuel!  We walked to the local grocery to dine at their grill, only to find they closed two hours prior to our arrival.  We bought a DiGiorno pizza, went back to the boat and settled in for the evening.  Ron had a long – and long overdue nap and then began charting our next several travel days while Karen played with the photos and blog.
Pizza is in the oven and the boat is rocking around…..after checking lines and fenders we realize HIGH TIDE has kicked in.  Ron rushes to adjust fenders and lines as Kara Mia is banged against the large concrete bulkhead…… another day in paradise!  (John Selby – don't you laugh now!).