Hi!  We're Ron and Karen, on Kara Mia 2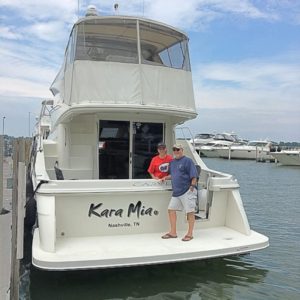 Our longtime dream has been to travel "America's Great Loop." The Great Loop is a 6,000 mile trip over rivers, lakes, and man-made canals that surround the eastern part of the United States. It is a continuous waterway that includes the Atlantic and Gulf Intracoastal Waterways, the Great Lakes, the Canadian Heritage Canals, and the inland rivers of America's heartland.
We were fortunate enough in 2016 to begin that journey! We purchased our Carver 43 Super Sport and set out on the first leg of our adventure.  In July, 2016 we rented a car, packed it full and headed to Marblehead, Ohio (Lake Erie) to board our boat and begin our Great Loop journey.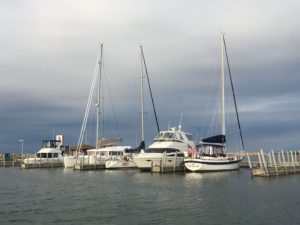 What a challenge it is to document the unique experiences we had daily on our 30-day boating adventure. Waking up to beautiful sunrises on the waters every day, enjoying each port's special sunset every evening, never knowing what would be around the next bend in the river. No grocery stores, no car, no TV, just husband and wife, together, 24/7 – on a boat. IT WAS GREAT!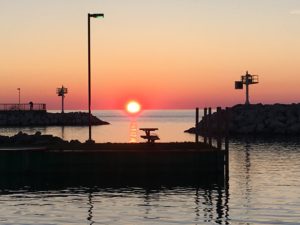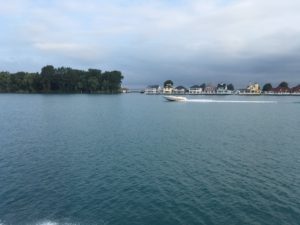 On August 25th. we pulled into our marina at the Braxton Condominiums (Harpeth Shoals Marina in Ashland City, TN), completing the first 1,600 miles of America's Great Loop. We are continuing our trip in the fall of 2017, down the Tenn-Tom Waterway to Mobile.   Most "loopers", as they are called (people traveling the Great Loop on a boat) take a year or more to complete the entire loop. Some travel sections, taking several years to complete their loop. They will leave their boat in a port somewhere along the route, return home to families, work, holidays, etc, and go back to pick up where they left off.  We hope you will follow our blog as we travel around America's Great Loop.
We learned you cannot always make plans that you expect to keep when "looping". One day the entire river was closed for 12 hours to all boating traffic, including commercial barges. Change of plans! They were running cables across the river with helicopters. Was interesting to watch – the first 3 or 4 hours. Due to our nation's tremendous commercial river traffic, we dodged hundreds of barges and spent many hours waiting for our turn to lock through. Despite mechanical issues, floating debris, weather and waves, it was still one of the more life affirming experiences we were blessed to have.
We experienced flying Asian carp on the Illinois River, we witnessed a memorial service at night on the Ohio River where about 50 sky lanterns were released into the night, we were stunned by the magnitude of the stars when anchored out overnight. We saw dozens of eagles, too many lonely lighthouses, traveled in 3 Great Lakes, 9 rivers and canal systems, 8 states and 2 countries (Canada & US). In one day, we endured 21 bascule or lift bridges, which required hailing the bridge master to request the bridge be raised, turned, or opened to let us through. As we rounded Mackinac Island we were struck by the crystal blue waters of Lake Michigan. The GM Building in Detroit, the Gate-way Arch at St. Louis, the night-time skyline of Chicago, were all different from the water. The size and intimidating nature of the Great Lakes gave us pause.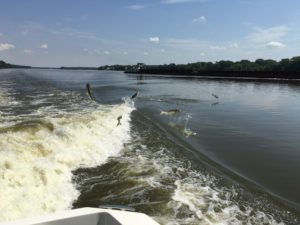 Some of the best parts of our trip were the ports, marinas and quaint little towns and villages where we docked each night. Our first night out on Lake Erie was brutal with 4-5 foot waves, but ended at an exclusive marina of over 800 boat slips and a 5-star restaurant. Another night we spent tied up to a barge on the Mississippi River that was called Hoppie's Marina and not even a vending machine there! Most nights were enjoyed with other Loopers and dock-tails, sharing information and stories about the looping experience. Most marinas were happy to provide courtesy cars, rides and assistance in many ways, even donating a bottle of wine to the cause at one stop!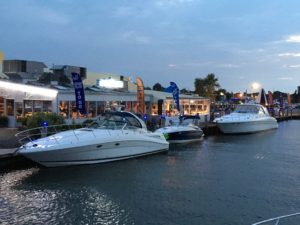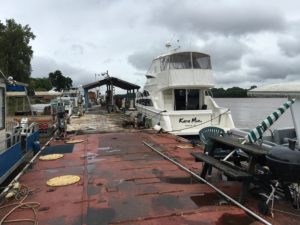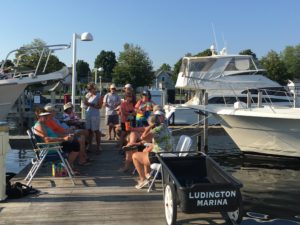 While it might not be for everyone, this is our passion and we feel this was just one part of the journey of our lives.
As "Maxine" says:
"Life should not be a journey to the grave with the intention of arriving safely in an attractive and well preserved body, but rather to skid in sideways, chocolate in one hand, martini in the other, body thoroughly used up, totally worn out and screaming WOO HOO, what a ride!"
Our Great Loop Adventure……how it all began:
After the fun (really!) of work and raising kids – girl scouts, cub scouts, soccer, dogs, cats, college, etc., we were finally empty nesters!  We were curious if we would still enjoy, and could afford, boating.  We purchased our first little Carver in June, 2010.  It was a 26 foot 1991 Carver Command Bridge.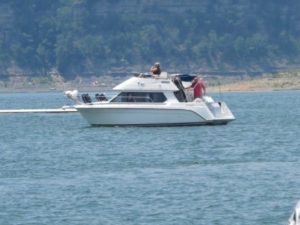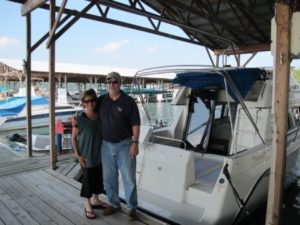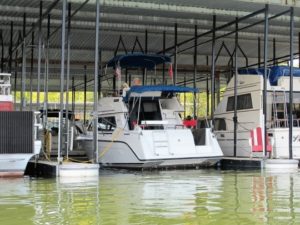 And with the help of our good friends, Mike and Moni, we brought her back from Conley Bottom Resort in Monticello, Kentucky and docked her at Black Jack Cove Marina.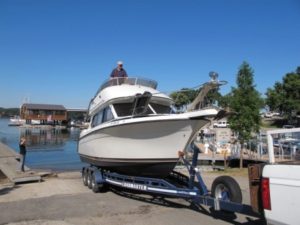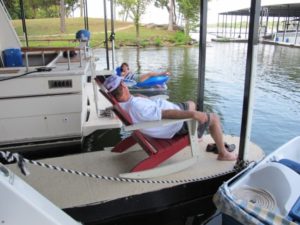 There we enjoyed several years of friends, jazz music and most of all – smoked chicken wings.  Our dock neighbor, Howard Groves took us under his wing and helped us through the learning curve of boating, docking, locking and friendship.  His partner Kathryn Madden and Karen spent hours upon hours paddling the harbor in Karen's paddle boat and sipping Mike's Lemonade while the men solved the world's problems from the dock.  It was at Black Jack that we also met our friends John and Jill Owen, who later moved to Cedar Creek Marina in Mt. Juliet, to be closer to home.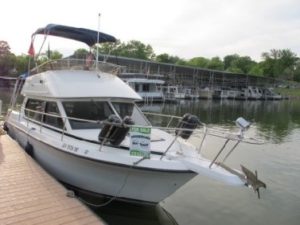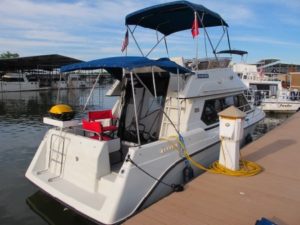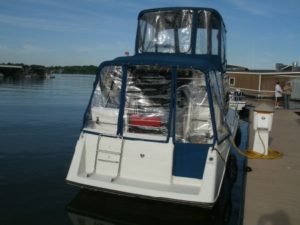 We spent several summers and winters at Black Jack Cove Marina.
We have two favorite pass times, one – boat shopping, and two – reading and learning about The Great Loop.  Not only do we spend countless hours on line looking at available boats, but we enjoy visiting other marinas, walking the docks and looking at boats.
In 2012, one particular 1998 Carver 355 caught our eye!  We drove to Chattanooga for the weekend to look at her and we were hooked.  It was not too long after that when we signed the contract.  Our next trip to Chattanooga was with our good friends Robert and Linda Mallory – to bring our "new to us", Kara Mia home!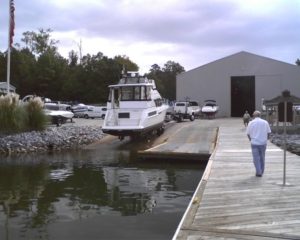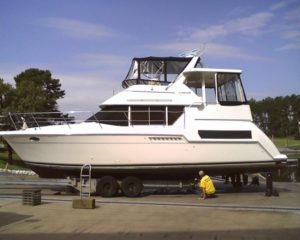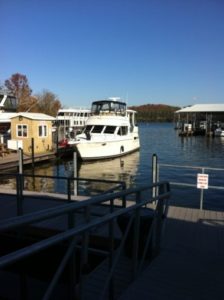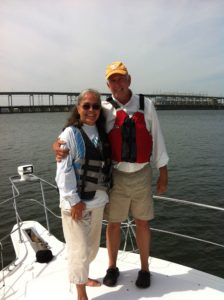 It took six days by river to bring her from Chattanooga to Nashville, and what an adventure that was.  Soon after our return we decided to move from Black Jack Cove Marina to Cedar Creek Marina in Mt. Juliet to be near our friends John and Jill Owen.  It was at Cedar Creek that we met Mike and Brenda Byrd, Kim and Bill Hood, and too many others to name.  There were countless dinners on the dock, at the Fishbone Grille, anchored out on Old Hickory Lake, happy hours, birthday celebrations, and new friends during the short year we were there.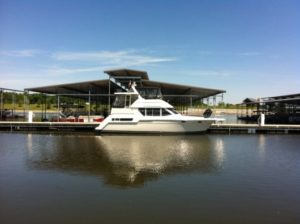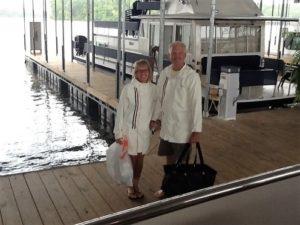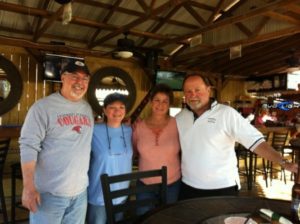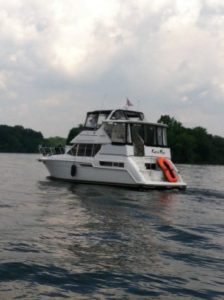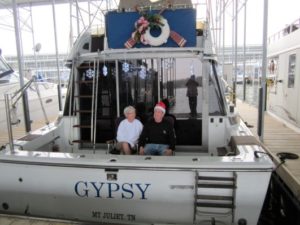 In September, 2013 we moved Kara Mia to Harpeth Shoals Marina to be near Karen's mom's new condo on the Cumberland River.  There would be countless more parties, happy hours, and new friends on our new dock.  We loved our Kara Mia and spent four years enjoying summers and winters aboard her at Harpeth Shoals.
All the while, we were still spending hours on-line, visiting marinas and walking docks looking at boats available for sale.  Ron had spotted a Carver 43SS in Chattanooga – all one level so he would not have to go up stairs to get on the boat, downstairs to get in the boat, down again to get to the cabin, up and then back down to get to the galley – you get the picture.  He just wanted to walk onto his boat and enjoy it!  So off we were again to Chattanooga for the weekend to look at boats!  We loved the 43SS but it was a bit out of our price-range at the time.  We continued to look…….
It was the summer of 2016 when our friend and co-dock-master, Brenda Williams, at Harpeth Shoals Marina asked for help on a transient Carver.  When we told Billie, the Captain of that Carver, that we had looked at the 43SS in Chattanooga, he suggested we look at one he knew about in Port Clinton, Ohio.  We looked at it on line and right away booked a flight to Cleveland, rented a car and drove to Marblehead, Ohio to look at the boat.  We loved it and put a contract on it the next month.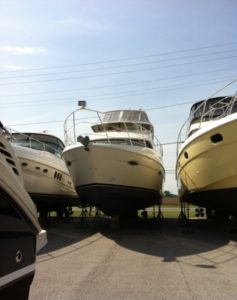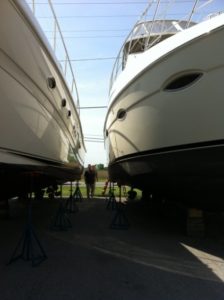 In July, 2016 we rented a car, packed it full, and were off to Port Clinton to bring back our "new to us", 2008 Carver 43SS, Kara Mia 2!  And so began our Great Loop Adventure……
We will continue our journey and blog this year when we leave Harpeth Shoals Marina and head south on the Tenn-Tom for Mobile and the beginning of our 6,000+ nautical mile adventure……hope you will join us!
Ron & Karen Atkisson