Got an early start with a beautiful sunrise.  Picture on the left is the bridge we docked under reflecting the morning sun.  Picture on the right is our exit to the Intracoastal via the Berwick Railroad Bridge.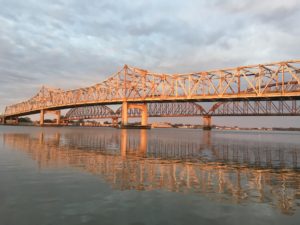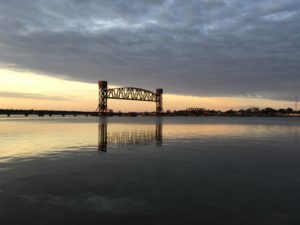 Shortly after entering the Intracoastal Waterway we encountered the busy Bayou Beouf Lock with tows on our bow and tows on our stern.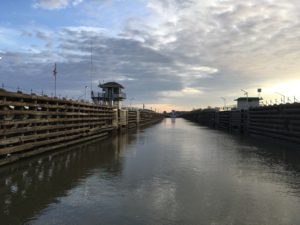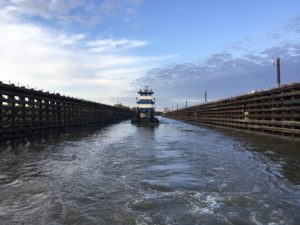 Always interesting sights along the waterway such as this sailboat in front of an old abandoned bunker or the beautiful bayou cypress trees with Spanish moss blowing in the wind.  Also notice the waterline on the trunks of the trees.  The tow captains commented on the skinny (shallow) waters this time of year.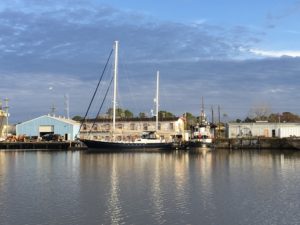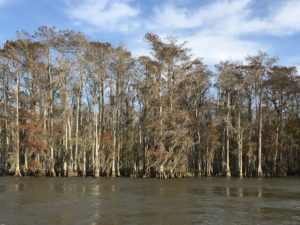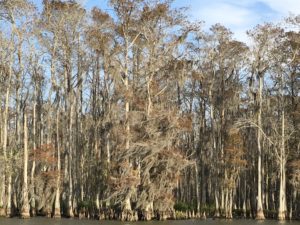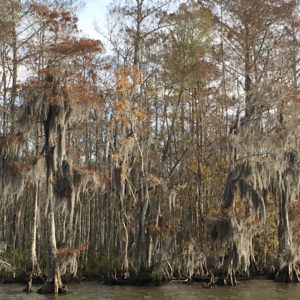 An interesting side note as we traveled through petro-chemical country – many locals lamented on how the petroleum industry had fallen off recently.  This was reflected by numerous harbors full of large idle ships.  We saw hundreds of these along the Intracoastal.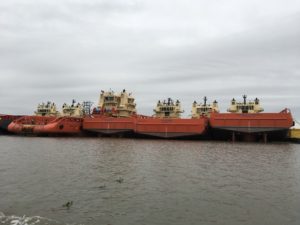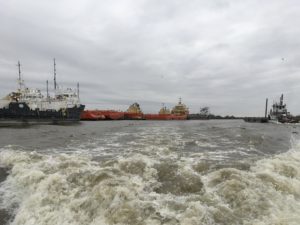 We arrived at Seabrook in New Orleans as the local fishermen were cleaning their catch of the day – a welcome treat for the pelicans!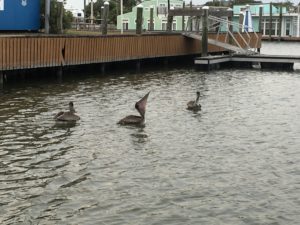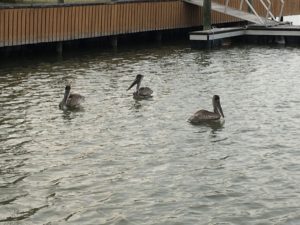 Our urgency was to make it through the last lock prior to it's closing (for maintenance) at 4:00 p.m.  After nine hours of travel, we made it through the last lock at 3:45 p.m.  Also our first experience being tied to a tow in the lock!  Not fun!
Showers and thunderstorms heading our way so we are hunkered down for a few days in New Orleans.  Oh darn!