Santa sneaked out last night after we had gone to bed.  He hit the Black Jack tables and did quite well.  He was back to the boat in time for our sunrise departure…..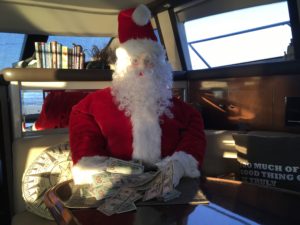 Initially we were not sure how far we would make it today but hoped to get into Texas.  Not much barge traffic and we had smooth sailing for most of the day.  We made good timing (34 MPH) and soon entered the open waters of the Sabine Lake.  Texas was on one side and Louisiana still on the other until we reached the Neches River.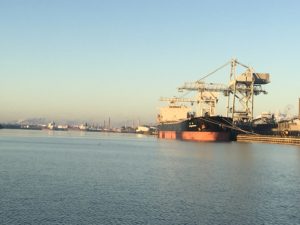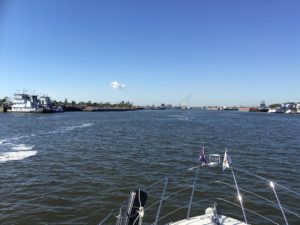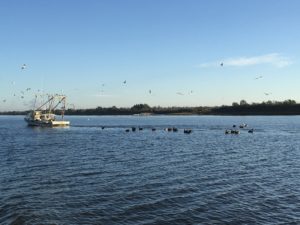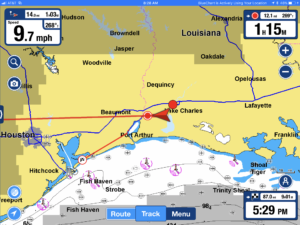 As we entered Texas, the first port town along the Intracoastal Waterway was Port Arthur.  The Port Arthur, Orange, Bolivar areas are where Karen's aunts and uncles owned and operated marinas and shrimp boats.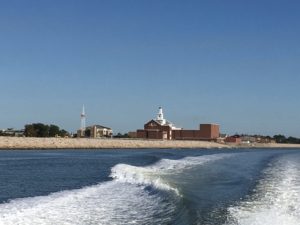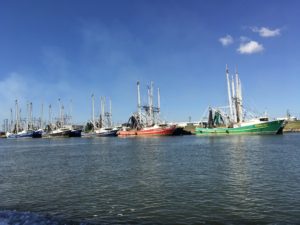 As we turned west, the waterway south of Galveston East Bay opened up to a broad expanse.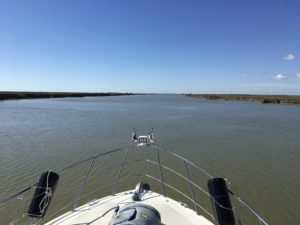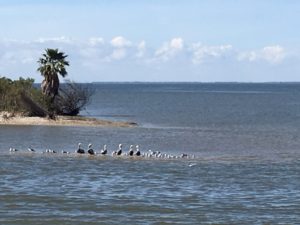 We made such good time we decided to pack two days worth of boating into one day and finally arrived at the Houston Ship Channel.  We covered over 150 nautical miles today.
Galveston Bay and the Houston Ship Channel – ships, tankers, sailboats, cruisers, waves, and a few navigational issues for us!  Battling the ocean going oil tankers was brutal, their wake, at 12 MPH rocked us with 5 foot swells.  We had three chart plotters, all exhibiting different routes and directions while we were in the middle of "ships, tankers, sailboats, cruisers, waves, etc.".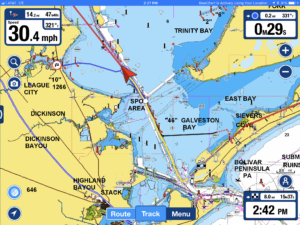 We took refuge in Seabrook Marina off the ship channel in the Kemah/Clearlake area.  We walked to Outriggers for dinner, where we enjoyed watching the boats coming in at sunset.  Had wonderful fresh seafood and were back at the boat and in bed by "boater's midnight" (8:00 p.m.)……. Looking forward to a few days to settle in and get some boating things done – get caught up on mail, bills, banking, laundry, etc……