Finally we are on the last leg of our "Bucket List Trip" and the end is bitter-sweet.  We traveled through our last lock today, our last of 115.  We traveled 7,134 miles and over 300 days.  We visited 133 marinas, anchored out under the stars, experienced more cultures and dined on more regional foods than we can remember.  We saw dolphins swimming in our wake, we sat on our boat at the the foot of "Lady Liberty" in the New York Harbor.  We watched the Blue Angels as they flew just feet above our boat in Annapolis for the graduating class of the Naval Academy, we lived through the Houston Ship Channel where 800+ foot cargo ships left us in wakes so high we could only see water surrounding our boat, we hiked and we biked.  We saw way too many museums and we had large Asian carp jump into our boat.  We collected over 300 "boat cards" from people we met along the way, we made life-long friendships.  We experienced Winter, Spring, Summer and Fall….on the water….on our boat.  Wow, I don't know what to write.
Today was our last lock, the Cheatham Lock, Mile Marker 148.6, on the Cumberland River.  Ten miles to go and our Great Loop will be completed.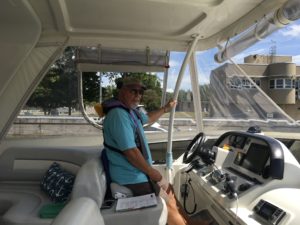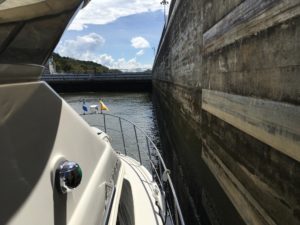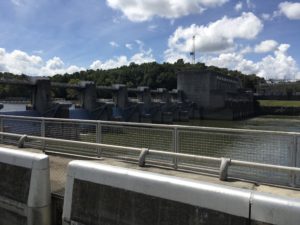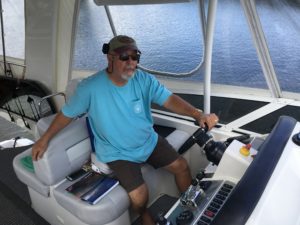 The beautiful white puffy clouds caught our attention today…..in our travels we experienced wind, rain, snow, ice, fog, cold, heat, tornadoes, many highs and very few lows.  Today was a beautiful day.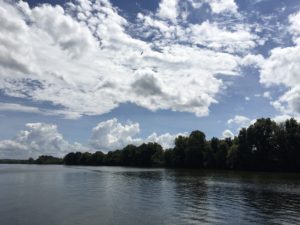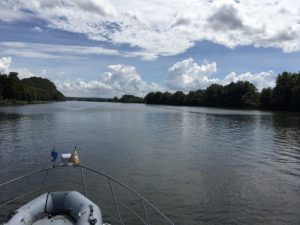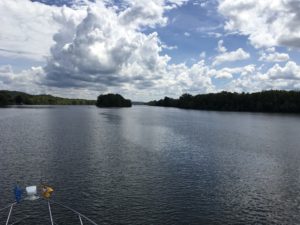 On a funny note:  We heard gunshots as we were cruising up the river today, minding our own business, and when we saw shells hitting the water in our direction we decided to call the local police.  Little did we know, it was opening day for duck season.  It's so good to be back in Tennessee!
Then we got waked by a "go fast" boat.  It was so bad we hailed him on the radio to thank him!  He didn't respond but he did have to wait at the lock for us to catch up.  The lock master made him wait on us so he would not have to open and close the locks and raise and lower the water twice!  They cater to barges and tows – but NOT to us pleasure boats!  Slowed that guy down!
Thanks to our friends Linda and Allen for these photos!  Linda caught us several miles down river from her balcony at the Braxton.  I really can't describe the feeling as it came into sight.  We were anxious to see our family and friends again – but not quite ready for this adventure to end.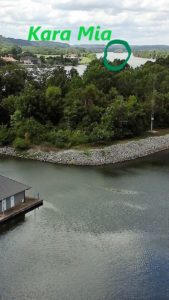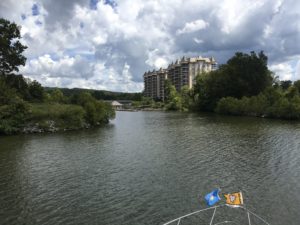 One year and 12,000 photos later……it was with mixed emotions that we pulled into our home port of Harpeth Shoals Marina in Ashland City, Tennessee – where this adventure began.  But the closer we got, the more excited we became – not knowing what to expect after traveling over 7,000 miles and spending a year away from home.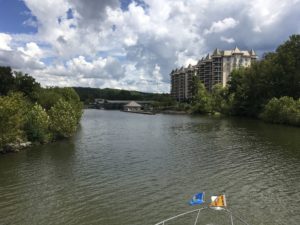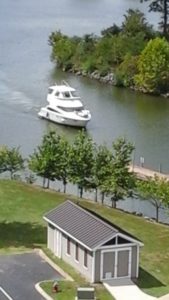 We swung around and backed into our old slip and it was just like we had never left.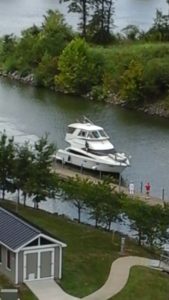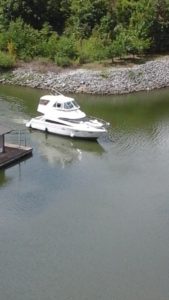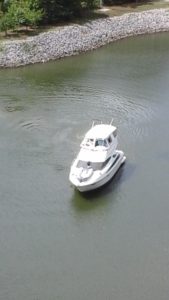 And there on the docks were our friends!  Thank you special friends who greeted us with Dom Perignon and Norman Love Chocolates,  thank you for the gifts of champagne and wine!  Most of all thank you for your friendships!  We are glad to be home.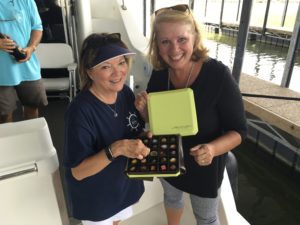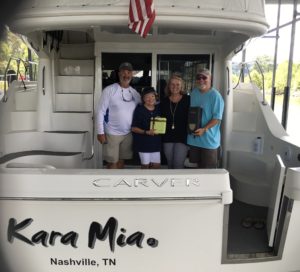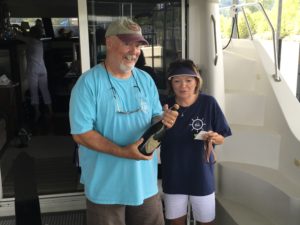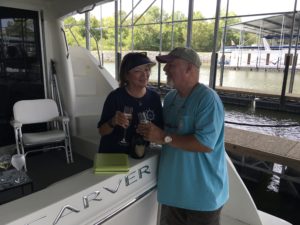 EB and Allen exchanged gifts of homemade moonshine – I think this has become a tradition with them.  If you want to know the story behind this you will have to ask "them".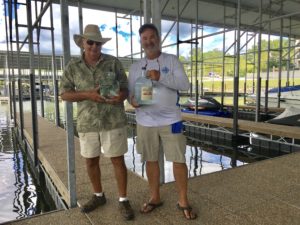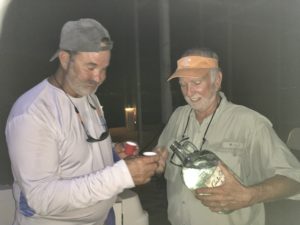 Reba found a bottle of wine called "The Loop"!  When they visited us in Mackinaw, they brought "Cara Mia".  That pretty well covers it for us!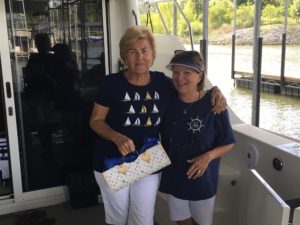 And we toasted to friendships and to our safe return……and enjoyed an evening of reminiscing and catching up!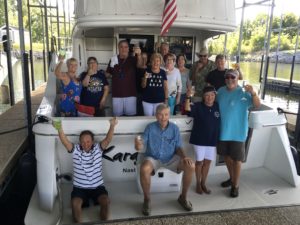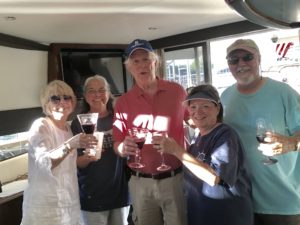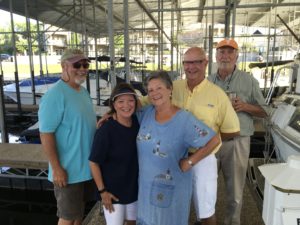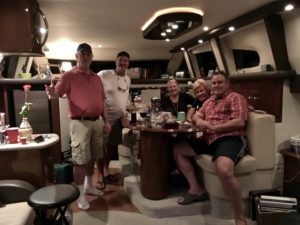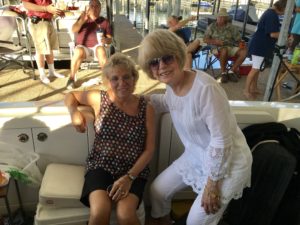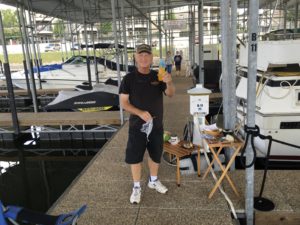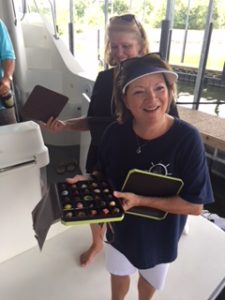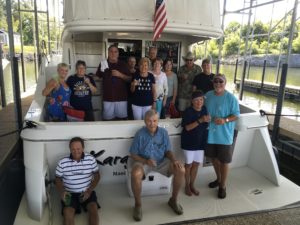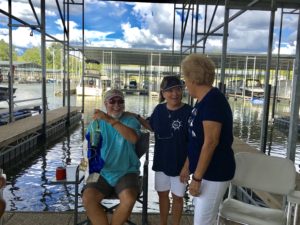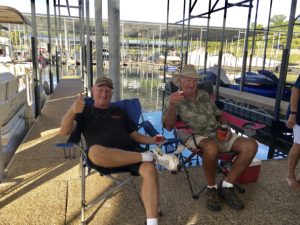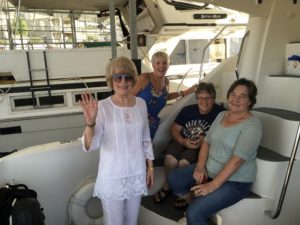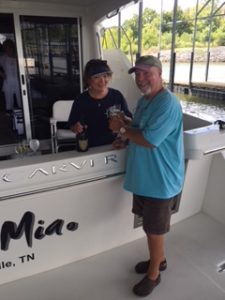 And let's not forget Santa.  Santa traveled over 7,000 miles himself.  He completed his loop today!  Santa is now a "Gold Looper"  and will fly his gold looper flag along with us.  We couldn't have done the trip without him!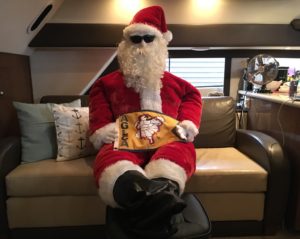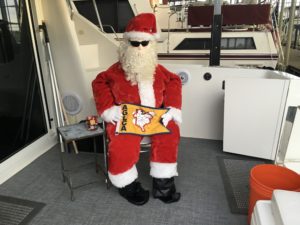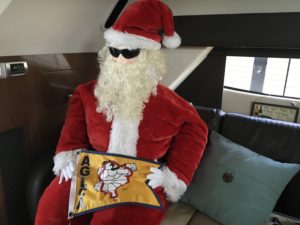 Santa and I are trying to talk Ron into a second Loop, time will tell!
TOMORROW – THE KIDS AND GRAND KIDS!
Just how does one end a book, or a trip of a lifetime?……………………………………………
"Say goodnight Gracie"……..