It was a short 13 mile travel day but it was in fog and light rain.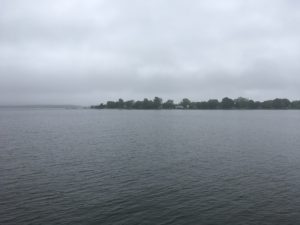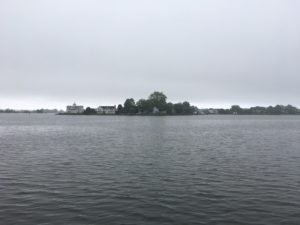 Our destination was Oxford, Maryland, a very quaint and historical port on the Tred Avon River off of Chesapeake Bay.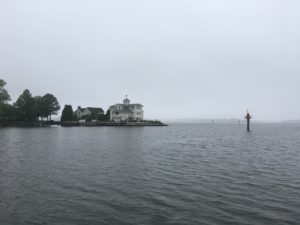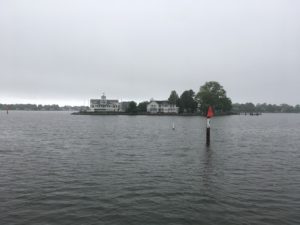 Herb had beat us to Oxford Marina.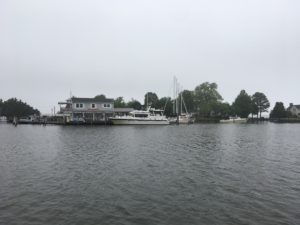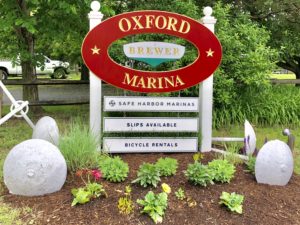 Oxford, population 651, is home to the oldest continually operating ferry and inn in the United States – The Oxford-Bellevue Ferry – and The Robert Morris Inn.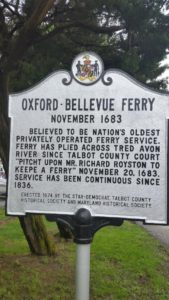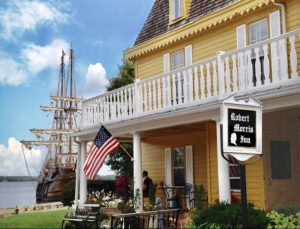 Many of the old homes ran along the water and town beach.  Our walk around town was without doubt a walk back in time.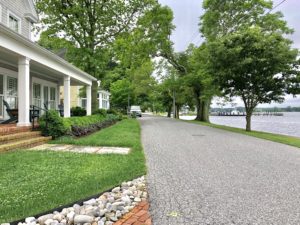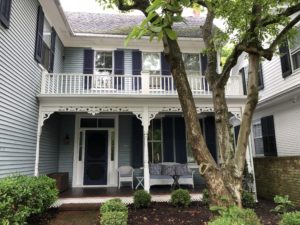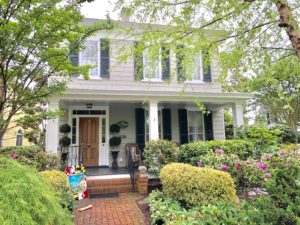 The houses have narrow frontage to the street but go deep into the lots……..and the landscaping was impeccable!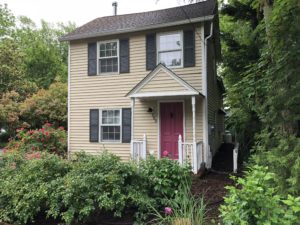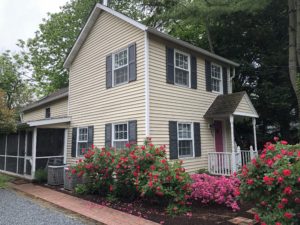 This is town spa and Methodist church……there were a lot of Methodist churches in this rural area of Maryland.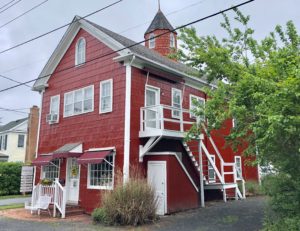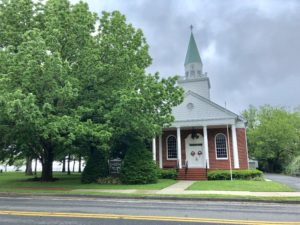 We did a little shopping at the Treasure Chest and the "quite unusual" Oxford Market…….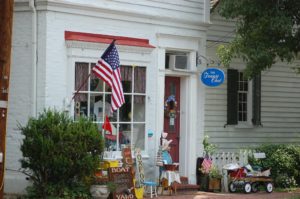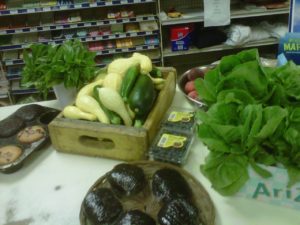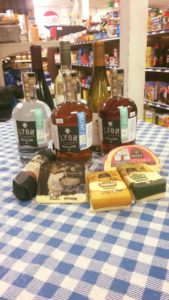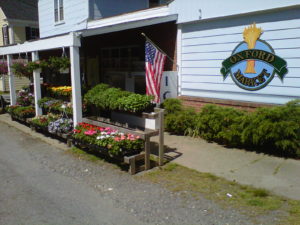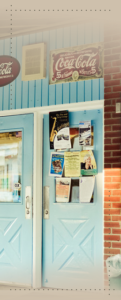 As a unique feature, small picket-fence signs were placed around town…..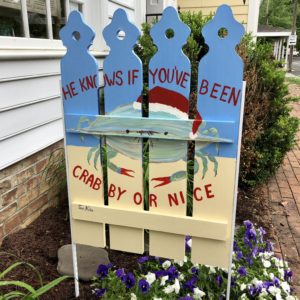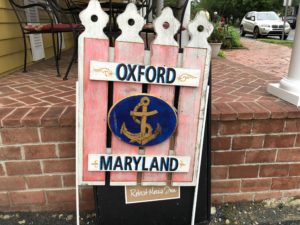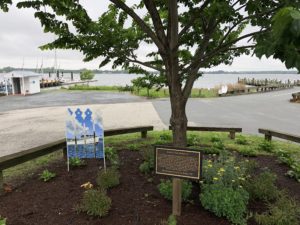 Despite being a sailing center, this is one of Hinckley's larger facilities.  If you're not familiar with their boats – look them up!  They are beautiful and well-made….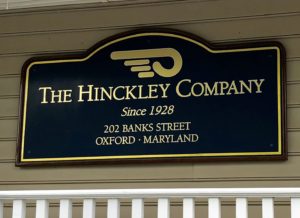 We saw several tiny houses adjacent to larger houses…..not sure if the Mother-in-Law is in there or not……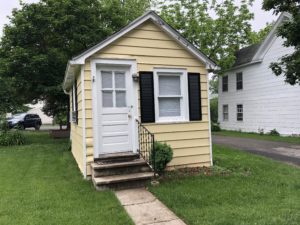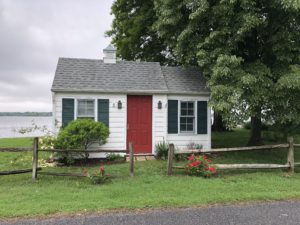 We had docktails on "Phantom" before walking in the rain to dinner at the Robert Morris Inn……notice Karen's rain hat!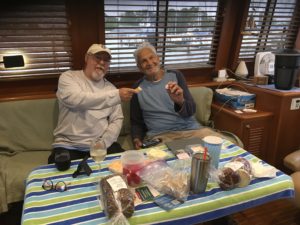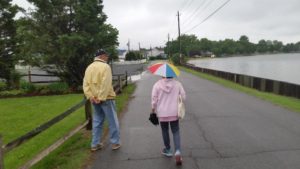 As we finished our shrimp and grits with grilled asparagus we realized the local ice cream shop would close in 8 minutes.  We had not had ice cream since leaving Nashville in October last year but Herb was determined to have his ice cream!  Our waitress told us it was just "one block down then to the left two blocks" – so we headed out in a hurry.  After a brisk five minute walk the shop was no where in sight!  With three minutes to spare we spotted the sign – about another 10 blocks!  Herb coached Karen on – "Run Karen – Run!!!!", as he dialed them to ask that they not close – we were almost there.  We left Ron behind and it started to rain…….  Karen made it to the window as they were pulling down the last blind.  They opened back up and served us with a smile…….Scottish Highland Creamery has been voted the best ice cream in Maryland for the last 10 years and is on the Dessert Professional's "Top Ten Frozen Dessert Retailers in America" list!  The ice cream is handcrafted, one gallon at a time, on site.  It's the freshest ice cream you'll ever taste!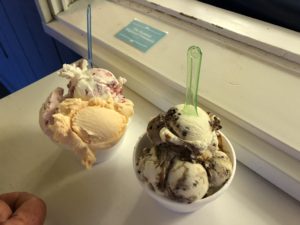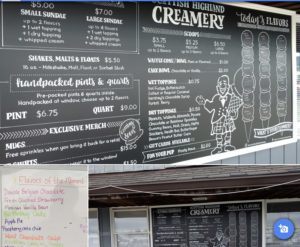 Herb left in the rain early the next morning – heading to St. Michaels……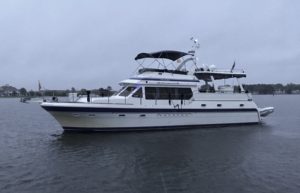 We enjoyed a slow rainy day and made pizzas on the boat for dinner…..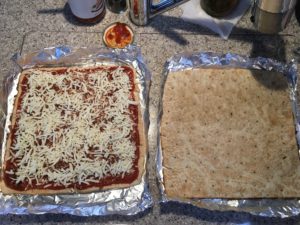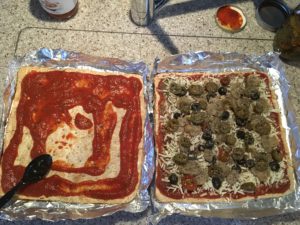 …and Ron helped……with jalapenos of course……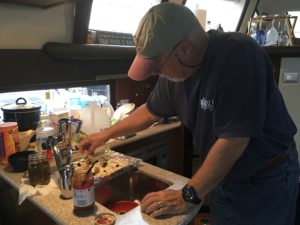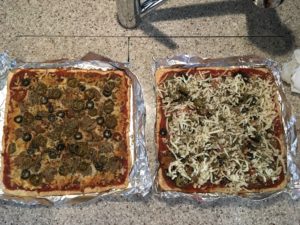 We had not seen the sun in over 72 hours and were delighted that it peeked out just before it set……..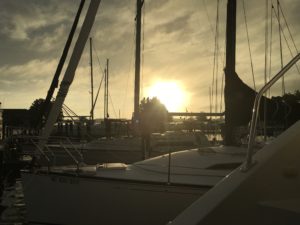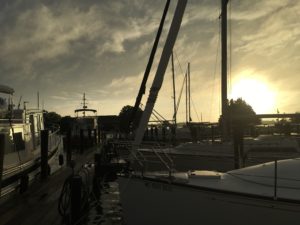 Random pictures of flowers and a painting……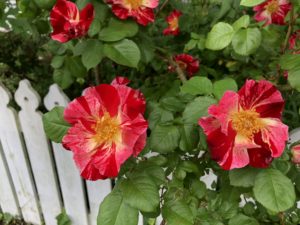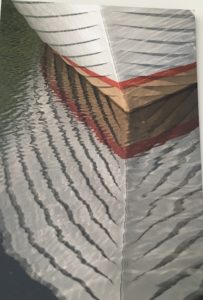 Oxford was Ron's favorite marina and town of our trip so far!