It was quite the hike from the marina to the Express Train and we were excited to see New York City!  We traveled with Looper friends Bru and Sandy aboard "Coconuts".  There was only one stop on our trip – Harlem – and we arrived at Grand Central Station around 10:00 a.m.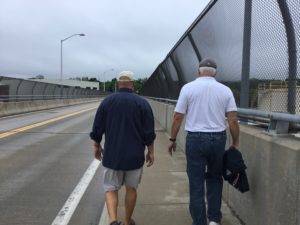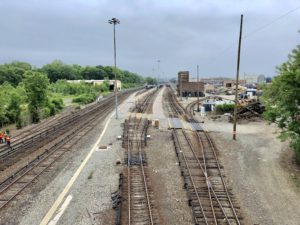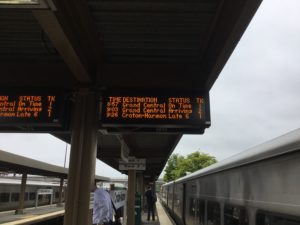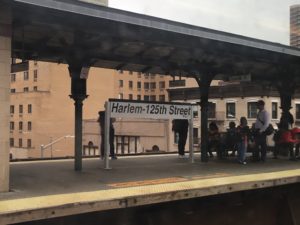 Starting at Grand Central Station we hit the streets intent on seeing the whole exciting city in one day!  First stop, Time Square, a major commercial intersection, tourist destination, entertainment center and neighborhood in the Midtown Manhattan section of New York City.  And we "window shopped" on Madison Avenue.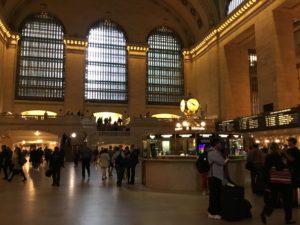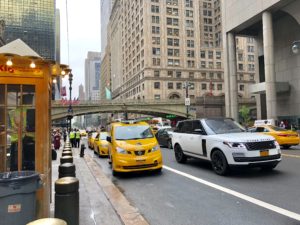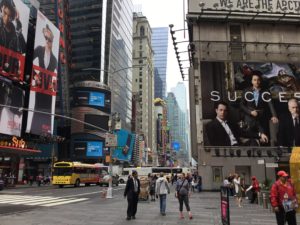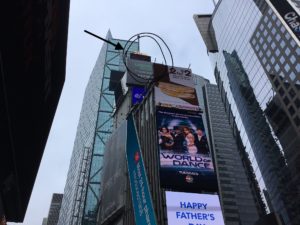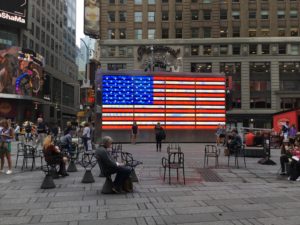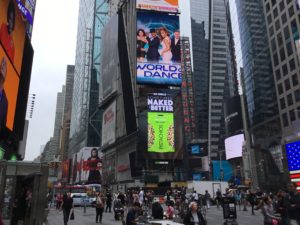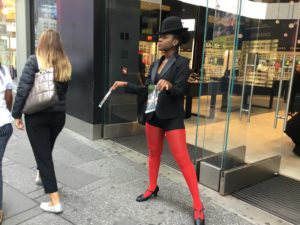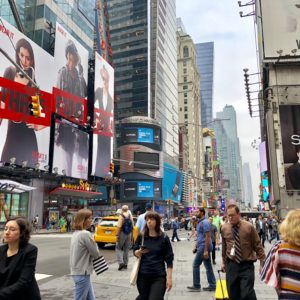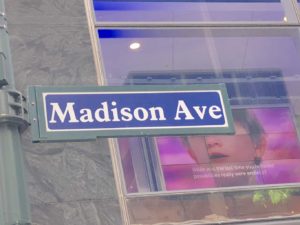 Radio City, Fox, NBC, The Tonight Show with Jimmy Fallon, ABC's Jimmy Kemmel Live and Rockefeller Plaza were next.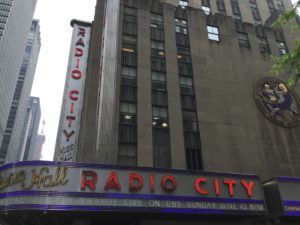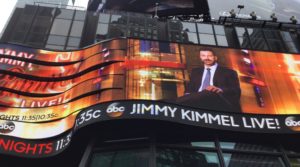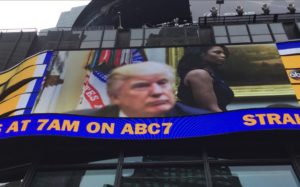 We needed a short break so we stopped in Rue 57…….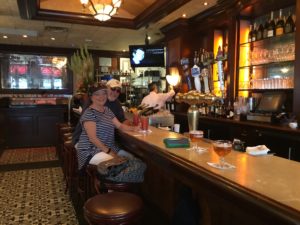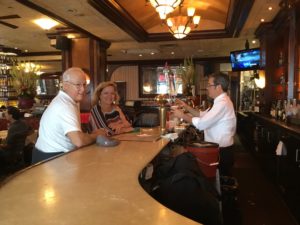 Then on to Central Park….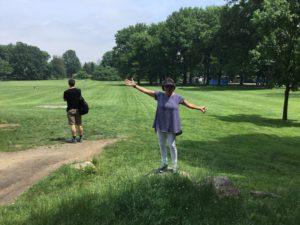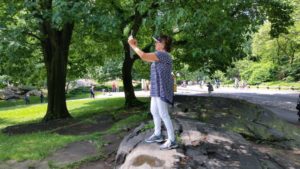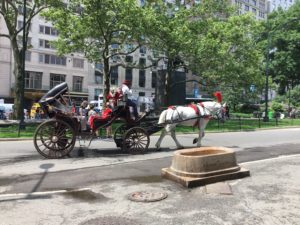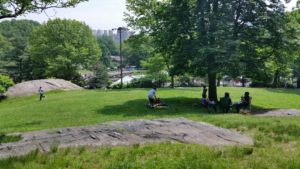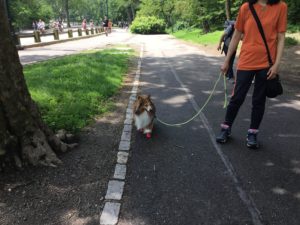 We stopped at "Tavern on the Green" in Central Park.  A number of famous movies were filmed here – Breakfast at Tiffany's, Wall Street, Arthur and Ghostbusters – to name a few.  In its heyday, Tavern on the Green was also known for glitzy decor and boldface guests such as Grace Kelly and John Lennon.  We ordered deviled eggs, flatbread pizza and drinks.  Karen poses in the newly opened Bubble Gardens.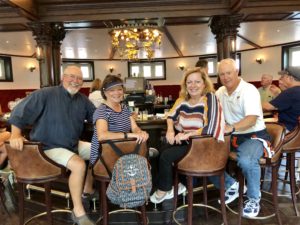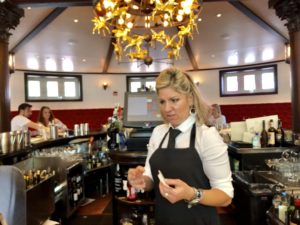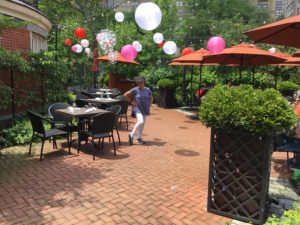 We visited TRUMP TOWERS at Lincoln Square…..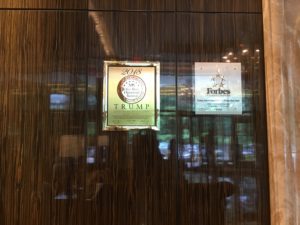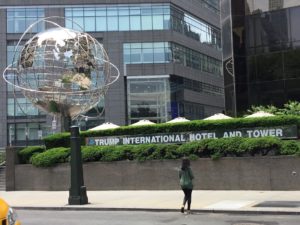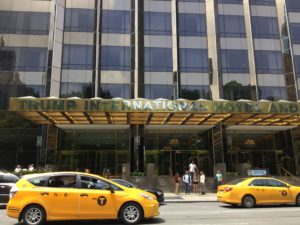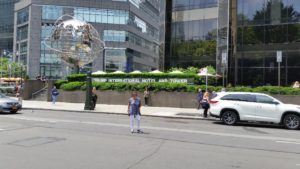 While at Lincoln Square, Ron also got his long awaited hot dog……Bru joined him…..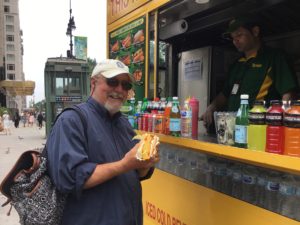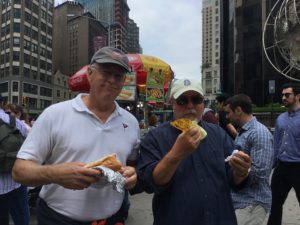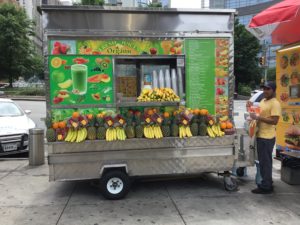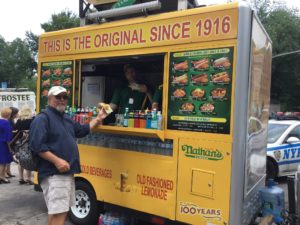 Walking around New York City…..we found BarBacon in Hell's Kitchen.  Hell's Kitchen is a neighborhood on the West Side of Midtown Manhattan.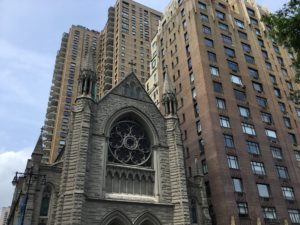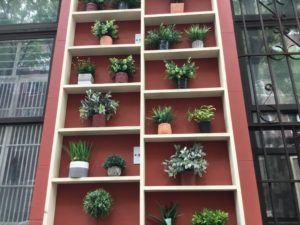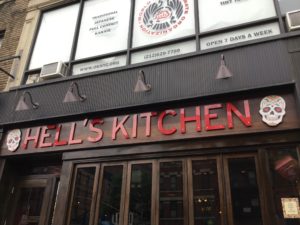 At BarBacon they serve bacon with EVERYTHING.  A flight of beer comes with a flight of bacon (jalapeno bacon, maple bacon, slow smoked bacon).  Even a glass of wine is topped with a slice of bacon.  Not sure what this did for our arteries, but we really enjoyed this stop!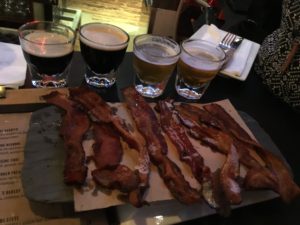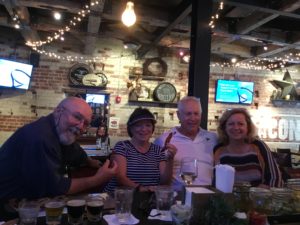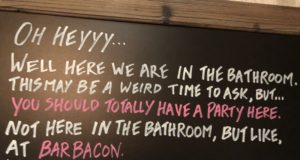 Our first subway ride.  We took the #4 Subway to Fifth Avenue and then walked to the 911 Memorial Reflecting Pools.  It was moving being here.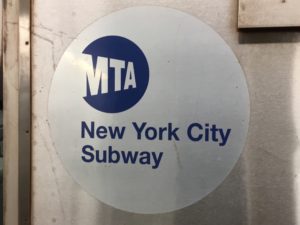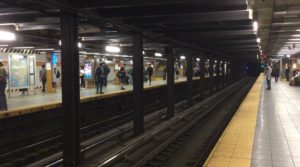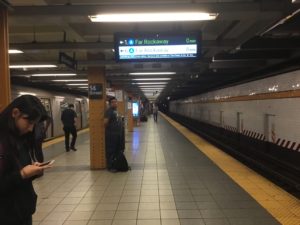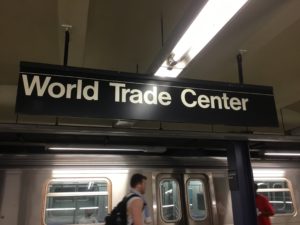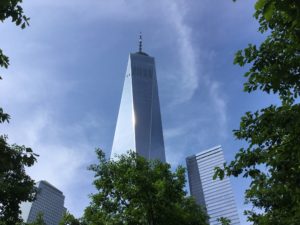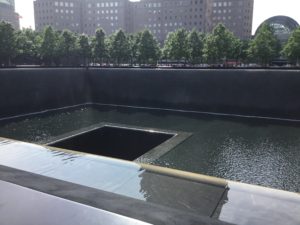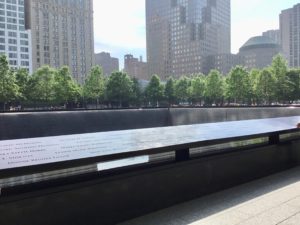 After the attacks of September 11, 2001, St. Paul's Chapel, which sits directly across the street from the World Trade Center site, suffered no physical damage.  Much of its survival was attributed to a single sycamore tree in the courtyard. The tree sheltered the church from the falling debris of the Twin Towers.
In the weeks following the attack, well-wishers created a make-shift memorial along the iron gates that surrounded St. Paul's by leaving thousands of pictures, notes, cards, patches from different fire departments worldwide and flowers dedicated to those who lost their lives.
Others posted pictures on the gates of loved ones lost in the tragedy, hoping that by some miracle someone might see one of the faces.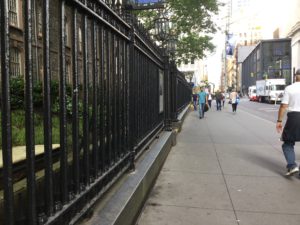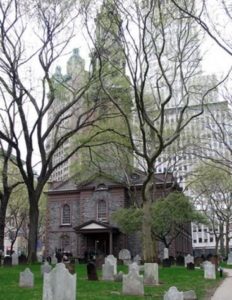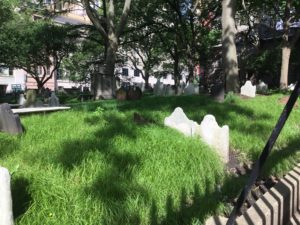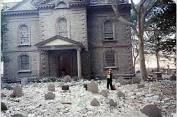 Then it was back to the Subway and on to Grand Central Station to catch the express train back to the marina….