We left Marathon early Sunday morning through a pod of dolphins in hopes of smooth travel to Caloosa Cove Resort & Marina in Islamorada, Florida.  Islamorada is situated between the saltwater wilderness of Everglades National Park and the deep blue waters of the Florida Strait and is made up of six islands: Plantation Key, Windley Key, Upper Matecumbe Key, Lower Matecumbe Key and the offshore islands of Indian Key and LignumvitaeKey.  Off the Atlantic coast is the "Tennessee Reef".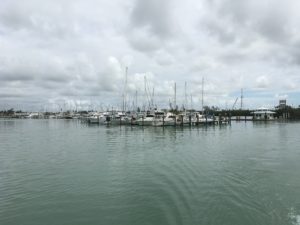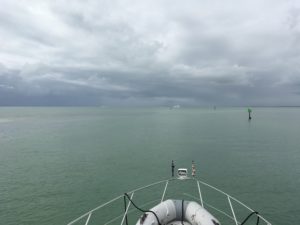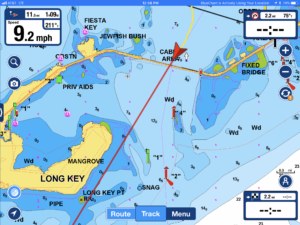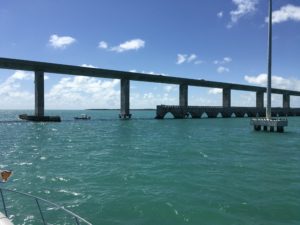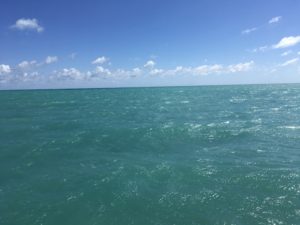 We were greeted by Joe and Reba on the dock near their winter condo at Caloosa Cove.  After settling in we were treated to a grilled pork chop dinner and fresh veggies.  Reba is always good for a home-cooked meal!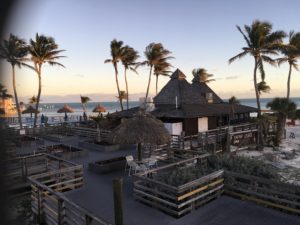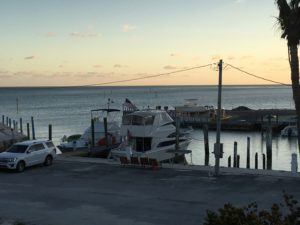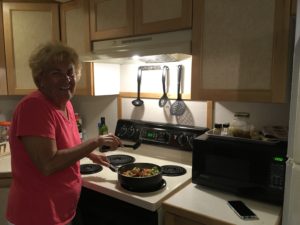 We began our mornings with a four mile walk out over the bridges between the Gulf and the Atlantic Ocean.  Some mornings different routes took us through more nature and beautiful homes.  Along the way we were entertained by all aspects of land, air and sea.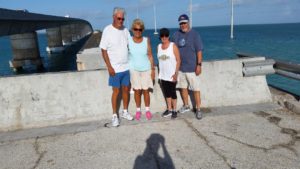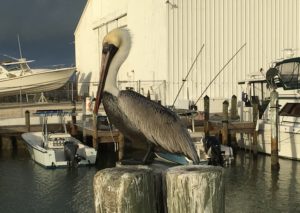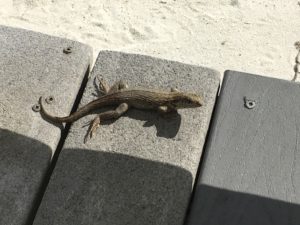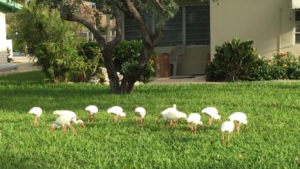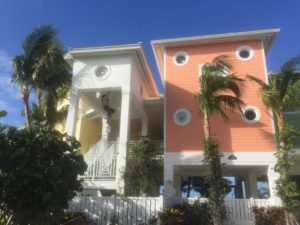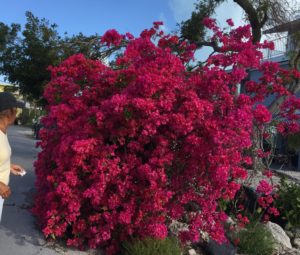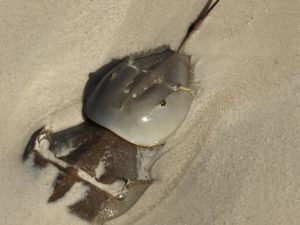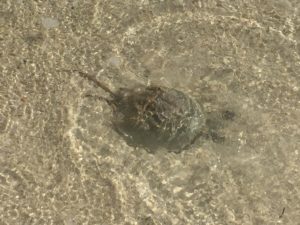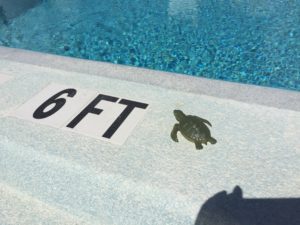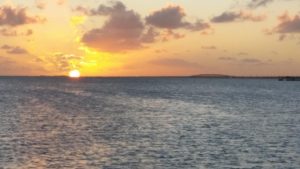 Islamorada was not immune to Hurricane Irma's damage.  Evidence of the losses were numerous.  Below you see the pool – but the house was gone!  The vegetation that hid many of the homes was destroyed and will take years for regrowth.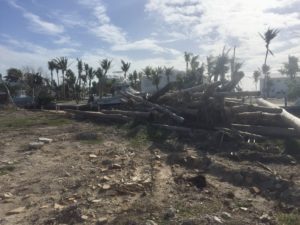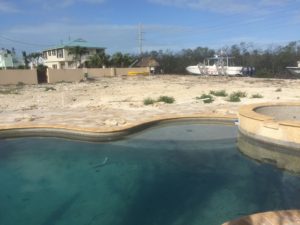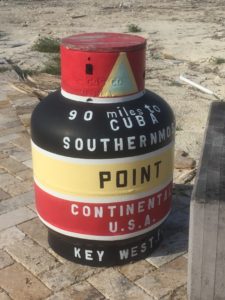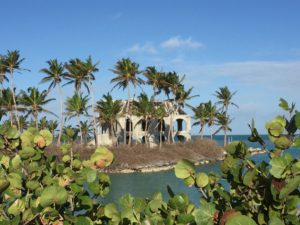 Time not spent in restaurants, shopping or visiting by the pool was spent doing some maintenance on the boat.  Karen was not happy to see Ron working atop the boat in 25 mph winds!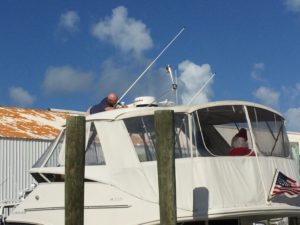 A big part of the Looper experience is food and drink….and here are some of our favorite dining places around Islamorada…..
The Lobster Crawl Tiki Bar…….in a nearby RV park…..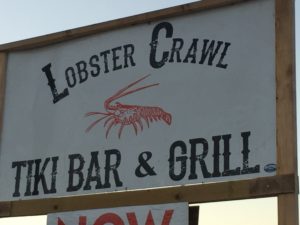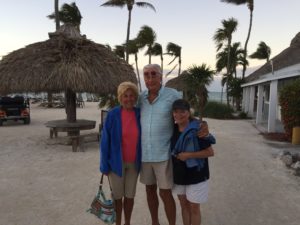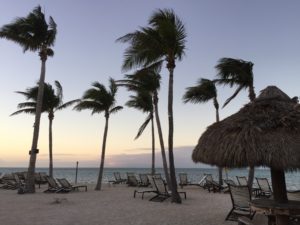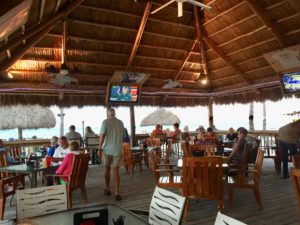 The "No Name Pub"…….in Big Pine Key.  No Name Pub is worth finding, it's a nice place – if you can find it!  Upon arrival you are greeted with a sign, "You found it!"  No Name dishes up some tasty eclectic pizzas in their historical building.  The decor makes this the king of Funky Florida which includes thousands of dollar bills stapled to the walls and ceiling.  We were joined at No Name by Randy and Cheryl, condo friends from Caloosa Cove.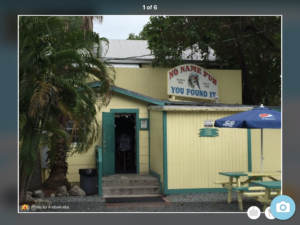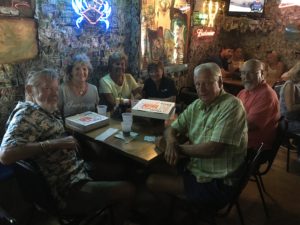 On one of our final evenings in Islamorada, Joe and Reba treated us and Cheryl and Randy to a great grilled steak dinner at their condo…..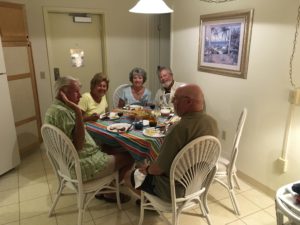 We started some days with a sunrise walk on the beach……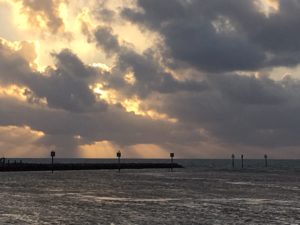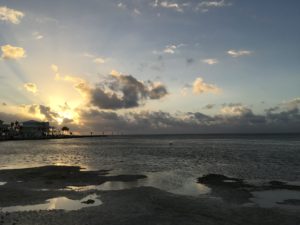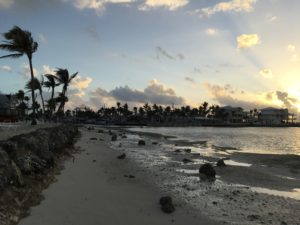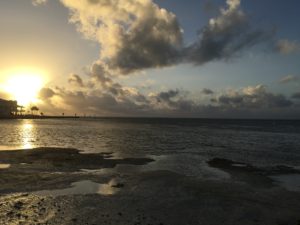 ….. and later each day we enjoyed happy hour together.  Having found abandoned orange patio furniture on our dock, we decided to designate them as our "Orange Chair Lounge", a place to meet in the evenings for docktails.  Our plans quickly changed when we discovered our lounge decor being absconded with!  With no place to sit, we moved to Kara Mia where we could enjoy the ever constant ocean breeze.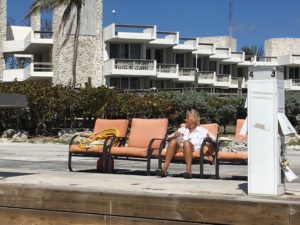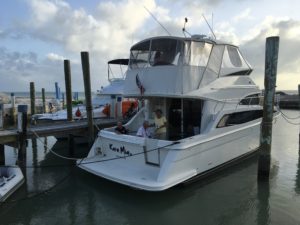 ………….and so ends our first several days in Islamorada!