Saturday was catch-up day.  Ron helped Herb do some work on his boat while Karen caught up on laundry, blog and "household" chores.  We had the "Seafood Pot" for dinner at The Lobster House.  It was a pot full of steamed lobster, scallops, crabs, mussels and shrimp.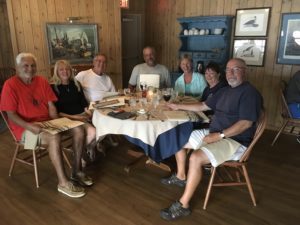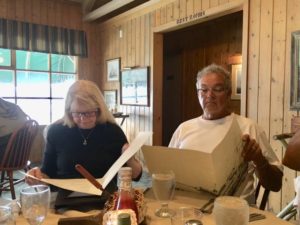 Yet another waitress "selfie"…….this must be a new "thing" because it has become a regular in our dining experiences!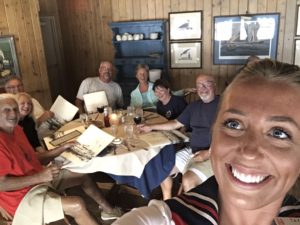 Boaters normally do not "dress" for dinner because we are usually trudging through dirty boat lots, climbing rock walls or over fences to get there!  Tonight was no different.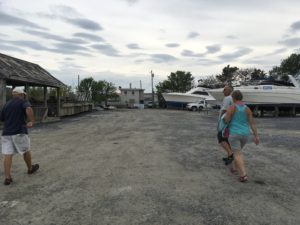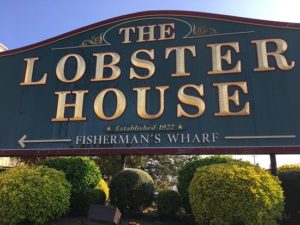 The Lobster House overlooks Cape May Harbor and offers a variety of dining in a uniquely nautical atmosphere.  It houses five dining rooms – each with its individual menu (The Take-out, The Raw Bar, The Schooner – an actual 130 foot Grand Banks sailing vessel, The Fish Market and the Lobster House Restaurant).  We had dinner while watching both commercial fleets and yachts passing by.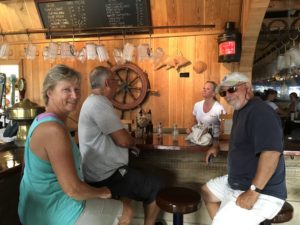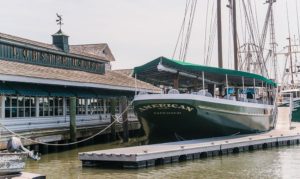 Sunday we borrowed the Harbor Host's (Bruce) truck to tour Cape May.  Cape May covers an area of less than 3 square miles and has a population of less than 3,000 – so it did not take long to get a feel for the area.  In the summer, Cape May's population is expanded by as many as 40,000 to 50,000 visitors.
SIDE NOTE:  The State of New Jersey still has "Full Service" gasoline stations.  In this generation of "self-serve", many might not know what that is!  There are only two states in the country (New Jersey and Oregon) where retail customers are prohibited by law from pumping their own gasoline and self-serve stations are banned.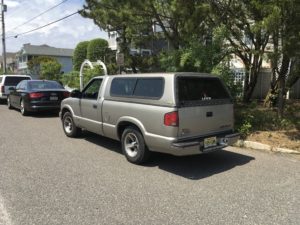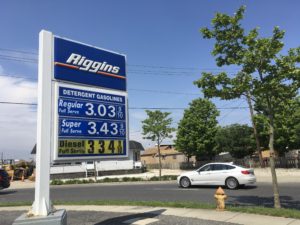 The entire city is designated the "Cape May Historic District", a National Historic Landmark due to its concentration of Victorian buildings.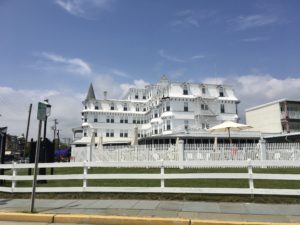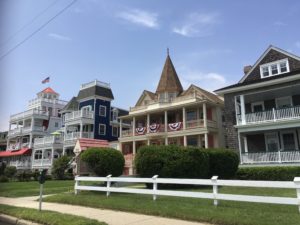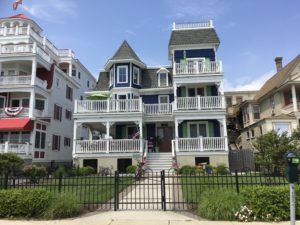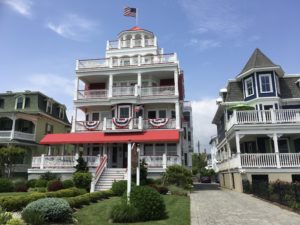 The Travel Channel recognized it as one of America's top 10 beaches.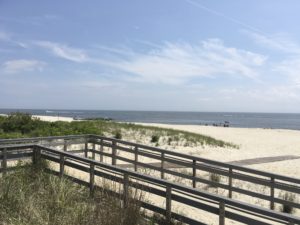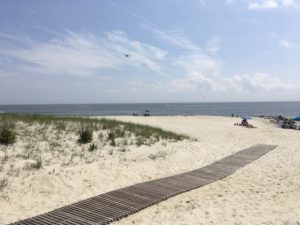 The Cape May Lighthouse (built in 1859) and the WWII Lookout Tower are tourist highlights…..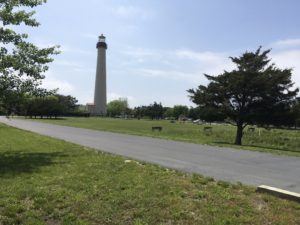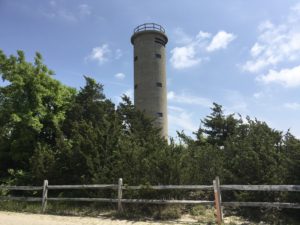 Our final stop was at the Sunset Liquor Store for a bottle of wine.  The outside resembled an old saloon.  Inside was the coziest liquor store I've ever seen.  Very organized and neat with a nice scent from a burning candle – a nice change of pace that we don't usually encounter.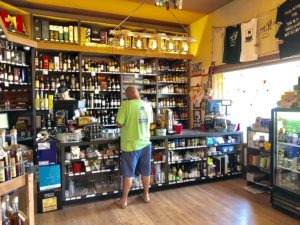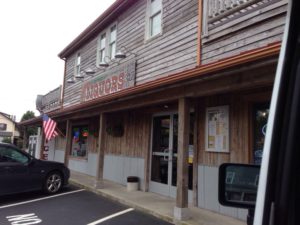 Tropical storm "Alberto" had made its way to the Mid-Atlantic states and we were the recipient of some pretty serious rain and winds!  Being so close to the coast and bay, we rocked and rolled as the temperature dropped.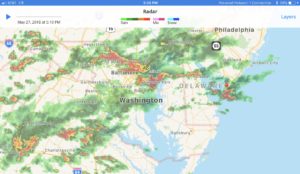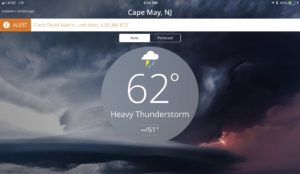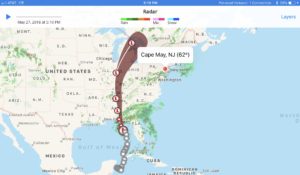 Rick and Deedy invited us to dinner on "Rejoice".  Rick, a gourmet chef by profession, prepared a French dish, Coq Au Vin – it was delicious.  Having shared several "first" moments with Rick and Deedy, this was their first entertaining for dinner on their boat and we were glad to be the guests of honor!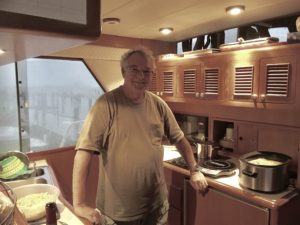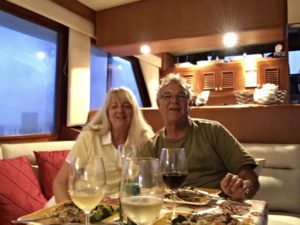 Last but not least – Happy Birthday Stephanie!
Monday was Memorial Day and Karen decorated Kara Mia.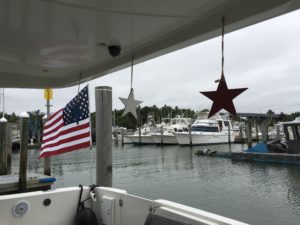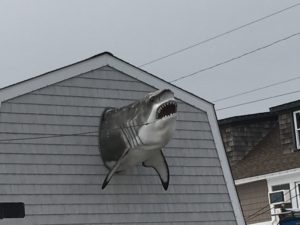 We walked to the the South Jersey Marina where we found several loopers already already gathered.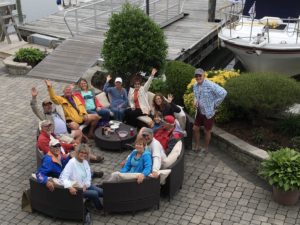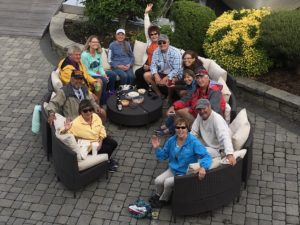 We had dinner with Steve and Jane on "Sabbatical" and Rick and Kris.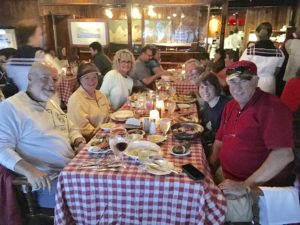 After dinner we sat at the bar to watch the Caps vs Knights hockey game.  Being from DC, Rick and Kris are big fans!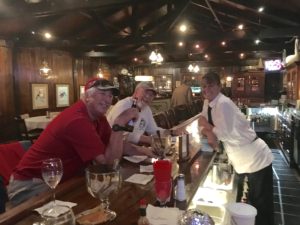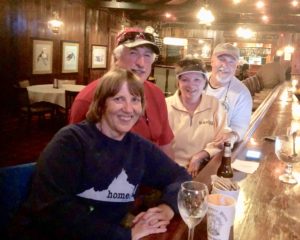 ….tomorrow we hope to get our props back……