In preparation for a late travel day, we had a hearty breakfast at the Salt Cracker Fish Camp.  A short distance away was Pier 60 which features a 1,080-foot fishing pier and recreational park.  The reason Pier 60 is such a popular spot for anglers is its many lights which make it ideal for night fishing.  Pier 60 also is home to one of largest beach playgrounds on the Gulf.  Clearwater Beach is known for its white sandy beaches.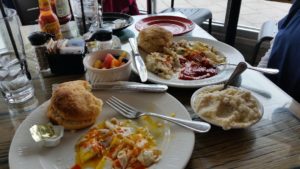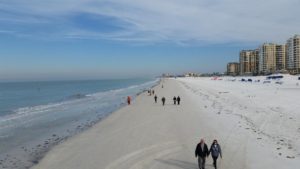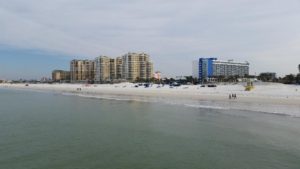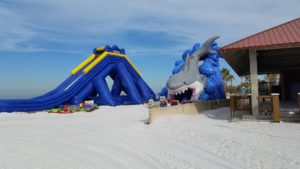 After our walk on the beach, we pulled out of Clearwater Marina headed through the Narrows (ICW) for St. Petersburg.  The Narrows is a narrow section of the Intracoastal Waterway which passes through several beach communities (Sand Key, Indian Rocks, Madeira Beach and Treasure Island).  Because of homes, most of this travel only allows minimum wake speed (6-7 mph).  The shoreline is dotted with expensive high-rise condos and multi-million dollar beach homes.
……and yes, there were more beached boats!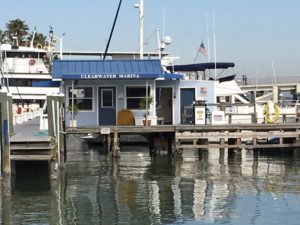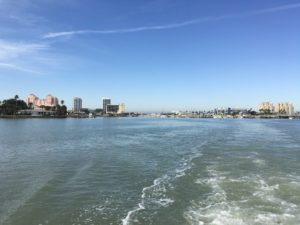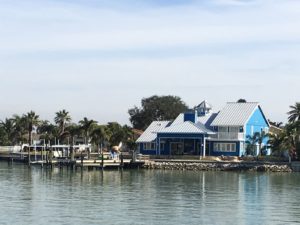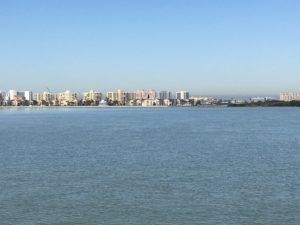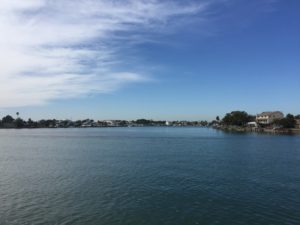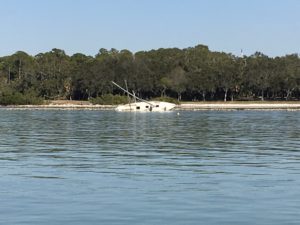 Many of the bridges serving the beach communities are bascule or lift bridges.  At the right-side foot or fender of each bridge is a gauge to determine the present clearance due to tidal change.  Kara Mia is 19.5 feet tall so we look for a 20 foot clearance.  Sometimes it is pretty close!  You see in the picture we had about 21 feet of clearance.  In the second picture, our anchor light cleared by inches.  These bridges are manned, so if you cannot clear the bridge you must call the bridge master on your marine radio and request the bridge be raised or opened.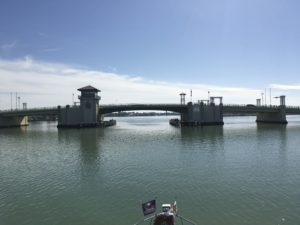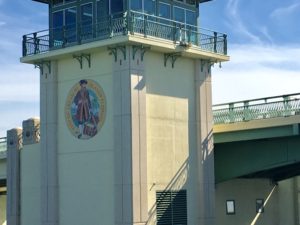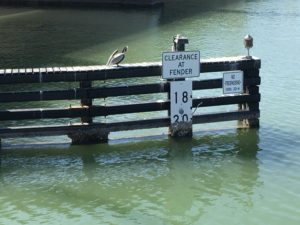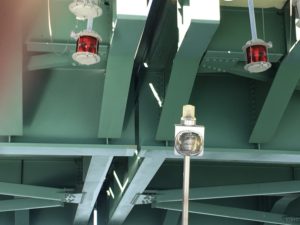 After clearing the Narrows and several of these bridges, we were finally up on plane (31.4 mph) and officially moving into Tampa Bay.  In the distance we could see downtown St. Pete and our destination for a few days of R & R.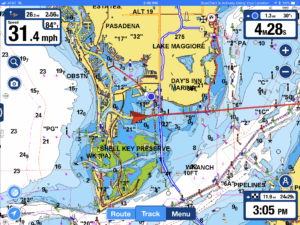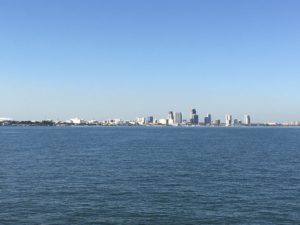 Along with a few other loopers, Bouge abaord Zendeavor (also from Nashville) and the dock master (Doug), we were greeted at St. Petersburg Marina  by Brady, security patrol of his sailboat, and the "duck greeting committee".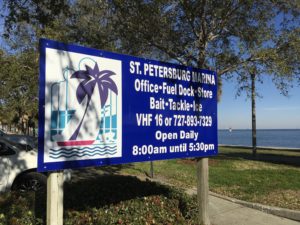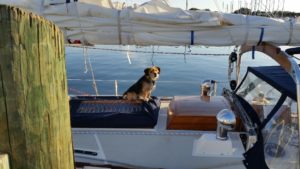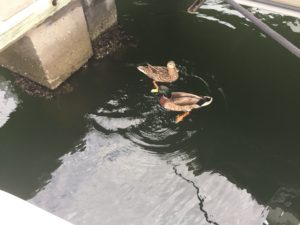 The municipal marina at St. Pete is the only superyacht (200 feet and above) marina on Florida's Gulf Coast.  Port St. Pete is located in the heart of downtown St. Petersburg, replete with shops, restaurants, bars and pristine parkland. The port is just a short walk from the world-renowned Dali Museum, as well as scores of other galleries and museums.
One weekend each March, the Grand Prix race season begins in St. Pete.  They close off the downtown streets and use two runways of Whitted Airport as the race course.  One of the reasons the race is held here is St. Pete's ability to accommodate the mega-yachts of the companies that come to participate in this event.