As we awoke on Karen's birthday, we were surprised with a more than dramatic tidal change – as we had not experienced before.  Even the floating dock (in the first pic) could not compensate for the larger than normal tidal difference.  The dry land across the channel had not been visible since our arrival in Tarpon Springs and Kara Mia was inches from sitting on the bottom!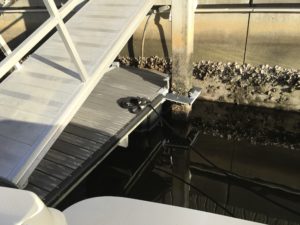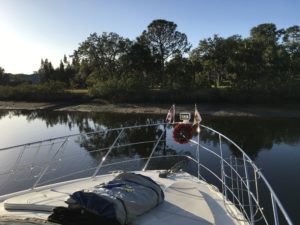 A bit about Herb the Harbor Host………..Along the waterways of America's Great Loop, former loopers, future loopers and fellow boaters volunteer as hosts and hostesses at marinas and ports of call to assist loopers with everything from finding the right slip (length, beam, depth, floating, fixed, cost) to getting to a grocery store.  Herb was all of this, plus he greeted us with cinnamon streusels upon docking!  He also helped us find a Volvo technician and a diver to help address our engine alarm issue.  Last year Herb was voted by loopers from all over the country as HARBOR HOST OF THE YEAR!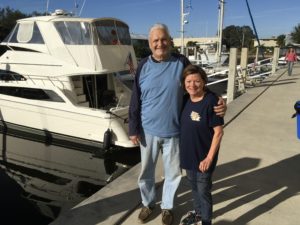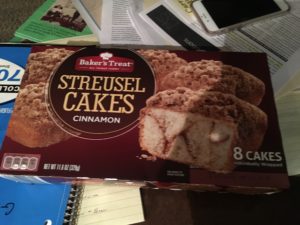 Before attacking anything mechanical, we wanted an accurate evaluation of the props.  Heather, and her father are busy divers in this crab pot crowded fishing village.  Heather gave us a clean bill of health for our props and the bottom of the boat!  Matt the Volvo technician also ran routine maintenance and verified everything was in good operating order as well.  With a huge sigh of relief, it was determined by all that the engine alarm must have just been a hick-up and we are good to continue on our journey.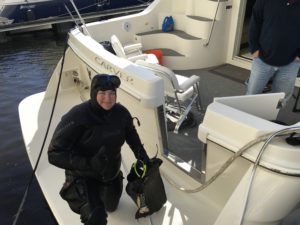 Herb joined us for a fish and chip dinner at Tarpon Tavern on our last night.  We thanked him for his assistance and knowledge – Herb had recently completed "The Loop" himself…….