Ron woke me up before daylight saying, "can you be ready in 15 minutes?"…."getting ready" means coffee pot down so it won't break, all cabinets and doors locked so contents don't fall out while under way, glass wine glasses down so they don't fall and break, all heater units off, all things powered by electricity shut down, power breaker on boat off, power breaker on dock off, reel cable to boat in, rearrange all lines for departure, all breakers on panel switched from A/C (electricity) to D/C (battery), antennas down (have a low bridge to get under), do an engine room check (Ron), call the bridge master to make sure he will really be opening "on the hour" (otherwise we stay put), lock all port windows (to keep the water on the outside of the boat, and not the inside), check the dock for left items (chairs, water hoses, extra fenders, bicycles), latch all sliding doors, Santa secured, lock refrigerator  and freezer doors (upstairs and downstairs), televisions strapped down –
        "OF COURSE I CAN BE READY IN 15 MINUTES!"
If we were not out in 15 minutes we would not make it to the first bridge for its hourly opening, which meant we would have to sit (hoover, float in place, anchor) until the next hourly opening.  We planned on traveling 7 hours today so it was important not to waste time.  This bridge will not open upon request as most others do and we had failed to plan for this the night before!
We said goodbye to our new friends and pulled out as the sun began to rise.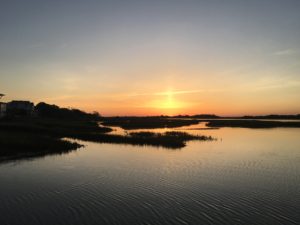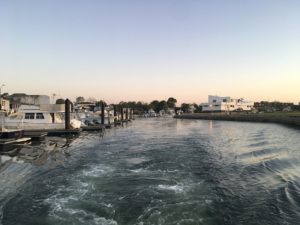 Traveling up Bogue Sound, we passed through the Marine Corps Base Camp Lejeune Firing Range.  Along the east bank is a 250 square mile United States military amphibious training area where we saw miles of warning signs – DANGER!  LIVE FIRE PRACTICE!  The fields were dotted with old cars, trucks and buses that the tanks and artillery guns use for target practice.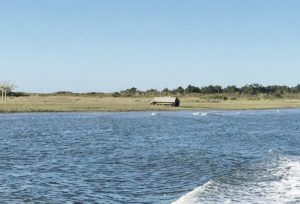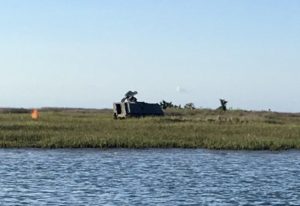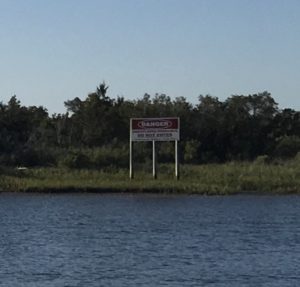 We saw several fawns playing at the water's edge….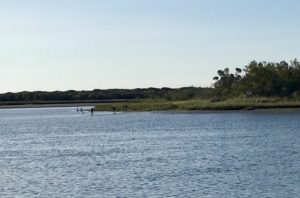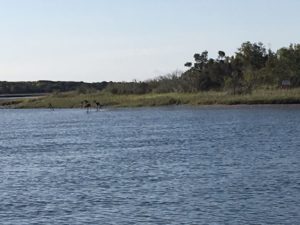 Karen hit bottom while captaining the boat today.  Oops……fortunately nothing too serious, just got a little outside of the channel into shallow water.  We must be "situationally aware" at all times!  Later in the day, crossing Bouge Sound, we came up on "RED MARKER 12" and we were grounded!  (Ron was captaining this time!)  We were in the channel – right between the red buoys and the green buoys, right where we were supposed to be – when THUD, we ran aground and lost the engines.  For a bit we deliberated about what to do but in reality there was nothing we could do.  We were sitting on a sand bar and not going anywhere.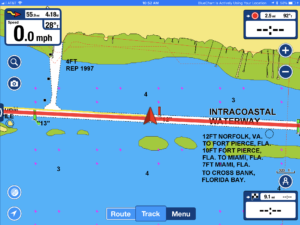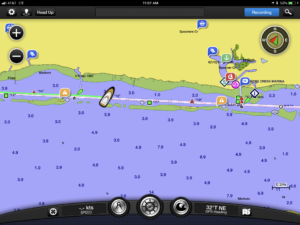 Seatow to the rescue!  They rushed to our location, hooked us up, pulled us off the sand bar and we were on our way in no time at all!  We are very grateful for there could easily have been a lot of damage.  We were on our way and had a "Go" on both engines.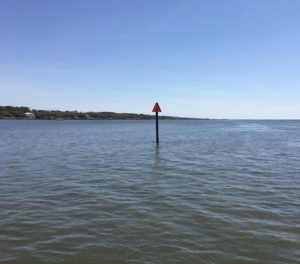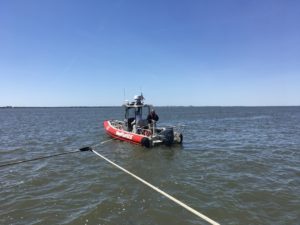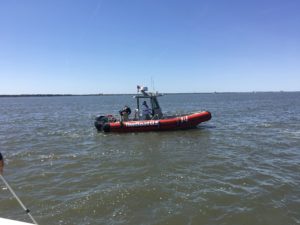 This was another lesson in why we should not to make schedules and plans……they can change in a split second.  The fact that we "had" to get out early this morning didn't really matter in the end.
We arrived in the small town of Beaufort, NORTH Carolina ("Bo-fert" now, in contrast to Beaufort,  SOUTH Carolina, pronounced "Byou-fert" as in "beautiful") and docked downtown at the Beaufort Docks.  We sat on the back of Kara Mia listening to music from the Dock House Restaurant and "people-watched" as the sun went down.