Beaufort is a great little walking town full of eclectic shops, museums and good restaurants.  We walked "front street" and visited some of the unique shops and historic homes.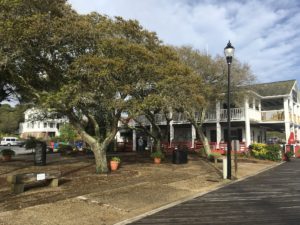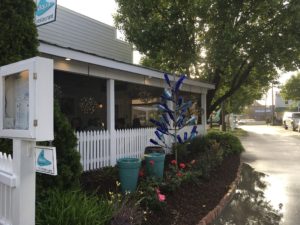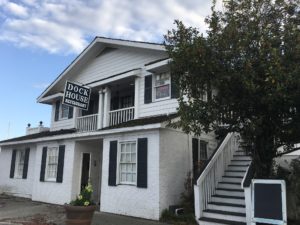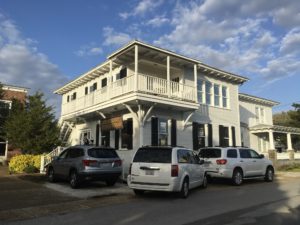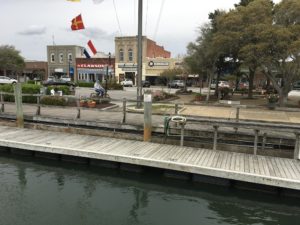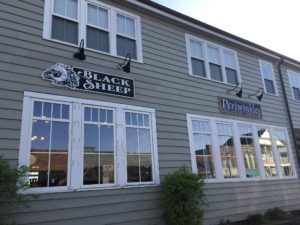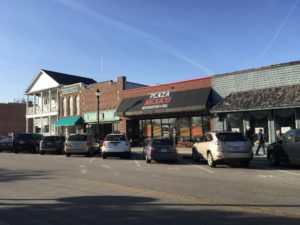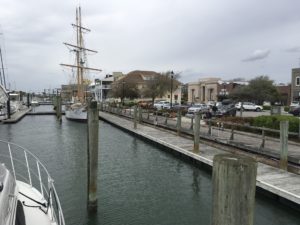 I love the license plates on these bicycles – "Parsley", "Sage", "Rosemary" and "Thyme"…..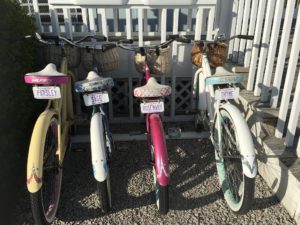 One evening as we sat on a park bench we got a "face-time" call from our grandson, Bryson.  We visited with Bryson on our I-Pad for quite some time as we watched the sun begin to set.  This was the favorite part of our day!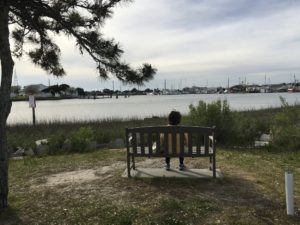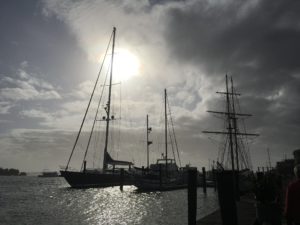 On our way back to the boat we stopped at the Front Street Grill at Stillwater.  It was a warm and cozy welcomed change from the chilly outside air.  We had a warm bowl of chowder and salad and called it an early evening.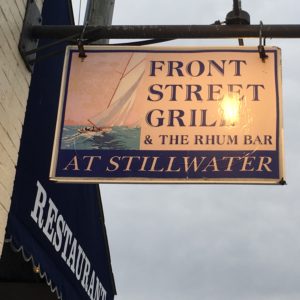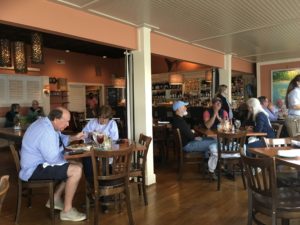 We watched this couple dinghy their dogs back to "the big boat"….don't know why "she" is doing all of the rowing….and their dinghy is quite full….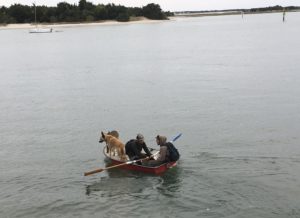 Santa is loving Beaufort.  He is right downtown and in the center of activity.  He thinks he is in a parade – waving at all the children that pass by….we have been told by many along the way that Santa had put a smile on their face.  He really loves all of the attention.  Visitors are snapping his picture all day and we enjoy hearing the adults and little ones alike exclaim with excitement – "Look, it's Santa"
While in Beaufort we met fellow loopers, Rick and Deedy on board "Rejoice".  We lamented on the amount of work/stress involved with "doing the loop", and how little down-time there actually is.  Maybe this is why loopers have docktails!  Rick and Deedy just started their loop 2 weeks ago and we invited them aboard Kara Mia for their FIRST "docktails".
This would also be the first time we met Dick and Louise on board their Trawler-Cat "Nine Lives".  Dan and Tammy on "Sea Change" (with their 3 dogs) were docked next to us.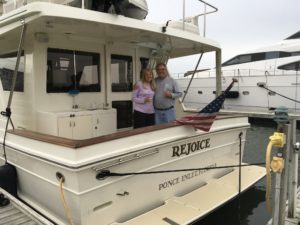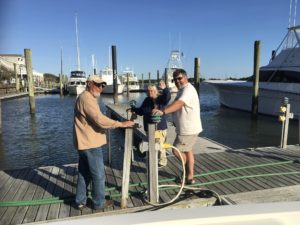 Small white houses lined the streets of Beaufort.  We questioned if it was protocol that they all be white.  Each house along Front Street had a placard attached noting the year established, several were Pre-Revelutionary War dates.  And of course – no southern home is complete without rocking chairs on the front porch!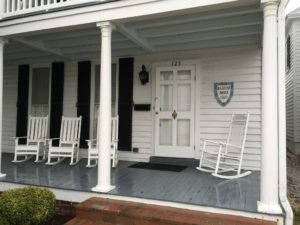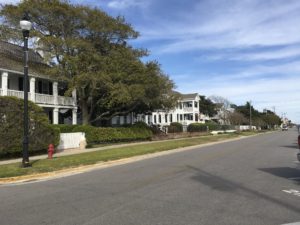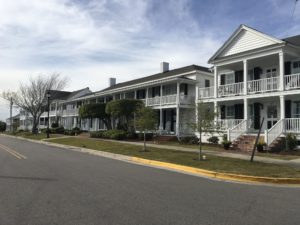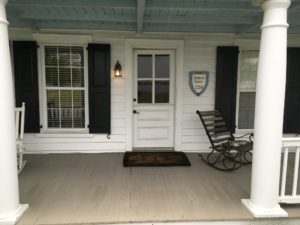 The next day we borrowed the marina's courtesy vehicle (this one actually had A/C!) and went to the post office to mail packages to the kids (our monthly package of stuff we have collected along the way – candies, shells, books, etc).  They were happy when the mail person arrived.  Then we were on to Food Lion for provisions…..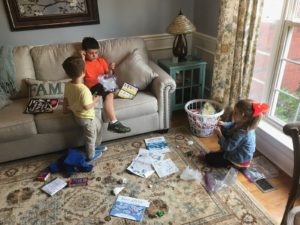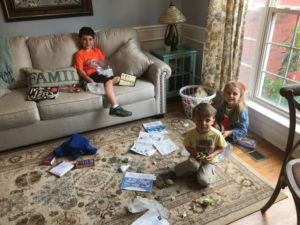 Our last day in Beaufort brought high winds and rain.  It was a long, cold, damp day……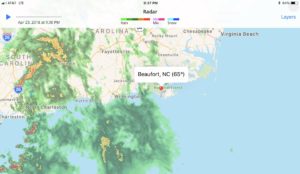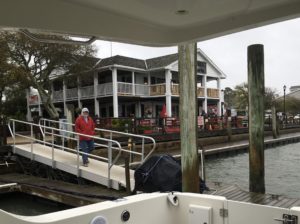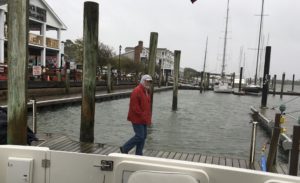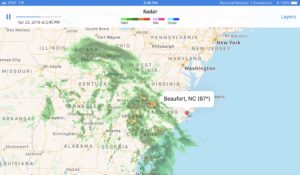 Around 5:00 pm the rain finally subsided and the sun began to peek out.  We joined Rick and Deedy in hopes of using our wooden nickels.  When we arrived at the docks we were all given wooden nickles that could be redeemed for free coffee or beer at The Dock House Restaurant.   Much to our dismay, because of the torrential downpour, they had shut down for the day.
Plan B – We had been told we could not leave Beaufort without seeing The Backstreet Pub.  The Backstreet Pub has been called the friendliest, funkiest little bar from Maine to Venezuela.  Housed in a century-old former bakery, it proved to be just that.  It is famous among sailors who course the ICW and who have covered the walls with nautical memorabilia.  The Backstreet is also a local hangout for fishermen and writers, waitresses and tugboat captains, retired spies, deep sea divers and just about anyone looking for a cold beer, a fine wine and some decent conversation.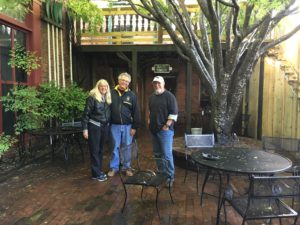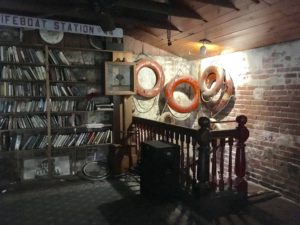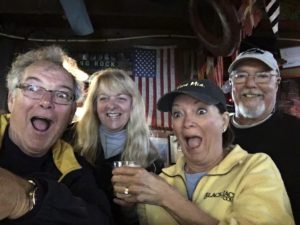 ….back at the boat we began charting for our departure to Belhaven tomorrow…..