We had planned a seven mile bike tour of Amelia Island today.  We headed out early to beat the prediction of afternoon thunderstorms.  Amelia is certainly a bike friendly island, having long ago established scenic pathways circling and crossing the island.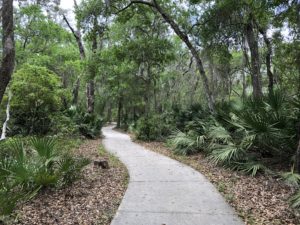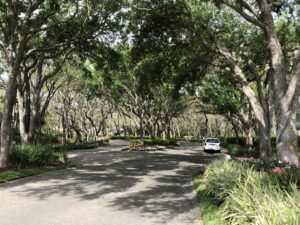 ….we toured the beaches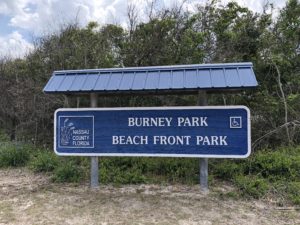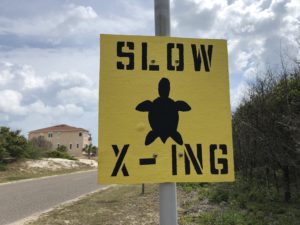 …and the upscale amenities (Ritz Carlton Hotel) and homes.
    
As our bike ride expanded to restaurants and shops, we realized we had over-shot our original plan of seven miles – but the seafood nachos and a cold beer at the Falcon's Nest made for a nice break!
    
The Omni Plantation Village was full of quaint little shops, markets, restaurants and spas.  Karen and Moni had visited friends here several years ago so it was fun to see not much had changed.  Life moves a different pace here!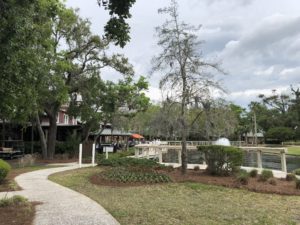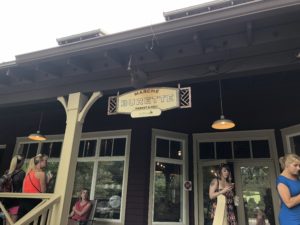 Soon we saw the approaching dark clouds and realized we were still over seven miles away from the marina……and the weather prediction was right on time!  Peddle fast!

We made it back only slightly wet from what turned out to be a 15+ bike ride.
….and now a READER ALERT – more useless information about low tides, high tides and trip planning……
It's 8:25 pm and we are searching our boater apps regarding high tides vs low tides in the near area.  Tide exchange here is about 6 feet.  Low tide is 9:07 pm tonight, high tide is 3:41 am.  (we can't leave in the dark at 3:41 am), next low tide is 10:00 in the morning – we can't leave then – we would be dragging our props (all 4) in the mud and on the ground.   Next next high tide will be 4:00 pm tomorrow, which is too late to leave in order for us to get to the next stop in high tide……which will be 10:00 pm,  (we still can't travel in the dark)…….
Now —– let's factor in the wind and rain —–thunderstorms here on Amelia Island tonight…..
Now ——let's factor in current —– can change the direction of our boat should we not keep enough torque ….
Now —– let's factor in   IT IS BOATER'S MIDNIGHT – NITERS ALL……..