At Legacy Harbor in Ft. Myers, we caught up with friends and friends caught up with us.  Ron's other roommate in college was Bill and his wife,Virginia, was from Ron's hometown of Columbia, TN.  Bill and Virginia had just sold their winter home in Naples and drove up to join us for lunch on Kara Mia.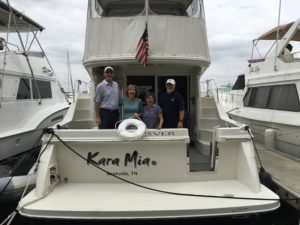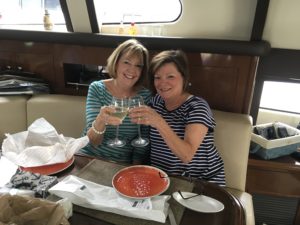 Robert is a fellow Looper of exalted status.  He leads forums at Looper Rendezvous and speaks at numerous opportunities to promote the Looper lifestyle.  We enjoyed his presentation this past fall at Joe Wheeler.  Robert and his wife Kay are from Southport, North Carolina and they winter on their 43 foot Jefferson, "C-Life", in South Florida.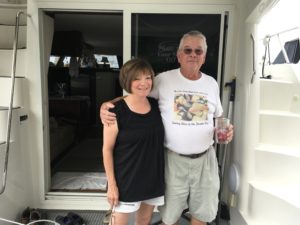 Other friends from The Braxton (Ashland City, Tennessee), and whom we consider our Looper mentors, are John and Kay.  John and Kay also winter in Ft. Myers and traverse the South Florida waterways from the Keys north.  They picked us up for dinner and took us to the exclusive "Lighthouse Waterfront Restaurant".  Later we were treated to an after dinner drink in their beautiful home.  Their hospitality in Ft. Myers was greatly appreciated!