Having had a decent night's rest, it was time to address the engine issue.  Why did the engine alarm go off?  Speculation was that we had hit a crab pot line and it might be wrapped around a propeller.  Meet Lee and Maddie aboard Dixie Belle.  Maddie had recently purchased her GoPro Camcorder and she was looking for opportunities to try it out.  And here we are – needing a look at our props.  Maddie was able to capture a good video of what was going on underneath our boat and we saw no crab pot lines!  Not sure if that is good news as we still need to  find the cause of the engine alarm.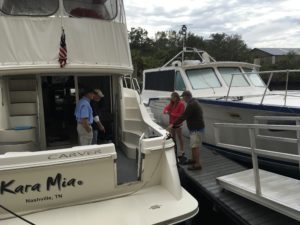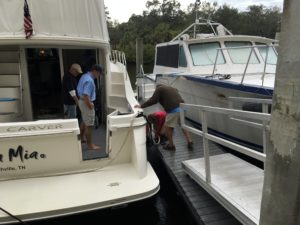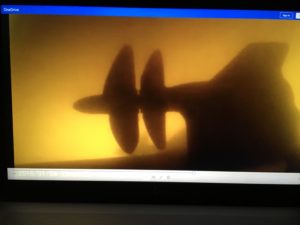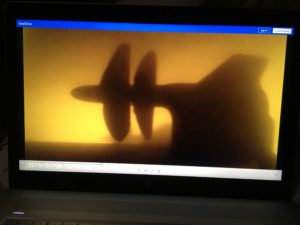 A little bit about Lee and Maddie………….Lee is from Guntersville, Alabama.  Lee is doing the Great Loop and his eighth grade grand-daughter Maddie is going with him!  Just the two of them on a beautiful trawler named "Dixie Belle".  Maddie is home-schooling herself and "is" going to be a marine biologist (not "wants to be", but "is going to be").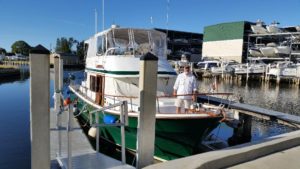 Ron did a thorough investigation (fluids, filters, strainers, raycors, pod drives) and found all okay.  After finally getting up the nerve, Ron started the engines.  With little fan-fair, both engines ran fine.  We did schedule a Volvo technician to bless Ron's findings.
After that bit of relief, we joined our buddy boat Captains and First Mates, and Herb the Harbor Host for some fresh Florida wild caught seafood at Rusty Bellies.  You see Mr. Rusty in the picture below.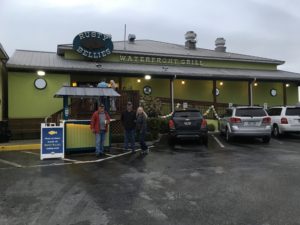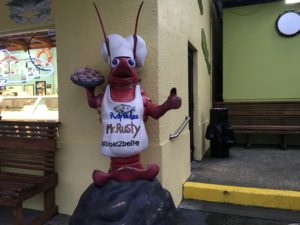 In front are Jim & Regina from "Blue Ayes", next you see Ron and Herb, then Karen, and far right are Chris & Janice from "Sweet Relief".  Rusty Bellies is a popular waterfront grill named after gulf grouper fishing.  A "Rusty Bellie" is the nickname given to the large male gag grouper.  A "Rusty Bellie" generally ranges between twenty and sixty pounds, and is typically caught by the true at heart fisher-person!