Anticipation of the "Big Lift" got us going early this morning.  It would be our second lock, so we arrived early at the blue line of Lock 20 to be first.  The blue line is the part of a lock wall entrance where you wait for the lock to open.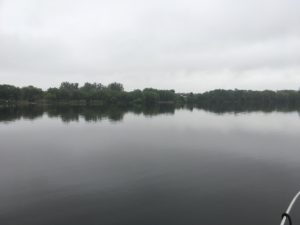 After locking through "20" we were soon in view of "21" or better known as "The Big Lift" .  She was quite impressive.  This historic engineering marvel was built in 1904 and is the largest in North America.  The two "pans" work to balance each other to go up and down.  When it's time to lower one pan and raise the other, only one extra foot of water is needed in the upper pan to push the upper pan down and raise the lower pan to the top.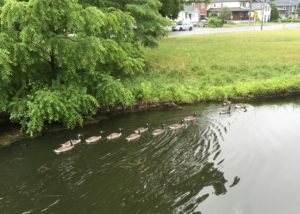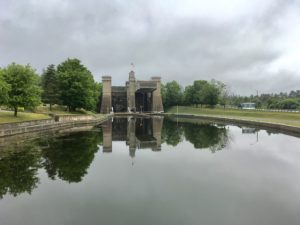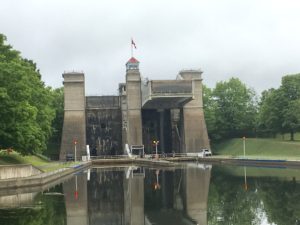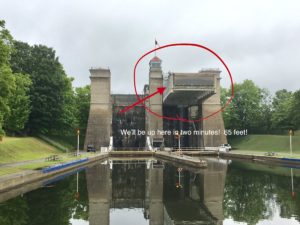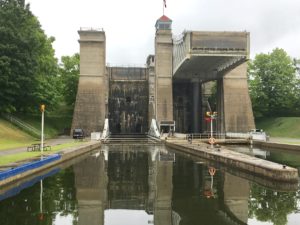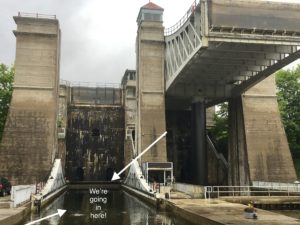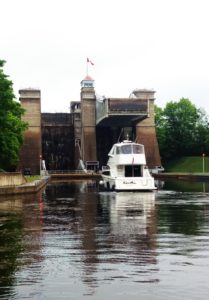 After Kara Mia enters the pan with a house boat, we are raised 65 ft. in a matter of 2 minutes.  Whoa….. what a ride.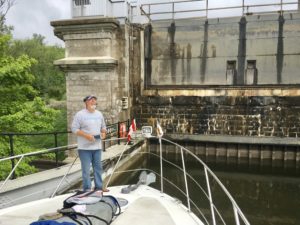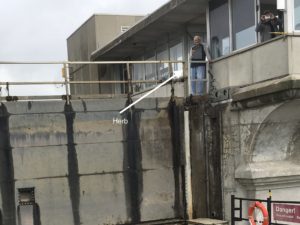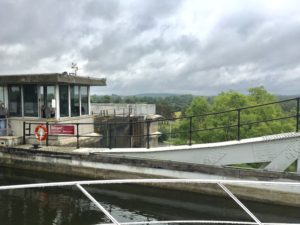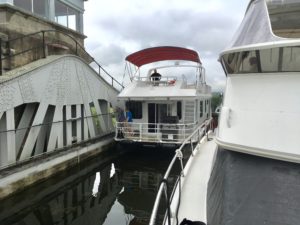 There were five more locks to make this morning in a matter of 5 miles.  We were going up fast.  Our traveling mates through all 5 locks would be a houseboat, a cruiser, and a kayaker (yes, they let kayakers in the locks).  In the second picture is a girl kayaking the entire Trent Severn (240 miles) – solo.  At the end of each day she pitches a tent at the lock wall park.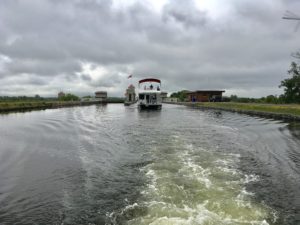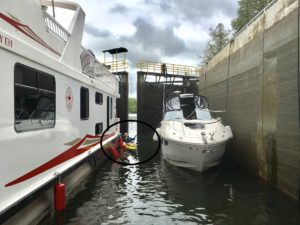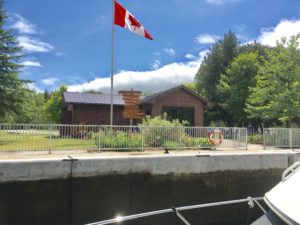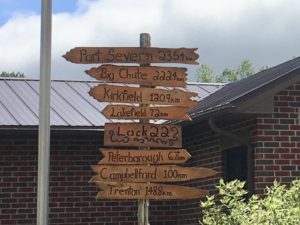 The route to Young's Point was slow (6 MPH top speed allowed) but scenic.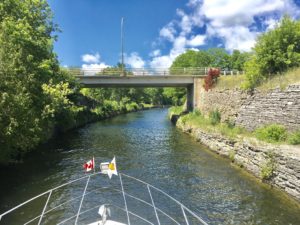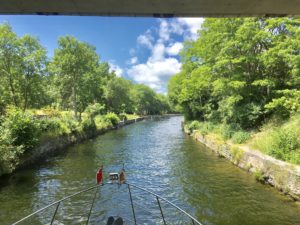 In Lakefield there was a sure to be the next big thing…  a "pontoon pickup".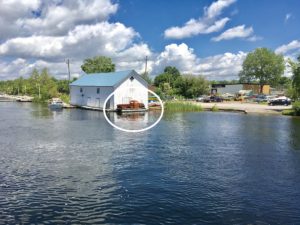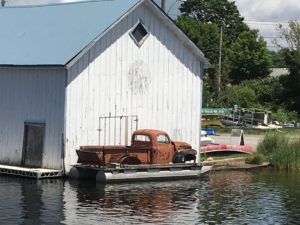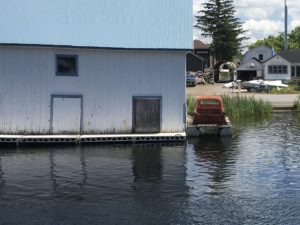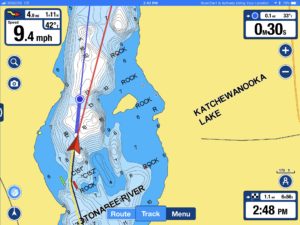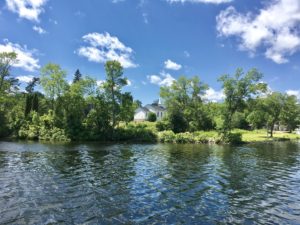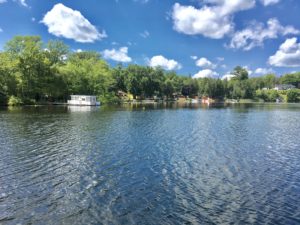 Young's Point is not a big place, but its claim to fame is the "Lockside Trading Company", a complex of unique shopping opportunities.  They have furniture, clothing, gifts, decor items, tourist junk, snacks, and of course ice cream.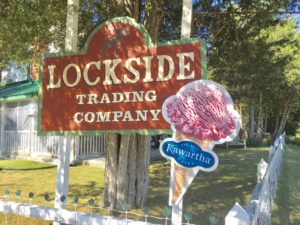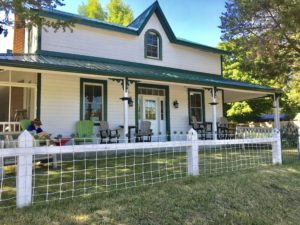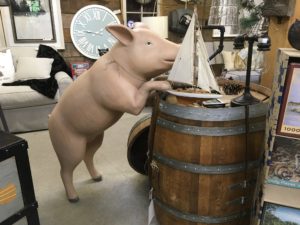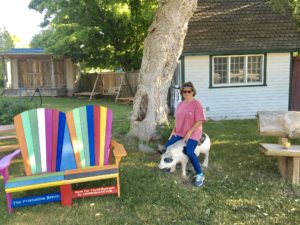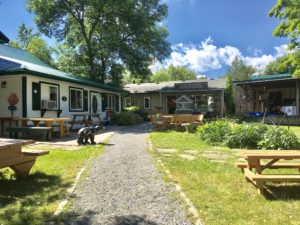 We docked on the lock wall above the dam (sans power and water) and strolled through the modest community.  We think tiny homes are a new phenomenon but they were building them in Canada 20 years ago as summer cottages.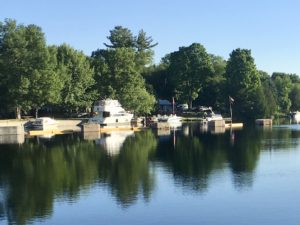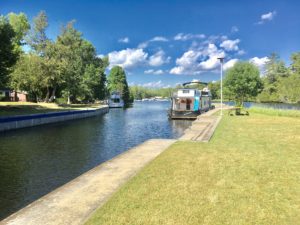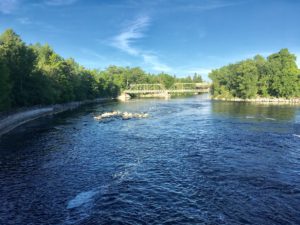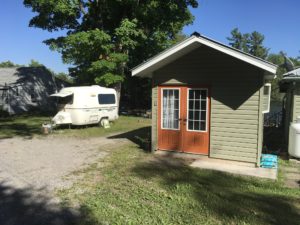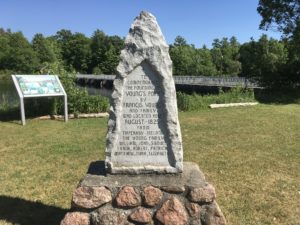 The summertime residents enjoy a laid-back lifestyle.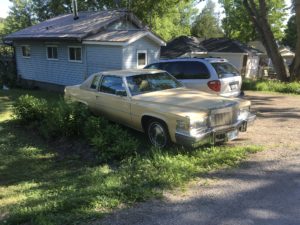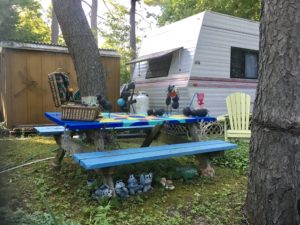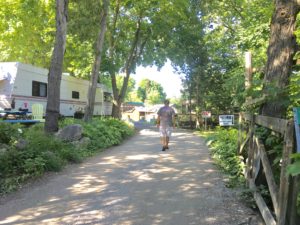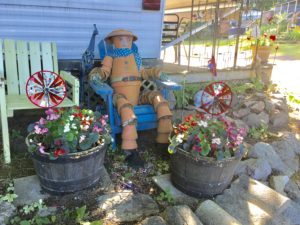 Only a few hundred feet away, and right up the gravel pathway, we enjoyed dockside dining at Patio 27 (hence – Lock 27).