The crossing is one of the more anticipated events of doing the loop.  Because there is no intracoastal waterway made up of barrier islands or canals between Carrabelle down to Tarpon Springs (the Florida Big Bend), you are in open unprotected waters.  Therefore, you are "crossing" the Gulf of Mexico rather than hugging the coastline around.
Terms come to mind such as – "scary", "adventurous", "exciting", "crazy"……….and will change as to whether you are on glassy seas with no wind – as opposed to choppy seas with dense fog………you get the picture.  We were "anxious" but not "scared".
Most looper boats travel at around 8-10 miles per hour so it takes two days to cross the gulf, which includes traveling overnight.  So – you are out in the gulf, no land in sight, pitch black dark, chugging along in your boat – all night long…..scary?
We are on what some people call a "go fast" boat.  Go fast boats are sometimes snubbed, but it allows us to make our crossing in daylight hours and therefore removing much of the scary factor.  We can travel anywhere between 10 to 30 miles per hour so we can cross in daylight "if" all goes well – which it seldom ever does when you're looking at so many changing conditions – tides, wind, current, rain, fog, obstructions (crab pots) etc.
Our anchor held all night – always a good thing…..and we were ready to start our gulf crossing.  Second picture is us, taken by Jim on Blue Ayes, anchored not too far away.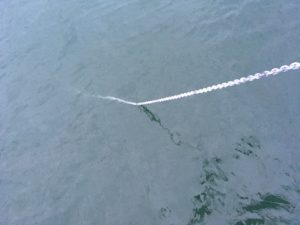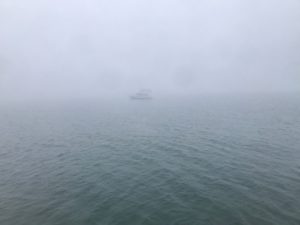 …….We awoke to our worst fears – pure fog, choppy waters and 2 foot swells.  "Gulp" , no turning back – we were committed!  If we don't make the crossing today, it could be another week before we get another weather window to cross…..we get restless to travel after a few days in port.  It was a slow start for the first few hours but as we moved on the chop and swells subsided.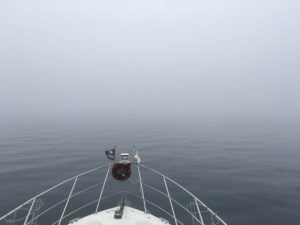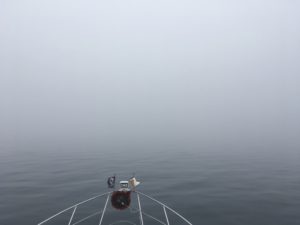 This was our view of the Gulf for eight hours.  After about the first six hours of intense lookout, our eyes started playing tricks on us.  We were seeing things that were not really out there.  If you look closely you can see two of our buddy boats.  We could follow them on radar when they were not visible.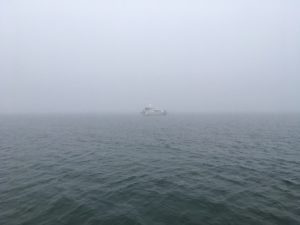 Navigationally, we basically followed a straight line from buoy #2 to buoy #4 (170 miles).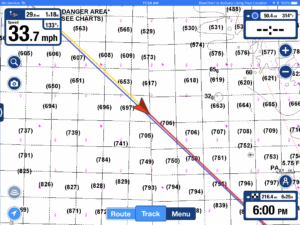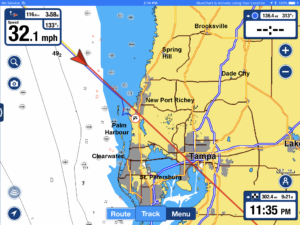 Once again, the pure moister in the air produced what we call "a cloud rainbow"….an appreciated change of scenery!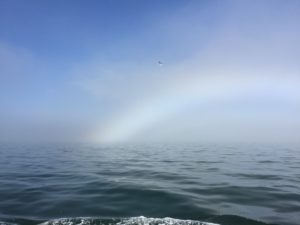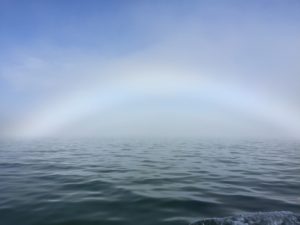 While nearing our destination and dodging crab pots, one of our engine alarms went off.  We shut it down and slowly made our way into port (between the reds and greens – as you see in the fog) on ONE ENGINE.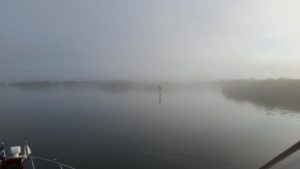 Santa was not the only one exhausted after that trip!  Upon arrival at Turtle Cove Marina (on the Anclote River in Tarpon Springs, Florida), we were greeted by Herb the Harbor Host.  Herb completed the loop last year and enjoys meeting fellow loopers who pass his way.  He also greeted us with cinnamon streusel cakes for tomorrow's breakfast!  More about Herb later!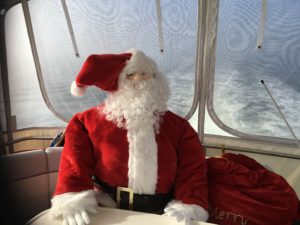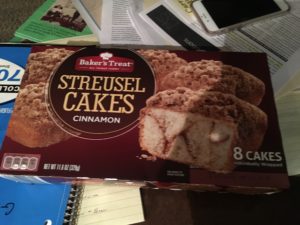 We will worry about the engine issue tomorrow……………