Our friends Allen and Sharon from Nashville joined us for the next leg of our journey – crossing to the Florida Keys.  Upon arrival, they offloaded copious amounts of supplies (wine, food and drink).  Later that evening, Sharon and Karen explored in the dinghy while Allen did some fishing.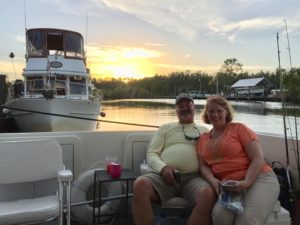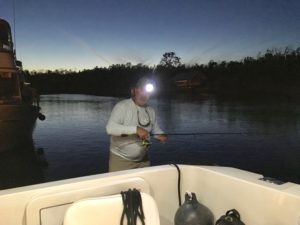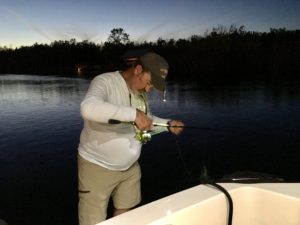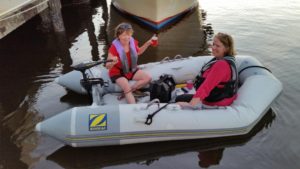 We had dinner on the veranda at the Rod and Gun Club and later shared a box of Norman Love chocolate confections. – an early Valentines gift from Allen and Sharon.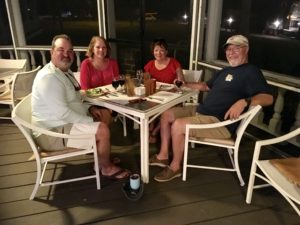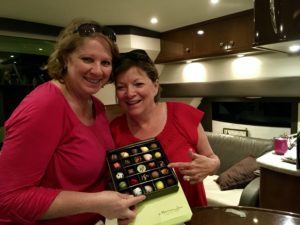 For the past 48 years, Everglade City has been host to an annual Seafood Festival.  Although the population of Everglade City is only 411, over 50,000 people attend the Seafood Festival over the weekend.  There was live music and dancing and a bit of shopping to be done.  We were overwhelmed at the massive quantities of fresh seafood booths and how many different ways it was prepared.
    

Interesting to us was, even with all of the featured fresh seafood, one of the
most popular items (and the longest line) was for the Indian Burgers, 
prepared by a local Everglades Indian Tribe.  Ground beef is stuffed into a
specially seasoned raw dough and deep-fried.  The results were remarkably
delicious.
  
After a bit of shopping and dancing on the midway, we retired to the boat
with our seafood platters of lobster, coconut shrimp, fried oysters, crab cakes, 
paella, some kind of fish fillets (?), corn, boiled potatoes
        ...............and as always - french fries!
    
Our last day in Everglade City was spent grocery shopping, visiting the 
seafood festival again, sampling more seafood, and docktails and visiting
around the porch with our other looper boat friends.  Carter was kind enough
to be our designated photographer!