Today we began the Trent Severn Waterway when we pulled beneath the Gateway Bridge after leaving Trent Port Marina.  The Trent Severn Waterway is a 240 mile, 45 lock canal-lake system that connects Lake Ontario to Georgian Bay (google it).  Its scenic, meandering route has been called "one of the finest interconnected systems of navigation in the world" and we are told this is one of the most picturesque parts of our journey.  Our first lock, Lock #1, was only a mile and a half from the marina and we were there early with anticipation of what lies ahead.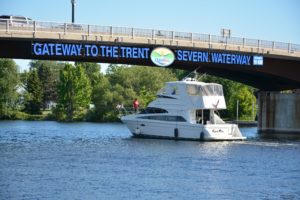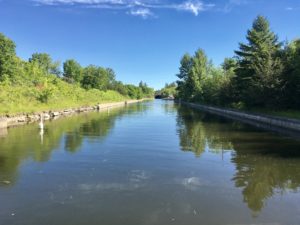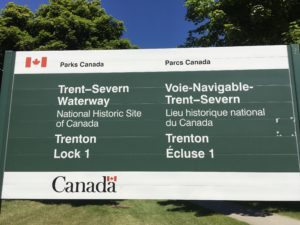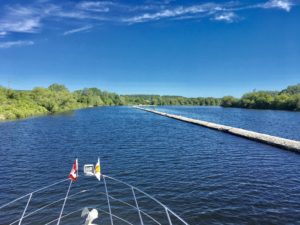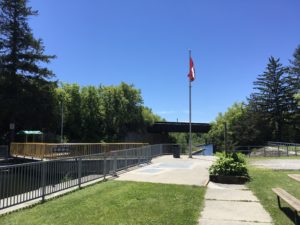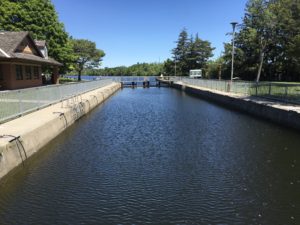 We entered Lock #1 with several other boats and were asked if we would mind "rafting up" to another boat (rather than tying up to the lock wall).  That was fine with us if it was okay with our tie-up boat.  After entering the lock, we had only inches between our boats – too close for comfort but we made it in and out without any dings…..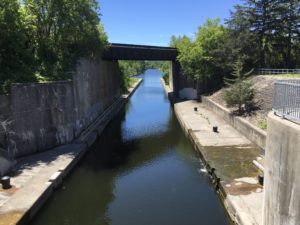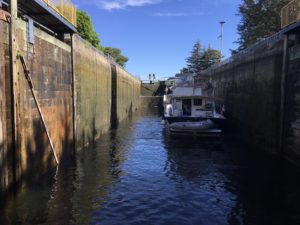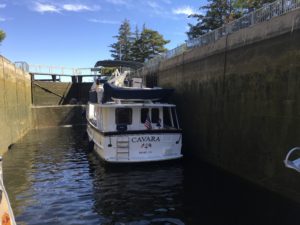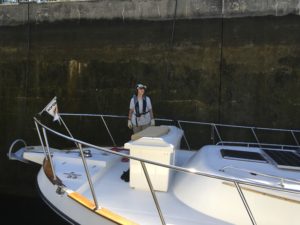 This shows how close we are, with inches between our boats and the lock walls.  After locking through in these cramped conditions, we opted to hold back at the third lock to travel the next 5 in less stressful circumstances.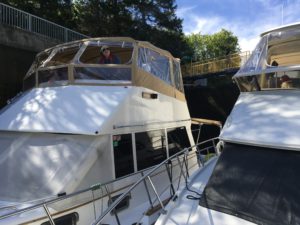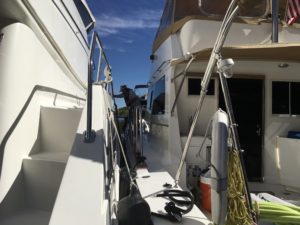 The locks in Canada are mostly manned by college students because they are only open during the summer recreational season.  There is no commercial activity in these locks.  The lock attendants are attentive, alert and pleasant!  The vast majority of these lock gates are opened and closed manually.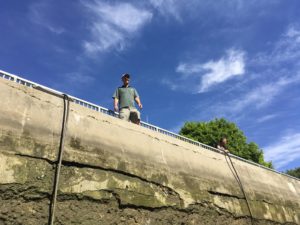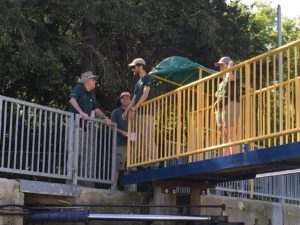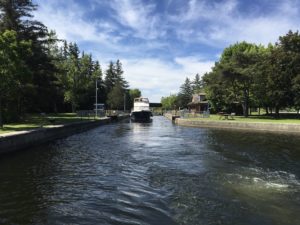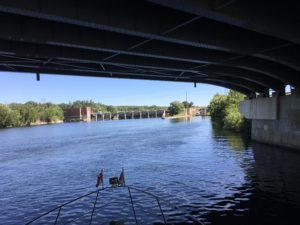 The first six locks were in a seven and a half mile span.  Needless to say, this was a very demanding and focused seven miles!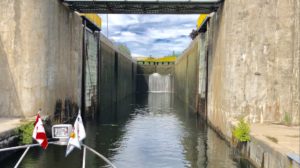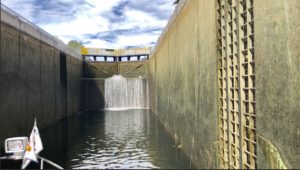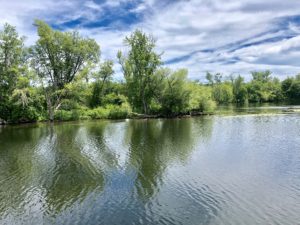 We passed old abandoned railroad bridges and gorgeous scenery……there were chunks of concrete and rocks in abundance….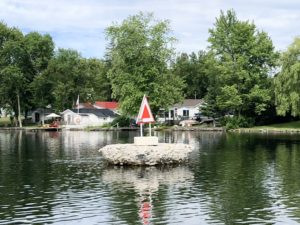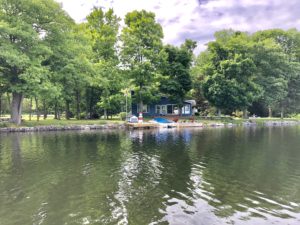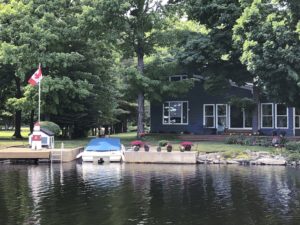 This is a "double lock"…the blue gates look like a mural that has been painted on a wall, but is actually where the rushing waters have left their stains.  In the double locks you pull your boat into the first chamber, it is closed off and water is raised, then gates lead you into the second chamber (lock) where you are raised again.  It was very intimidating pulling in the first of the two chambers – and what looked like a beautiful waterfall was actually water leaking in from the other lock.  Karen was not real comfortable in these locks until the last gate was open and we were free……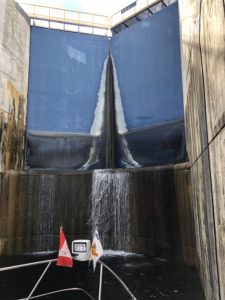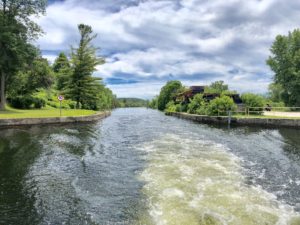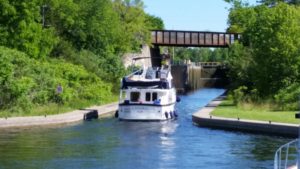 We have seen many white swans in this section of Canada, and of course those Canadian geese are EVERYWHERE!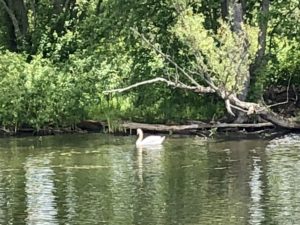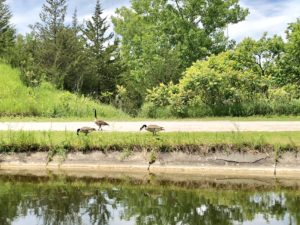 It took us 8 hours to travel only 32 miles and through 12 locks today.  We were glad to see the municipal city wall at Old Mill Park in Campbellford when we finally arrived late in the day.  This was probably the most exhausting day on our trip so far.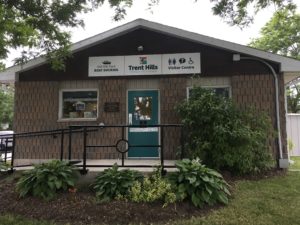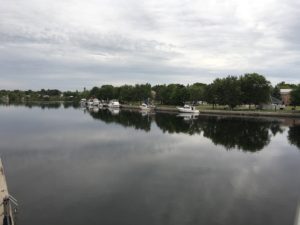 Herb had arrived before us and we secured our boats to the wall.  This would be our first night docked on a city wall.  Later we walked over the bridge to the little town of Campbellford.  We had dinner at Antonia's.  It was a tiny upscale, white table cloth local restaurant owned by Chef Ravi and his wife.  It was everything and more!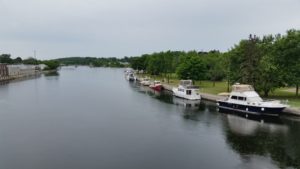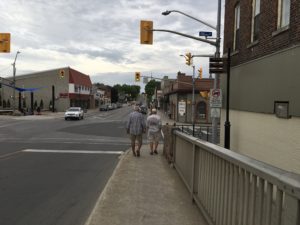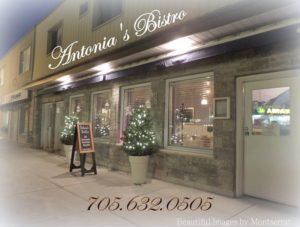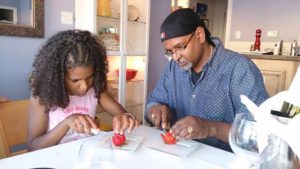 As we walked back to our boats we saw flocks of geese in the waters below the bridge with their white tails aglow….