As we leave Oswego Bay this is the last of the U.S. we will see for a few weeks.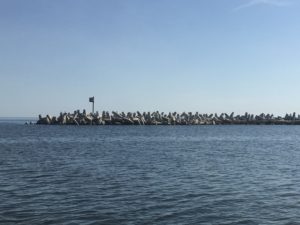 Our crossing of Lake Ontario would be more than 50 miles at this point and would require us placing a yellow quarantine (Q-flag) on the boat before entering Canadian waters.  The waters were calm today, so we made good time at 30+ mph.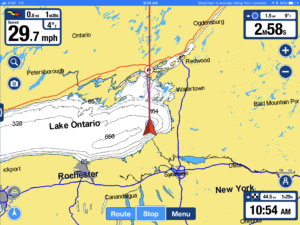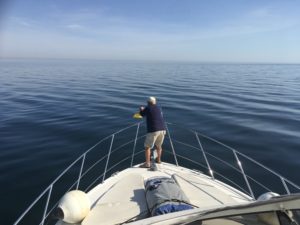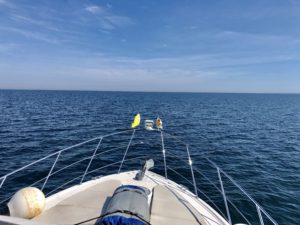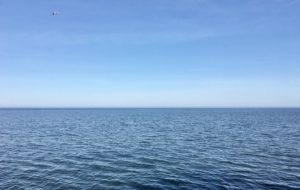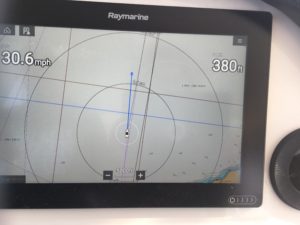 We crossed the United States – Canada border on Lake Ontario and were soon at the headwaters of the St. Lawrence River near the Thousand Islands.  Our destination was Kingston, Ontario the first capital of Canada.  It is at the end of the Rideau Canal that starts in Ottawa.  Both the Rideau and Trent Severn Canals were started nearly two hundred years ago as an alternative passage through Canada for hiding shipments and military movement from the United States.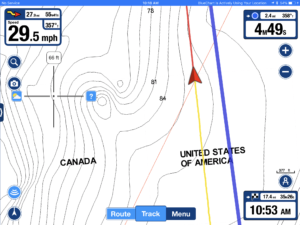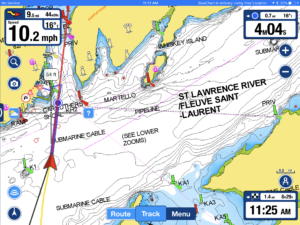 As we passed the outer islands we were impressed by the number of windmills producing energy.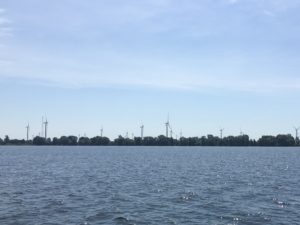 We entered Confederation Basin Marina with the yellow Q flag.  Only the captain may depart the vessel before you have cleared customs.  Nothing can be removed or taken aboard until after you have cleared customs.  Upon docking, only Ron could leave the boat to check us into Canada.  Once on land, you call customs and respond to a series of questions (passport #, boat info, cargo, destination) that includes how much alcohol, tobacco, fruit and firearms we had on board.  If they are satisfied with your answers they issue the boat a # that is to accompany it until safely back into the U.S.  If they are not satisfied, they board your boat for inspection.  At that point, you remove the yellow Q flag and hoist a "courtesy" Canadian flag for your duration in Canada.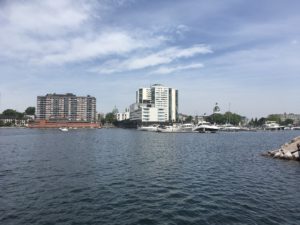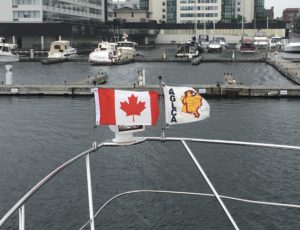 The marina was near the heart of Kingston, which was a vibrant city.  The water was clear and the marina was clean.  It has a reputation of being a good entry point into Canada for loopers.  There were several there.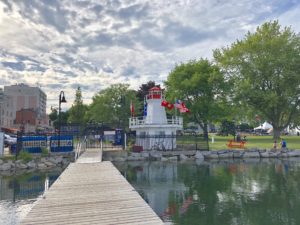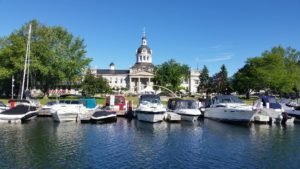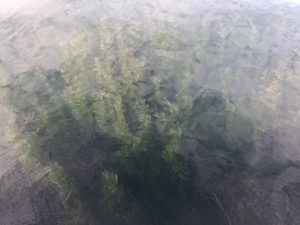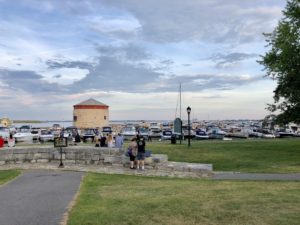 These towers were strategic defense emplacements years ago and they still dot the coastline today.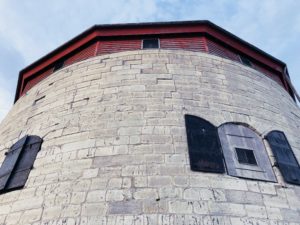 Across Kingston Harbour we could see The Royal Military College of Canada.  It was established in 1876 and is Canada's only military university –  equivalent to our West Point.  This university serves all branches of Canada's military (Army, Air Force, Navy…….).  Canadian military officers can, and do, serve in multiple branches of service.
On the other side of the marina is Kingston's City Hall.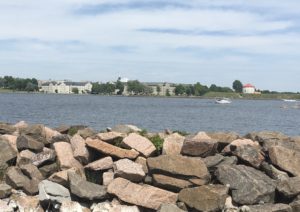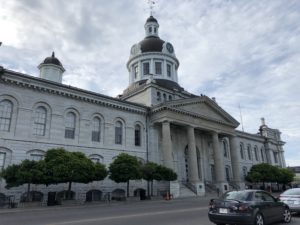 Kingston was not only an important water port, but also a major rail hub.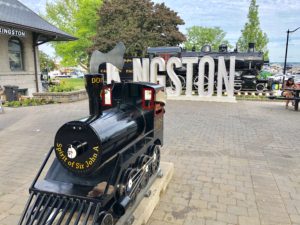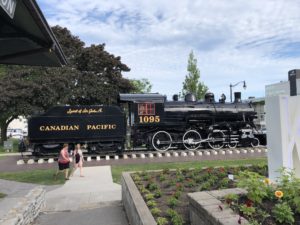 The downtown area was active for a Sunday evening.  Even the local toy and game store was holding game tournaments.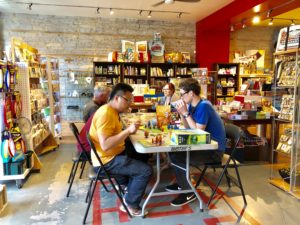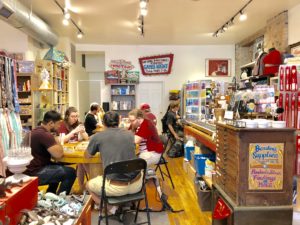 There was a European flavor to Kingston with alleys that wind into interior patios of the downtown blocks.  That is where we found "Chez Piggy" and shared the Chef's seafood platter.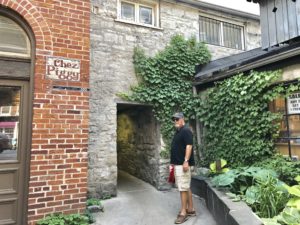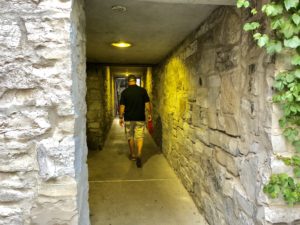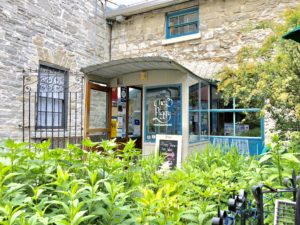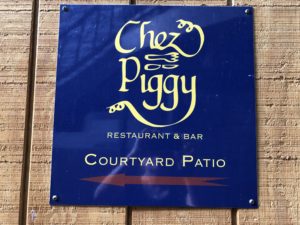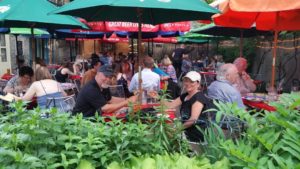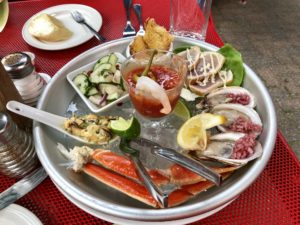 Kingston sunsets………long daylight hours….
With the Summer Solstice in the Northern Hemisphere, we go to bed in bright daylight and we wake up in bright daylight…then sun rises before 5:00 a.m. and sets after 9:00 p.m.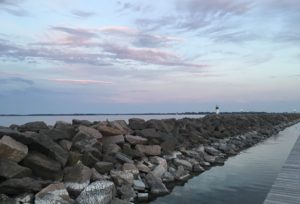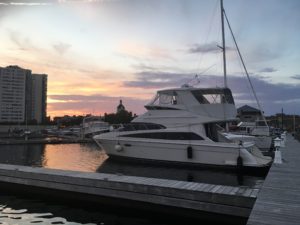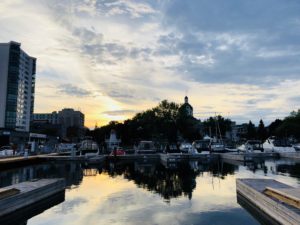 Since Karen is still a Texan at heart, signs of Texas always catch our eye.  Such was the case here in Canada where we found other loopers from Port Aransas, Texas.  Robert and Carolyn have a fun story of how they named their boat "Sauvy B".  On a recent trip to New Zealand they were sampling local wines and when they ordered a Sauvignon Blanc the waiters didn't understand at first but finally said, "Oh, you want a Sauvy B" – a much more fun boat name than "Cabernet" or "Chardonnay".