It was a beautiful ride from Queen's Cove to Killbear.  We had perfect weather and calm winds – every boater's dream!  We have been told over and over again that this would be the most beautiful part of our trip so we tried to soak in every bit of scenery!
Each part of Georgian Bay is an individual experience and yes, the waters of Georgian Bay are a bit nicer than the inland rivers back home.
It was an 8 hour 60 mile trip.  We stopped at Henry's Fish Restaurant on Frying Pan Island for lunch but they had a 45 minute wait and we needed to get those pineapples to Hawaii so we re-boarded and continued on to Parry Sound.  Henry's is a well-known stop, famous for its batter-fried pickerel.  You can only get to Henry's by boat or floatplane.
The waters were more wide open today, although still shallow and rocky.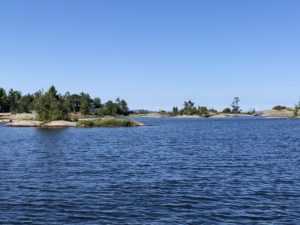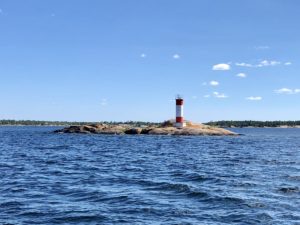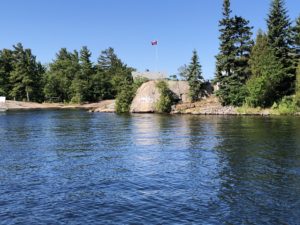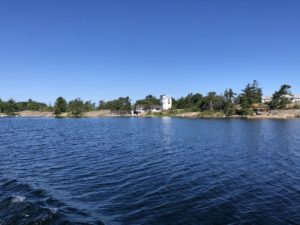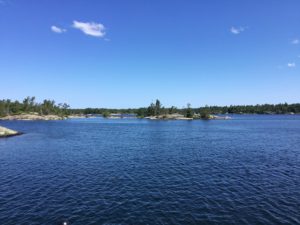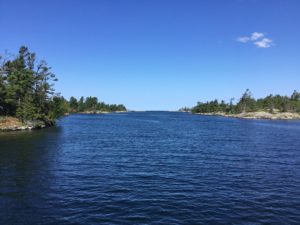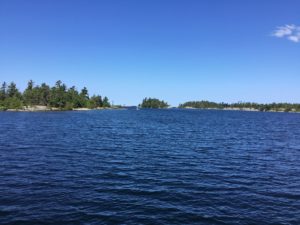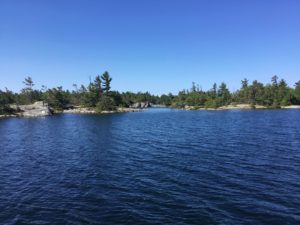 Once again, our reminder of the important things…….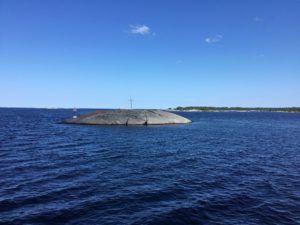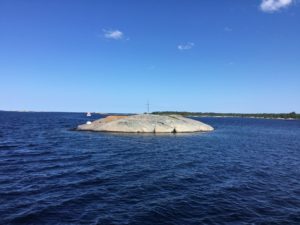 Robin at Queen's Cove suggested we take the inside passage to Parry Sound and so we did.  If you can see the first map, it was hard navigating through the islands, rocks, narrows, etc.  The charts were just a scribbly mess to me and we had to study them continuously to stay on track!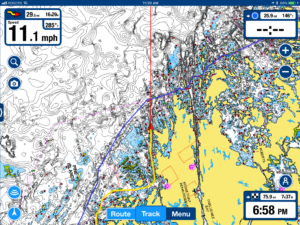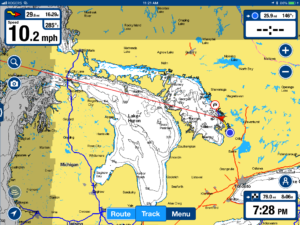 We we finally arrived at Killbear Marina.  We had no electrical power (hydro they call it in Canada), but after a bit of a delay they rigged us up some power from a couple of towers down the dock and we were good to go (with A/C)!  The bathhouses were marginal.  There were already several other looper boats here and after securing the power, lines, etc. (and after Karen succumbed to some Canadian moose tracks ice cream), we all met on the docks to exchange our looping stories of recent………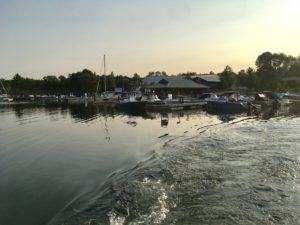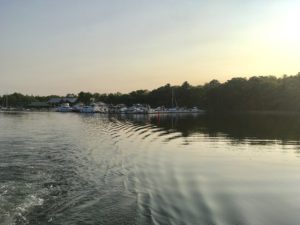 It was a rather small marina and we were docked with Tom and Patty on "The 7th Day", Greg and Doreen on "Noah's Ark" and Luc and Sylvie on "Lil Hide Away" ……
and we tried again at "selfies"…..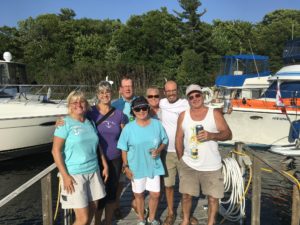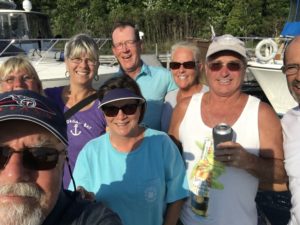 We made 6:30 dinner reservations at Flynn's Irish Pub….another patron took our photo (along with her selfie)…..and we continued to wait to order dinner.  After deciding on what we wanted, we were told they were out of mashed potatoes (so no shepherd's pie), no white wine left,  Ron wanted an appetizer – but – no pepper poppers left……so we finally ordered whatever was left on the menu.  And we waited, and we waited, and we waited.  When 8:00 arrived Ron went back to the boat to make a sandwich.  Karen followed shortly thereafter.  When 9:00 arrived and the other loopers still had no food, everyone left…….hungry…….so you see, although Killbear had been recommended, it was not a good stop for us.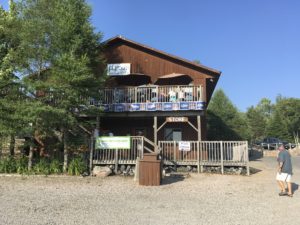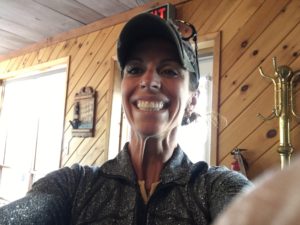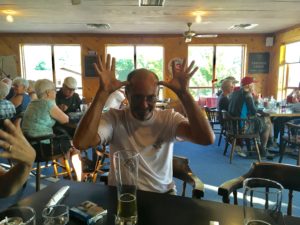 It was a beautiful sunset over the water…..and we would have an early departure in the morning…..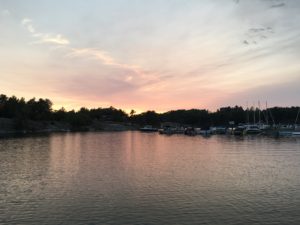 …..tomorrow Killarney Harbor!