The sunsets never cease to amaze us.  Last night's sunset was second only to the ones we saw in Key West.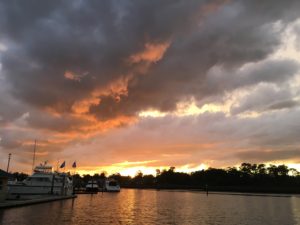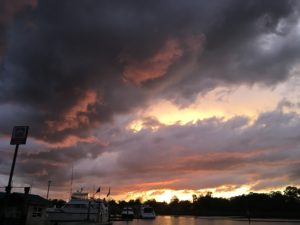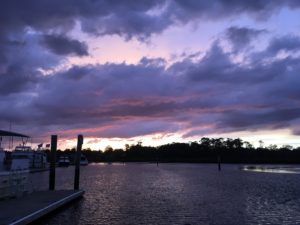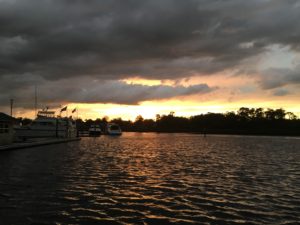 Leaving Jacksonville was a bit of a challenge.  We needed fuel but the extremely high winds would not allow us to move to the fuel dock – when in tight marina quarters with lots of boats and high winds – you tend to feel like the ball in a pinball machine – so we decided to just head out to the river.
The waterway today tended to be the same with wind, current and misplaced buoys.  Due to shoaling, the Coast Guard had moved buoys leading to the crossing of the St. Johns River (a very large river), which was very confusing.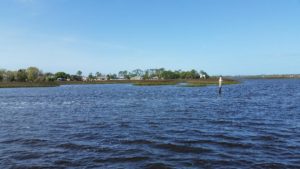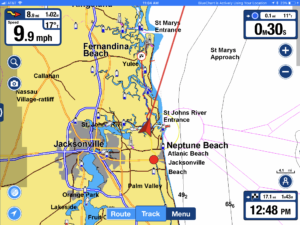 Docking at Amelia Island Marina in the wind was "interesting".  The marina had recommended coming in at high tide due to shallow water.  At high tide there's over eight feet of water under our boat, at low tide only four!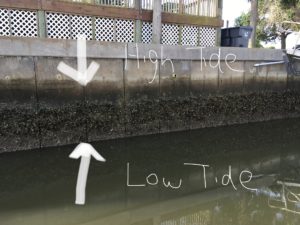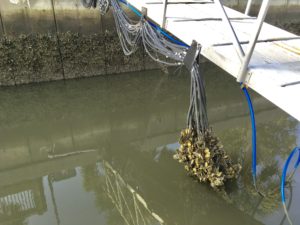 After getting safely tied up and settled in, we borrowed the marina's courtesy car for a long awaited trip to Walmart for provisioning…..jeans, bicycle parts, paper goods, etc.  We also toured Fernandino's historic downtown and beaches.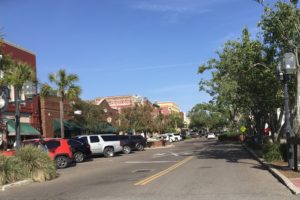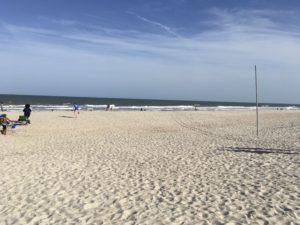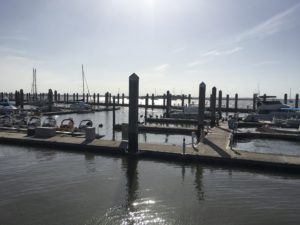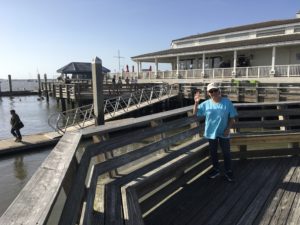 Back at the marina, we met up again with fellow loopers, Tim, Ramie and Ringo.  Having arrived at Amelia the day before, they recommended the marina's restaurant, "The Galley", and their blackened shrimp, fried okra and deep-fried grouper "cheeks" (yes, it was actually cheeks cut from the grouper's "face"…..so that's exactly what we did…..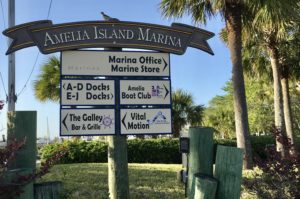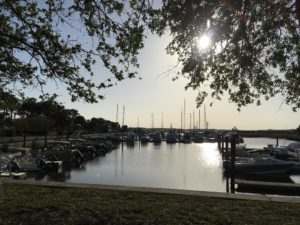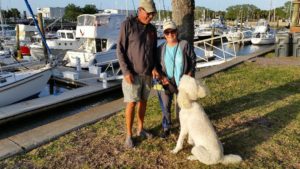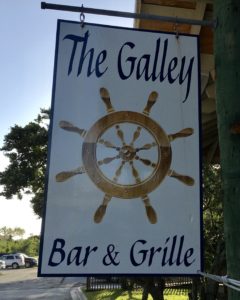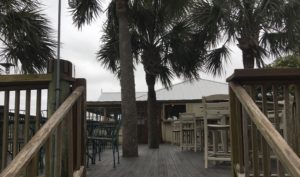 Today I outfitted my little folding bike with a ringing bell (so I could hail Ron when he takes off and leaves me), a kickstand (hate to admit it but up until now I didn't have one).  I also got a drink holder for my handlebar.  Oh, don't forget new flexible hand grips!  Mean bikin' momma!
The second day on Amelia we took the marina courtesy car again, it had been a long time since we had "wheels"!  We went to West Marine and another trip to Walmart . Since the marina office had closed we could not return the keys, so we took the car out again to dinner at the Down Under Restaurant.  It was "down under" the bridge we had gone under by boat just the day before.  We had fried lobster bites and snow crab legs.