Pulled out of Snug Harbor Marina on Pentwater Lake…….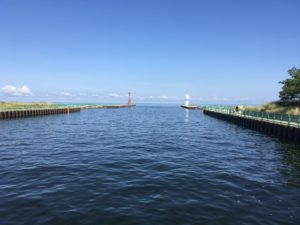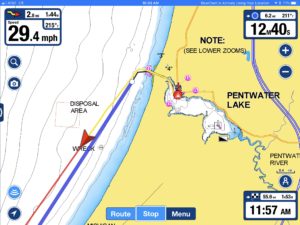 On our way to Grand Haven we passed Silver Lake.  Silver Lake and Lake Michigan are separated by 2,000 acres of the "The Silver Lake Sand Dunes".  One of the lake's most popular features is the 450 acre off-road vehicle area, where visitors – in all terrain vehicles – can glide up sand dunes reaching over 100 feet high and plunge down the other side, while passing striking views of sparkling Lake Michigan.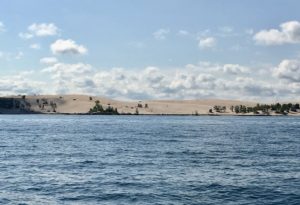 Grand Haven is designated as "Coast Guard City, USA", and we arrived just in time for its annual celebration weekend.  Over the weekend 350,000 extra people arrive (many by boat) into this little town of less than 11,000 to celebrate and honor the courageous work of the service members of the Coast Guard.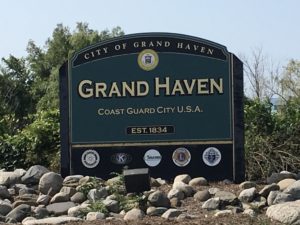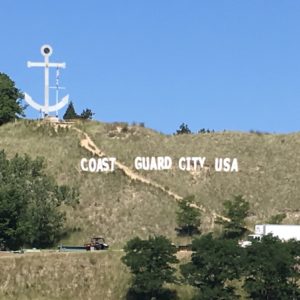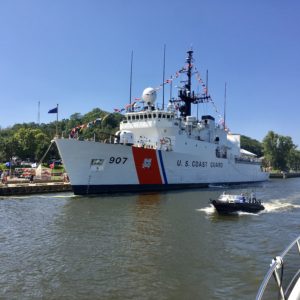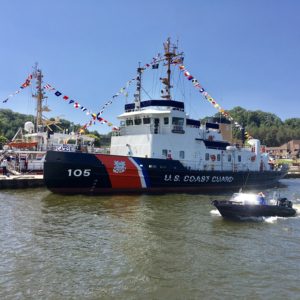 The 5 foot railroad bridge at the entrance to our marina opens once per hour, on the "half hour" – and Monday through Friday does not open at the noon half-hour (12:30).  Guess what time we arrived?  We had to hang out in the river for an hour to wait for the next opening.  It was challenging treading water with the hundreds of extra boats here for the celebration – and not hit one!  We were successful and finally the bridge opened for us and our next marina was just around the bend.
After docking at Grand Isle Marina, our friend Dan joined us.  We met Dan in the Carolinas and crossed paths numerous times since.  He had recently crossed his wake here in his home of Grand Haven.  Dan brought us a congrats bottle of wine to welcome us and celebrate us crossing our wake as well.  Dan is also the new Harbor Host for the Grand Haven area.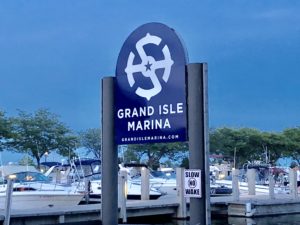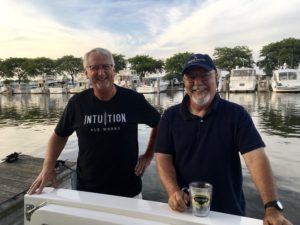 The marina was hosting a Friday Music Fest, complete with grilled burgers and hot dogs.  We enjoyed the band and people watching, but Karen could not talk Ron into a dance…….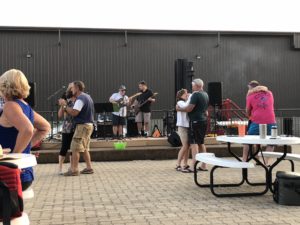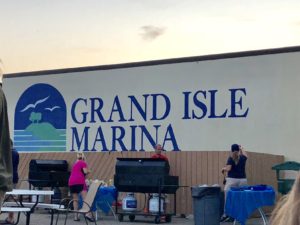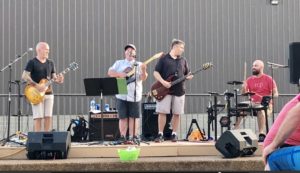 We retired to our boat at sunset where hundreds of boats lined the docks.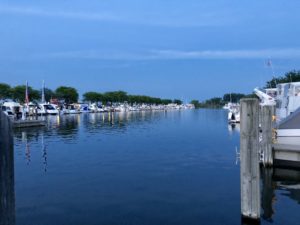 Saturday was NATIONAL COAST GUARD DAY.  The Coast Guard operates under the Department of Homeland Security during peacetime, however, their responsibilities are transferred to the US Navy when deemed necessary.  The US Coast Guard's official motto in Latin reads Semper Paratus, or "Always Ready".  The Coast Guard was founded in 1790.
We rode our bikes to town for the Farmer's Market but were interrupted by the parade, festivals, arts and crafts fairs, numerous varieties of food trucks – and the carnival!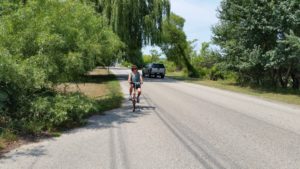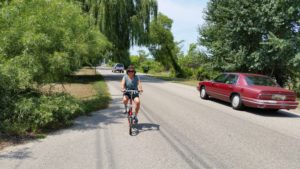 The parade…..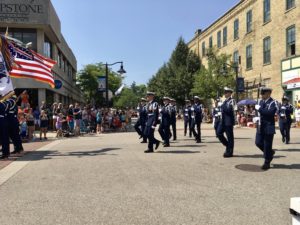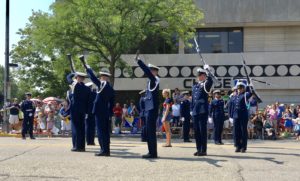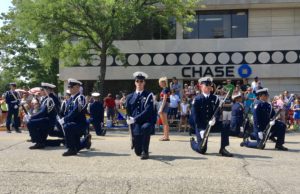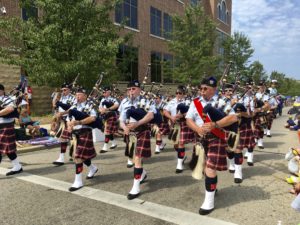 Dignitaries from Washington DC were here to be honored.  Below is one of the Commanding Officers and a Royal Canadian Mounted Police Sargent.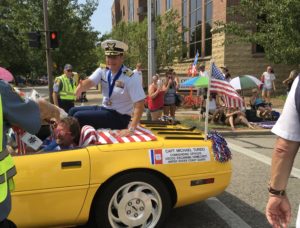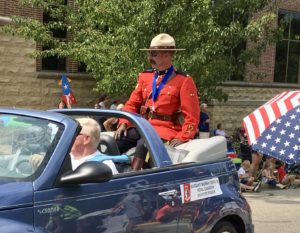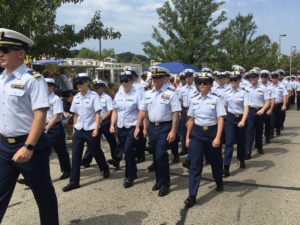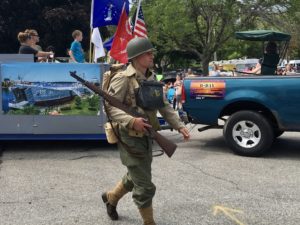 The parade ended with a vintage Chris Craft cruiser……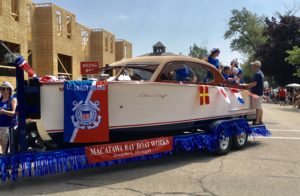 The festival……and food trucks…..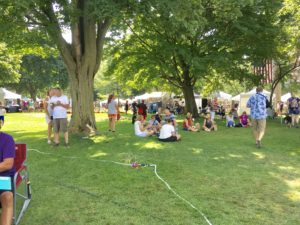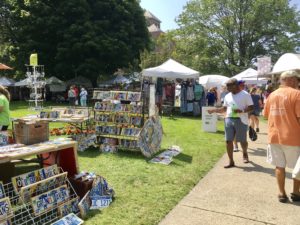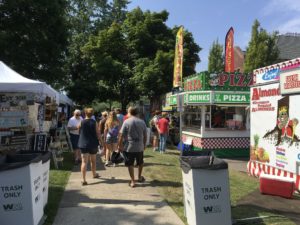 The carnival….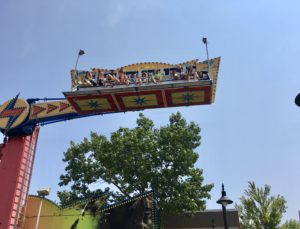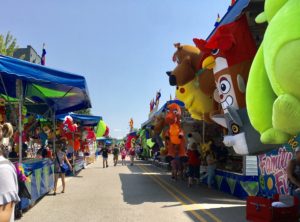 After all of the festivities we stopped at "Tip a Few" , a favorite hang-out (says Dan), for enchiladas and guacamole…..and a margarita!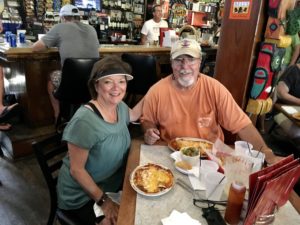 The bike back in the heat (and after that large Mexican food lunch) was exhausting!  Karen even took her first nap since leaving Nashville last year!
As the sun was setting, we took an evening dinghy ride to explore Grand Isle and the Grand River.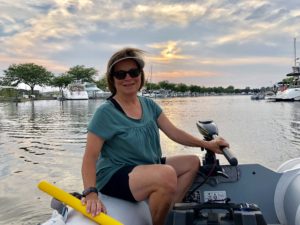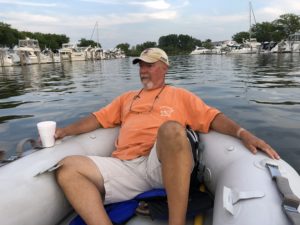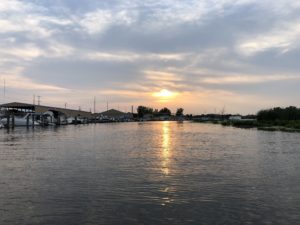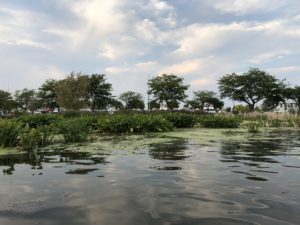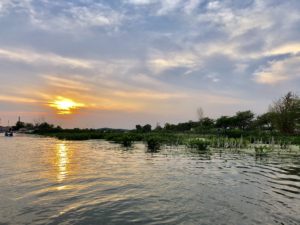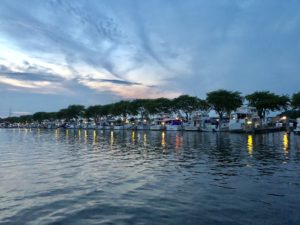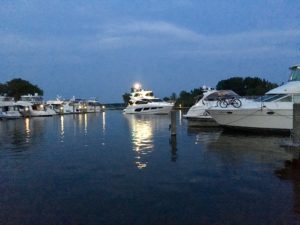 Saturday's celebrations ended with a magnificent fireworks display that we could enjoy from the cockpit of Kara Mia.
Our third day here brought 30+ mph sustained winds….so…..we decided no water travels today.  We took advantage of the down time and biked to Walgreen's, Home Depot, Dollar Tree and Staples to catch up on some needed supplies.
We had leftovers for dinner on the boat (jambalaya and scape garlic bread) and hopefully we will be able to travel tomorrow in between more predicted high winds.
This first picture is from our boat at sunrise, the second, same view at sunset.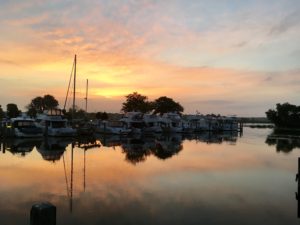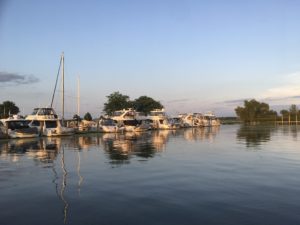 It was our fourth day here and we had planned on being at the fuel dock by 7:50 to be first in line for fuel and a pump-out – and to make it to the first bridge opening to get out of Grand Haven – but instead, we woke up to pouring rain and high winds.  Change of plans.  The festivals and celebrations are over and it would be an eerily quiet day where we had the entire dock to ourselves.  Just us, the bugs, the birds, and a few fish breaking the water.  We did a little maintenance work on Kara Mia while waiting on a weather window.
The weather cleared, but not in time for us to get under way, so it would be another day before our departure.
Our fifth and final day started out rainy but a quick hour later the winds calmed and we were ready to leave!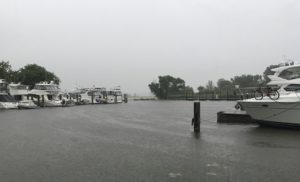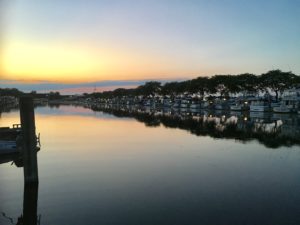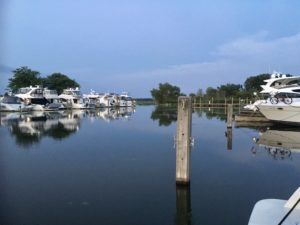 A beautiful white swan gliding over the water……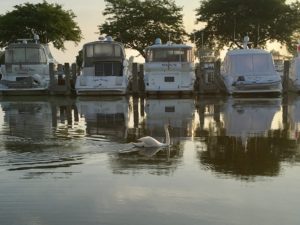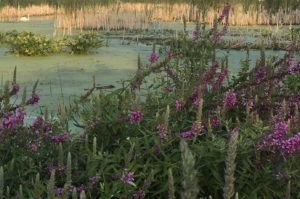 And finally we were on our way!  We got through the five foot bridge and to the entrance of the fairway where construction was blocking our escape (there are four concrete trucks on this barge) but once the Coast Guard boat arrived they let us both through and we were once again under way.  We saw where a pleasure boat ranks in priority.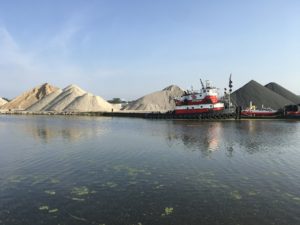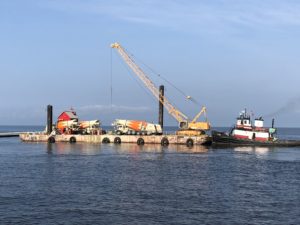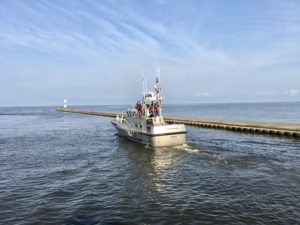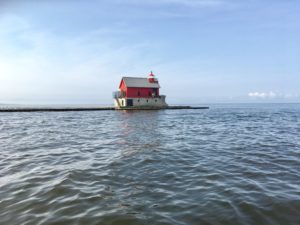 RANDOM STUFF:  A project to be explained later……