A typical day in Islamorada started with a vigorous four mile morning walk but soon diminished to relaxing by the pool and soaking up some of those Florida rays.  We enjoyed meeting Randy and Cheryl out by the pool.  Later, cousins from Brentwood, Nan and Lewis, arrived to spend a few days with Joe and Reba.  We enjoyed visiting by the pool along with a refreshing dip or two.  Most afternoons after Karen headed to the pool, Ron headed to tan.  This does not mean tanning under the Florida sun – "tan" for Ron means –  "Taking A Nap".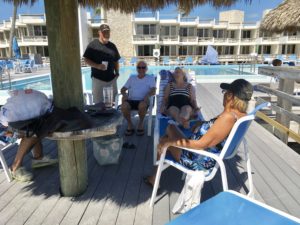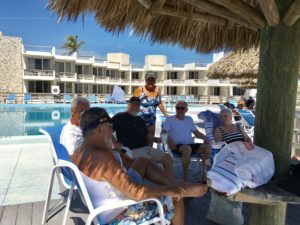 One of Karen's favorites was sitting in the lounge chairs on the beach – watching and listening to the waves rolling in and the songs of the various birds.  It was an especially peaceful time and place………….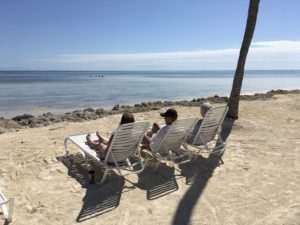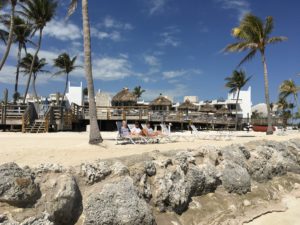 On one of our last evenings in Islamorada, we joined Joe and Reba and Lewis and Nan for a trip to Mile Marker #88, and the "Marker 88 Restaurant".  Marker 88 is located on one of the few natural beaches in the Florida Keys and of course serves fresh Florida seafood.  They offer waterfront dining at "glider tables".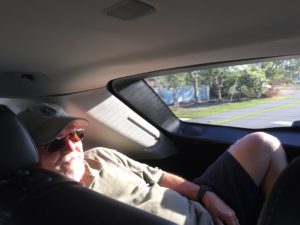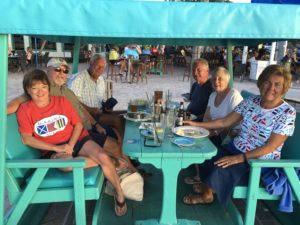 The sunset view from Marker 88 was priceless…..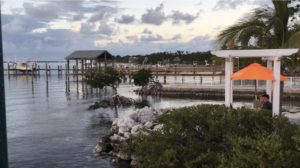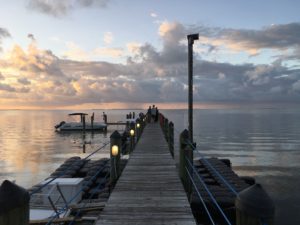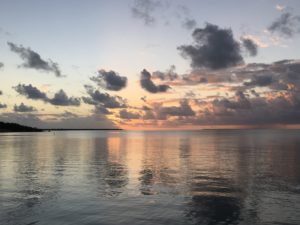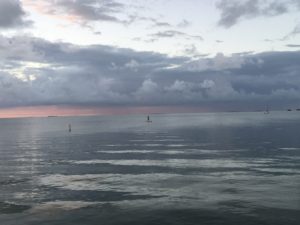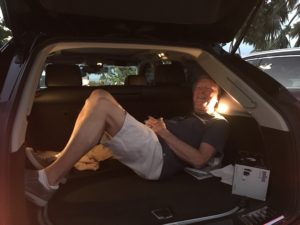 Okay, a bit about the guys in the back of Joe's SUV…..Reba suggested that since Karen was the smallest of the group that she sit in the back of the SUV, for the 15 mile ride to the restaurant.  Plenty of room for a short girl!  Only problem, Reba wasn't aware of Karen's bit of claustrophobia!  Stuff me in the back of an SUV with no escape for 15 miles?  I don't think so!  So our choices were – take two vehicles or call an Uber.  Thinking that was nonsense, Ron and Lewis took turns covering the ride for Karen, and they continue to remind her of her indebtedness!  Thanks guys!
As Ron had vowed to have pizza every day while in Islamorada, his last supper was non other than a family sized seafood pizza from Habanos' Ocean Front Restaurant – smothered in fresh lobster, shrimp and seafood!  Ron will leave Islamorada a happy camper!  …..or boater should I say………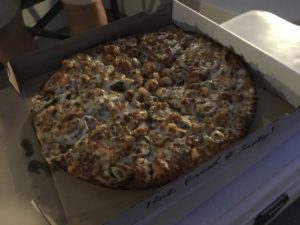 …………