The Monday morning ride to Fenelon Falls was pleasant and uneventful until the last two miles.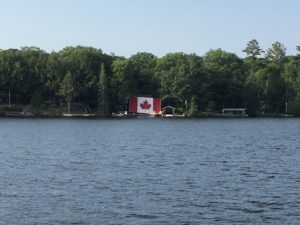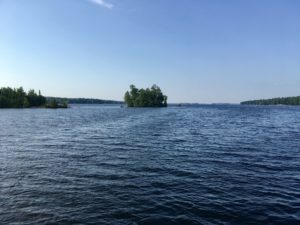 We continue to enjoy the cabins on the islands on the many lakes.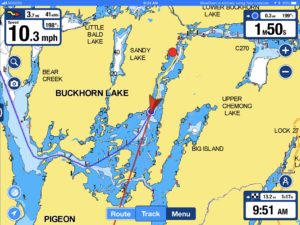 The last two miles through a gorgeous canyon was disrupted by a serious thunderstorm.  We could not see through our isinglass.  While keeping us dry, it fogged over and we could not see where we were going.  The area was congested and we barely missed other boats and kids swimming in the channel.  Debris was flying everywhere.  It was one of our most unpleasant moments thus far…..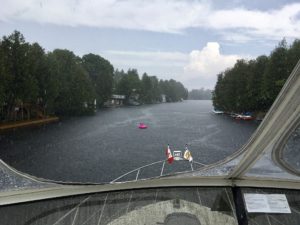 The rain abruptly subsided and we locked through – up into sunshine – and docked on the city wall.  Santa was ever popular with the kids here!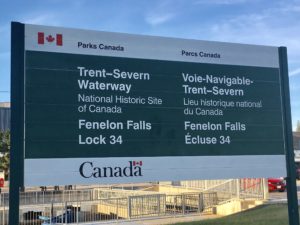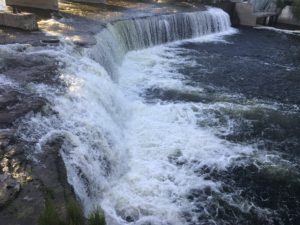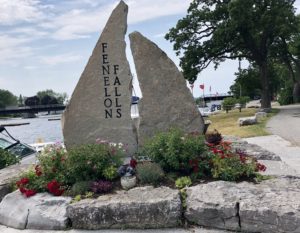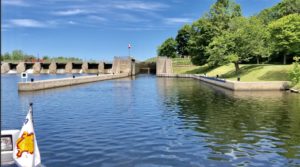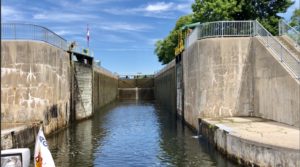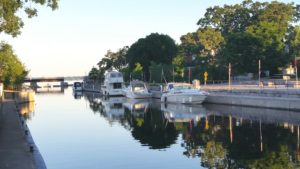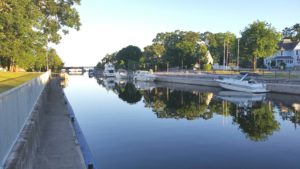 The lockmaster suggested "Texas Burger" (really?  in Canada?)  for a great casual meal.  We hiked the short distance back across the lock only to find Texas Burger and Murphy's both closed.  (It was Monday, this happens to us a lot).  The Perch, overlooking the waterfalls, was a good option – but they closed early!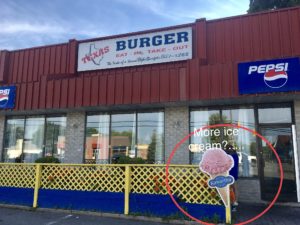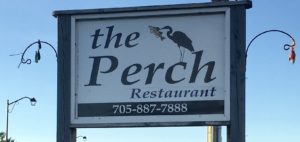 But they did allow us chicken wings, a pizza and a go-box.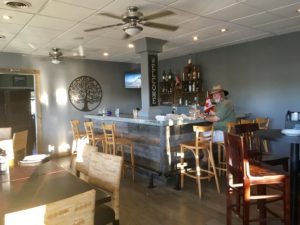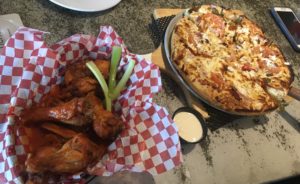 This lock tends to be congested and with little maneuvering room.  We were pre-warned about "Hiawatha" – a very large cruise boat!  Hiawatha departs the Fenelon Falls dock, makes a wide U-turn in the small area between the lock and the railroad bridge and does not wait for vessels to clear the area.  She turns in front of existing vessels – regardless of right of way!  Look out!  And Canada's version of the Coast Guard was busily re-positioning misplaced green and red buoys…….an ongoing issue in the waterways.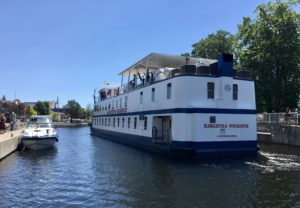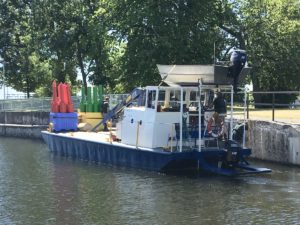 A tour of Fenelon Falls revealed these cute butterfly seats, fun in the water, kids at the water-park, the museum, and a nice stroll along the water….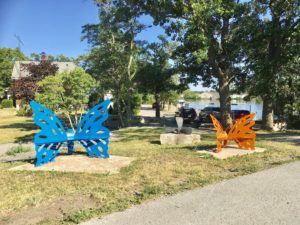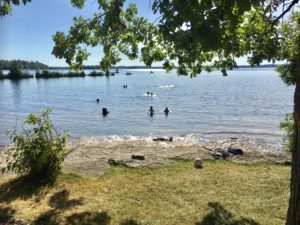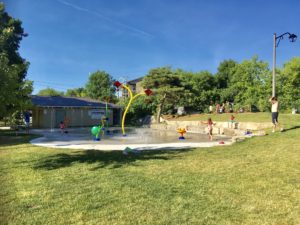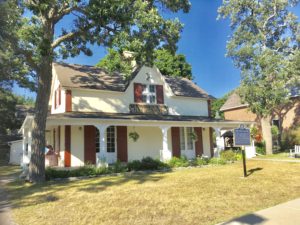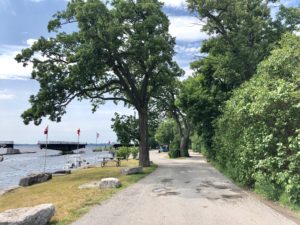 The  FRIENDLY FOLKS OF FENELON FALLS were a pleasant reminder of hospitality on the waterway.
Hernando from Hondurus (aka Bob) and Wenda and Adam and Nadine (aboard Star Chaser) offered us great direction on our trip along the waterway and the Georgian Bay.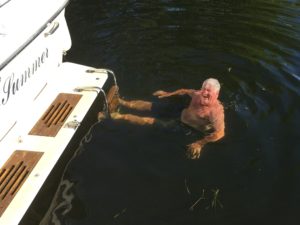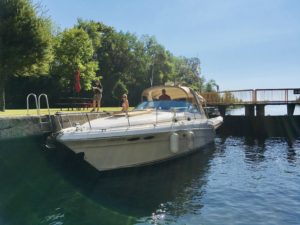 And Sandy at the yarn and crafts store sewed on Ron's AGLCA patch for free, and her knitting club helped. Great people here in Fenelon Falls.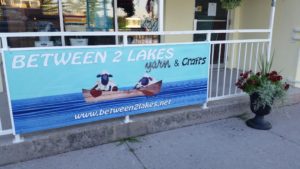 We've met Lee on "Breeze"  several times and we enjoyed meeting up with him again here in Fenelon Falls.  We had some great burgers at "On The Locks".  Lee is doing the Great Loop solo!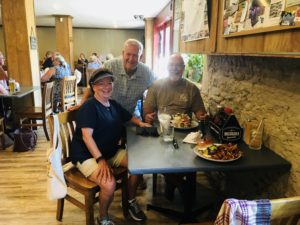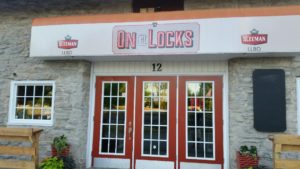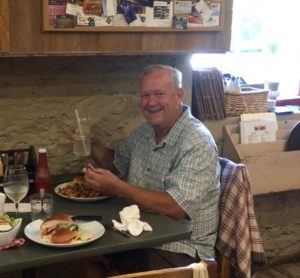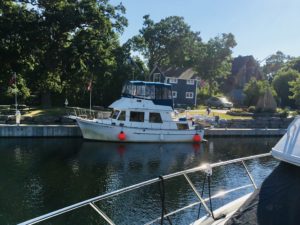 We left after daylight with clear waters and tons of rocks and boulders….the LARGE ORANGE DANGER signs were abundant and gave us cause to take precautions on our voyage…….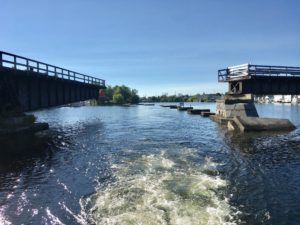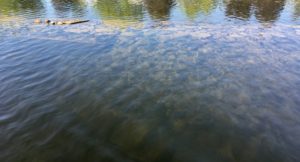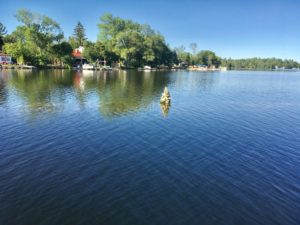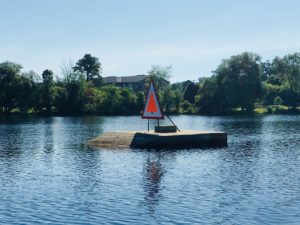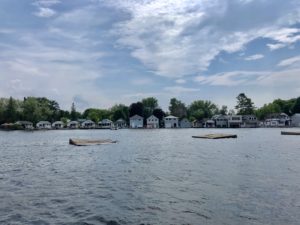 and the sun set over Fenelon Falls . . . .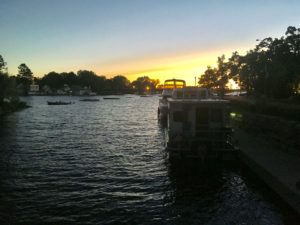 FOOD FOR THOUGHT:  "Your Mind is a Garden,  Your thoughts are the seeds, You can grow flowers, or you can grow weeds…….you decide!"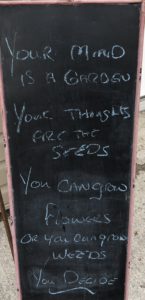 We enjoy finding words of wisdom along the waterways………