As we pulled out of Boca Grande, heading to Cabbage Key, Ron was really enjoying his AUTO PILOT feature.  Auto Pilot allows him to pilot hands free!  The boat follows a predetermined route – but we never leave the helm – gotta watch out for those crab pots!  Notice on the map, the yellow line "in" is our track (from where we came) and the blue line is our route to the next destination.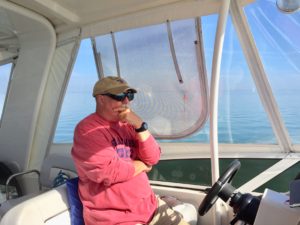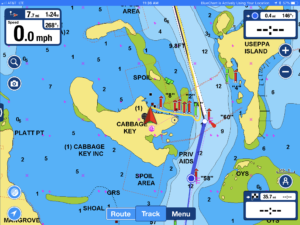 Welcome to Cabbage Key Inn & Restaurant!  Since the 1940's it has been a popular stop for boaters (no roads in or out).  Food, drinks and supplies have been delivered to Cabbage Key Island daily by boat for over 70 years.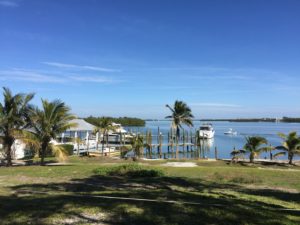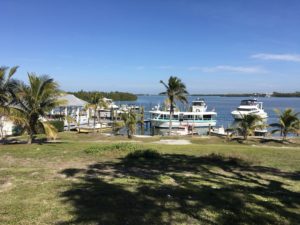 Tour boats arrive here hourly for a  Cheeseburger in Paradise!   Our little bird friend – the eternal optimist – was in hopes of a french fry or two……..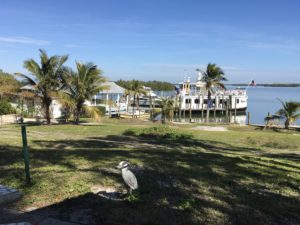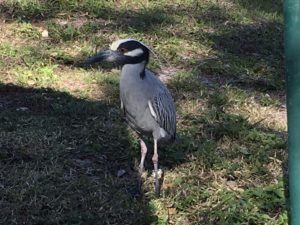 The reason Ron and Karen (Parrot Heads by heart) wanted to make a stop at Cabbage Key where Jimmy Buffett was inspired to write his famous song – Cheesburger in Paradise………was to have a CHEESEBURGER IN PARADISE!  And the stone crab claws weren't bad either!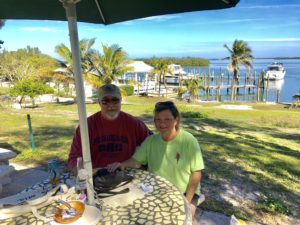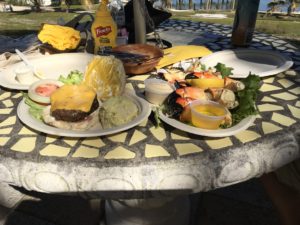 We promised our favorite waitress, Miss Katie B, that we would include her in our blog.  She was great!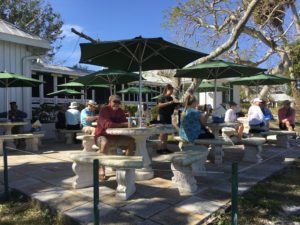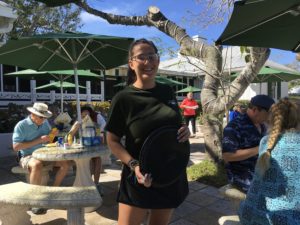 Within the restaurant is the famous DOLLAR BILL BAR.  Story goes – that to guarantee a cold beer on their return, tarpon fishermen started the tradition of posting signed dollar bills on the old house bar walls.  The accumulated currency has piled up over the years adding up to more than $50,000………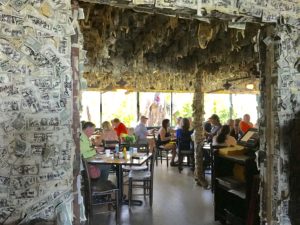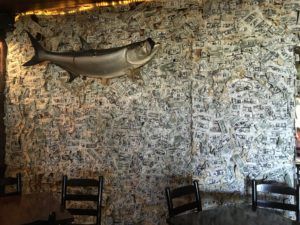 We pulled out of Cabbage Key after lunch and continued our journey on to Ft. Myers…..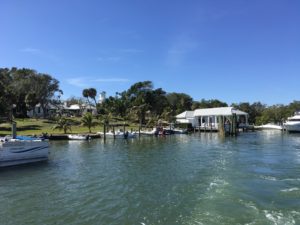 Upon entering the Caloosahatchee River, we encountered more recreational boating than we have seen since leaving Tennessee!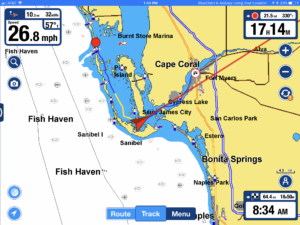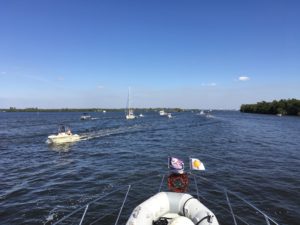 After a safe journey and getting tucked in behind the high rise condos  (which really did block us from the wind and waves) and secure at The Legacy Marina in Ft. Myers, once again we enjoyed another Florida sunset……