Pulling out of Beaver Island this morning was perfect!  Low winds and calm waters made for a great cruise across the Lake to the mainland.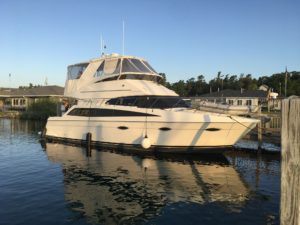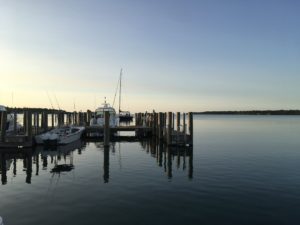 Having stopped in Charlevoix in 2016 (bringing Kara Mia home the first time) we were anticipating once again the beauty of this special Michigan port.  The harbor is among the most beautiful and protected in all the Great Lakes and is known as a playground for the rich and famous.  The entryway into Round Lake is lined with impressive homes and even more impressive landscaping.  Entering Round Lake, the water is as pretty as any in the Florida Keys.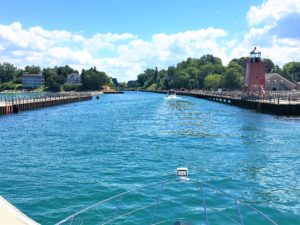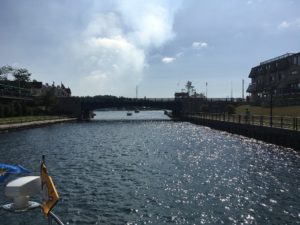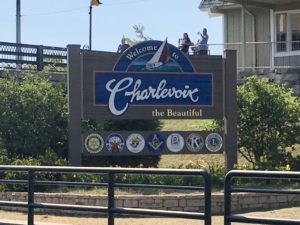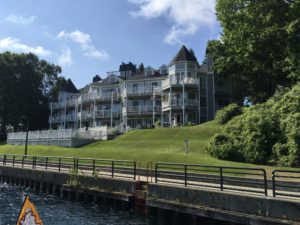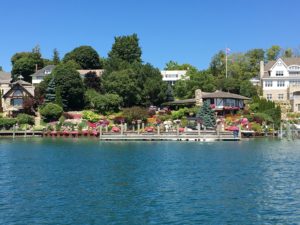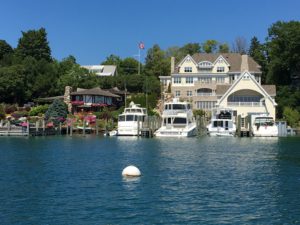 The gateway is an iconic double-leaf bascule bridge in downtown Charlevoix that was constructed in the late 1940's.  It will open on the hour and half hour for larger watercraft.  Boats of every size and price range were entering and leaving.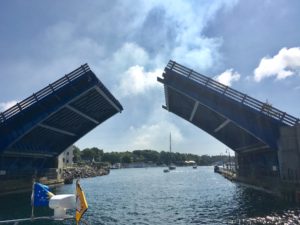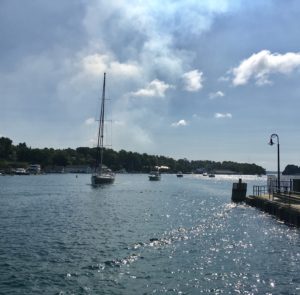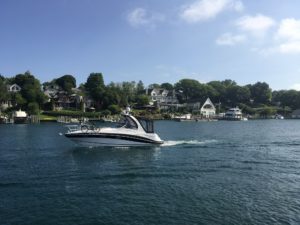 We passed through Round Lake and into Lake Charlevoix to arrive at Irish Boat Shop, our marina for the next few days.  The following morning we awoke to ominous clouds that dominated the day but produced little threat.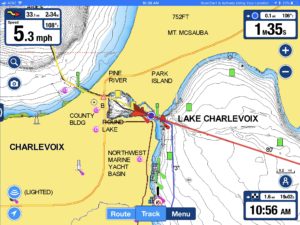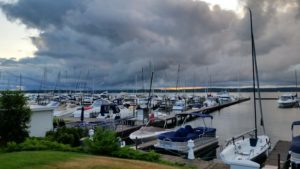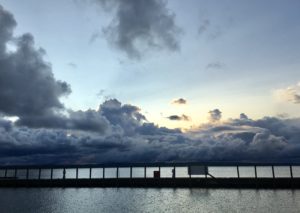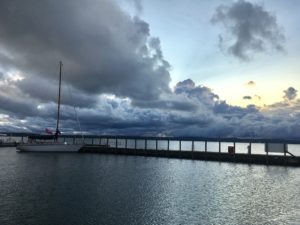 We toured the village, finding expansive homes, exotic cars and were pleasantly surprised by a Venetian festival going on in town.  We ran through the Farmer's Market, picking up some fresh greens, cherries and blueberries, and then walked through the fair and several boutiques.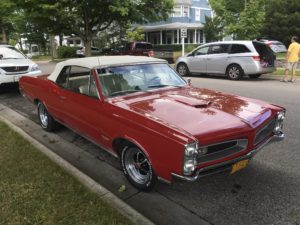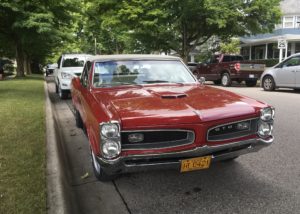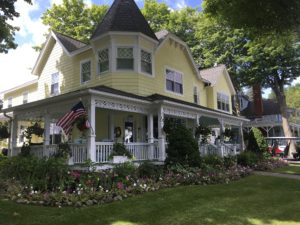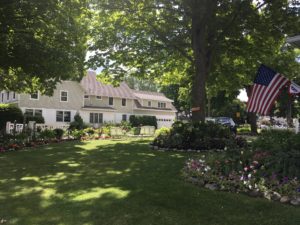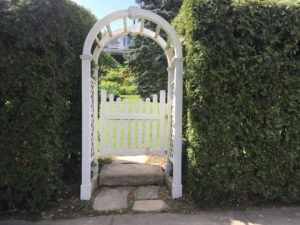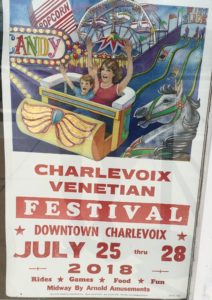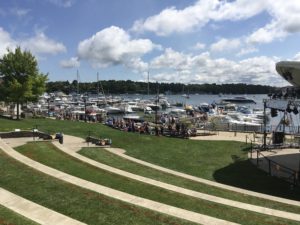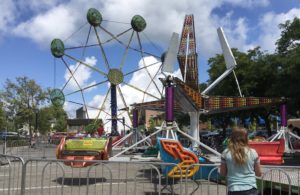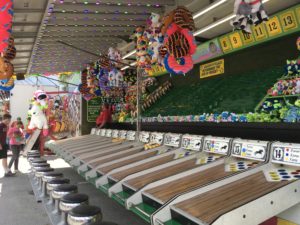 We stopped for brunch at a waterside restaurant near the bascule bridge.  Watching the drawbridge go up and down is a highlight for visitors and us!  We enjoyed boat and people watching as well.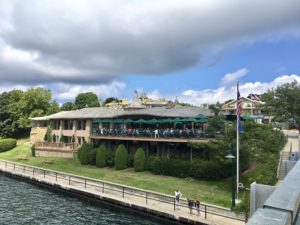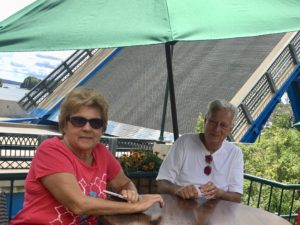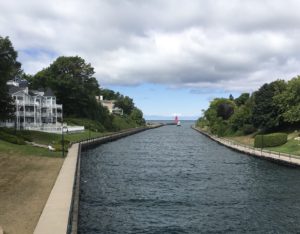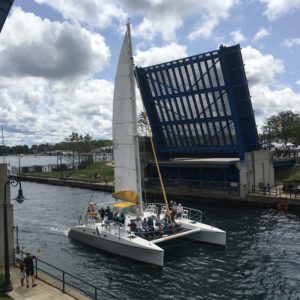 It was mermaids in Norfolk, sailboats in Orillia and in Charlevoix it's "Bike Art".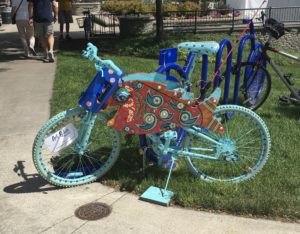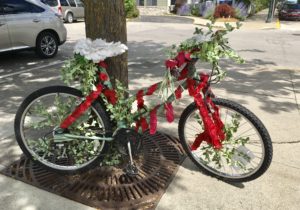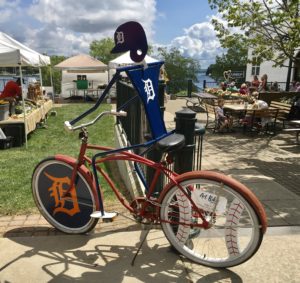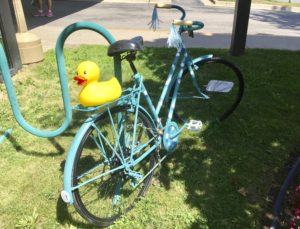 Taking an afternoon walk, we visited the unique "Fairy Houses" and the "Mushroom Houses", which resemble storybook fantasies of whimsical, irregular stone with wave-like roof-lines.  They were built in the early 1900's by local architect and realtor Earl Young and are considered works of art.  They vary in sizes from tiny to huge.  Young's homes are known world wide and can be seen in only one place:  Charlevoix!
The mushroom houses are located where, in the 1930's, Young dragged an 80,000 pound boulder out in front of Boulder Park.  Forty years later, he up-ended it where it sits today, proclaiming the beginning of Boulder Park.  You can access this area adjacent to the lake shore, with a breathtaking view of Lake Michigan.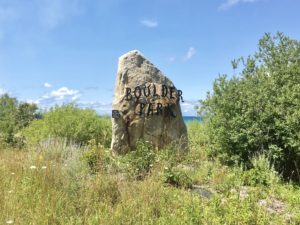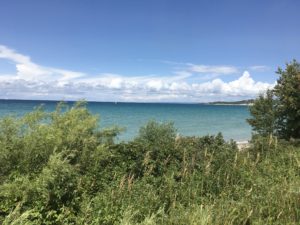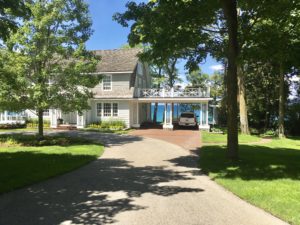 Unique, unusual, quirky, elf cottages, hobbit houses, fairy houses, gnome houses, fairy tale houses – are all terms that are used to describe the mushroom houses created by builder Earl Young.  In his early years, Young's houses were of arts and crafts style, a bit like Frank Lloyd Wight.  Later the shapes became more rounded with a blend of hobbit and fairy tales.  Like Wright, Young designed each home to blend into its surroundings.  This is what makes each so unique!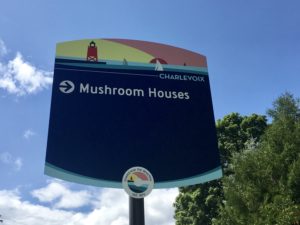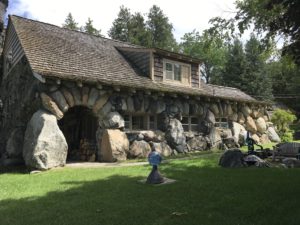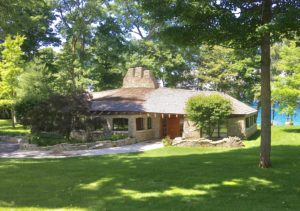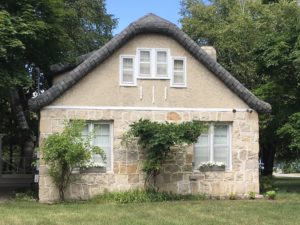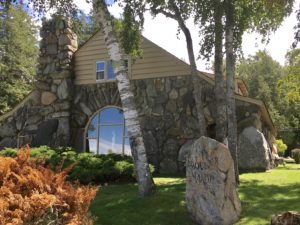 Karen and Reba took an afternoon dinghy cruise to the beach.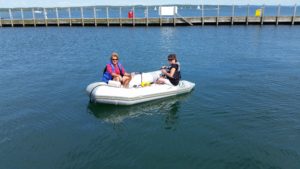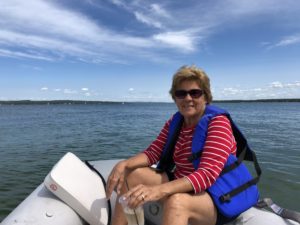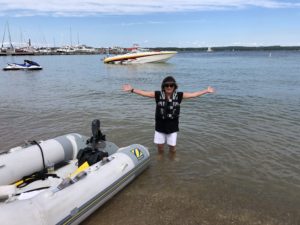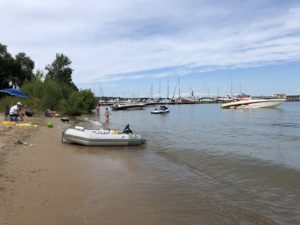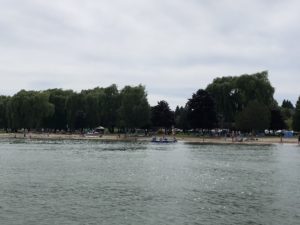 Next day we were joined by Bru and Sandy on "Coconuts" for dinner.  We were treated by a valet cart pickup from Gray Gables Restaurant.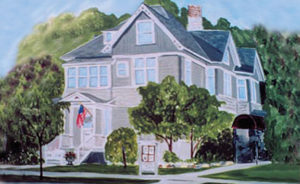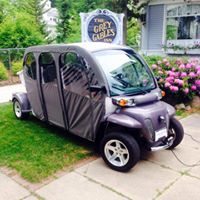 It was a chilly but fun ride from the marina to our well appointed table at Gray Gables – with a cool up-scale, yet comfortable, atmosphere.  Dinner was perfect!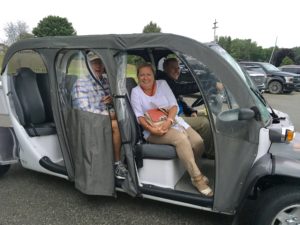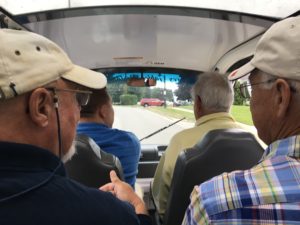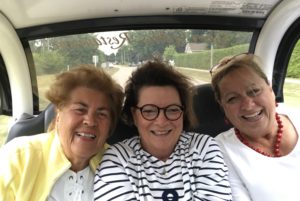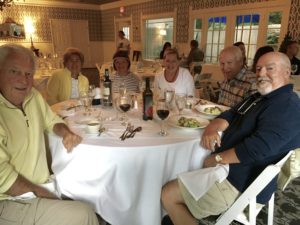 The Venetian Festival was capped off with a fireworks display.  Ron and Joe unfortunately didn't get to see it – they crashed early!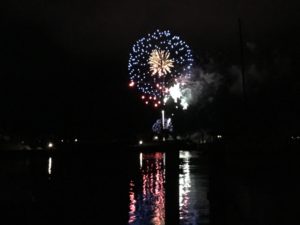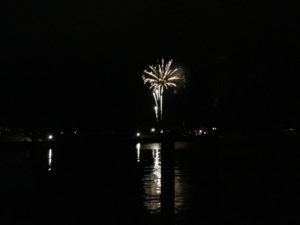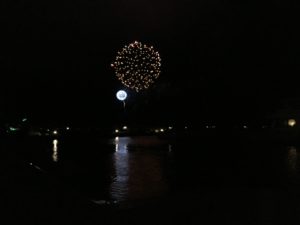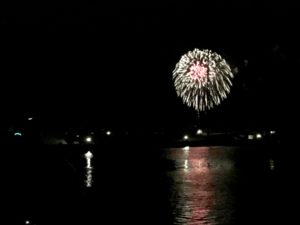 We pulled out of Charlevoix the next morning and it was "Off to Traverse City"!
RANDOM STUFF:
Yes, this man is actually sleeping in a lounge chair placed on his bike carrier.  I supposed the wife and kids left on the bikes?  And the cow is grazing in a flower garden at Boulder Park!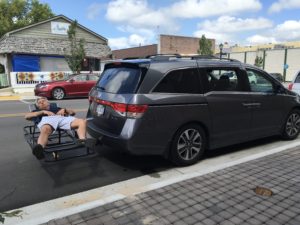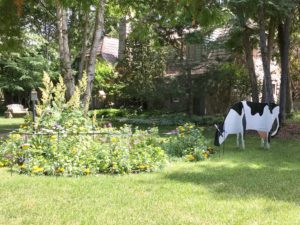 …..and….after our walking tour of Charlevoix, our Fit Bits registered over 15,000 steps today!  Yea!