Since Campbellford was a neat little town, we decided to stay for two nights and they gave us the third night free on the wall at Old Mill Park.  The dominant feature of the park is the large sculpture of "The Toonie" (the Canadian two dollar coin).  It was designed many years ago by a local artist.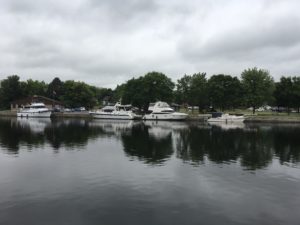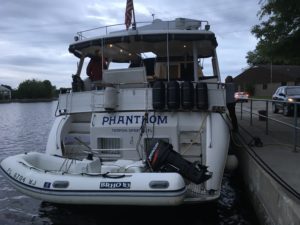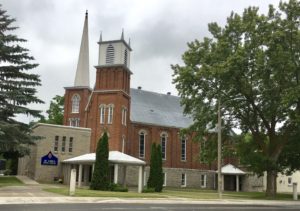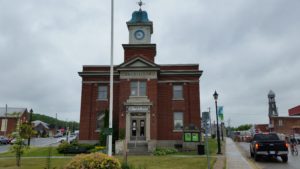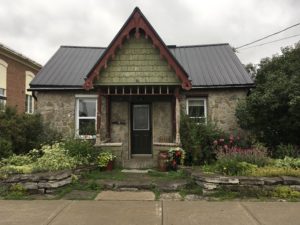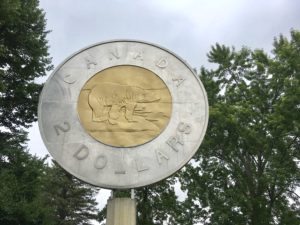 We started our second day at the local Senior Center, adjacent from the city dock wall, where once a month they prepare a wonderful ham and egg breakfast – for $4.00.  That is 4 Canadian dollars – which converts to $3.01 US dollars – not bad for ham, eggs, hash browns, toast, juice and coffee!  Herb and Don and Barb joined us.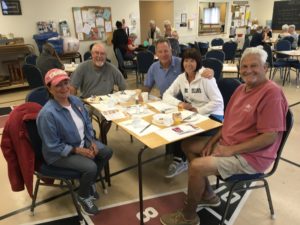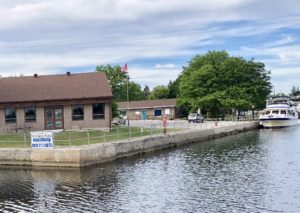 It was market day in town and we picked up some salad greens, onions, radishes – and the like…..for a healthy meal on the boat.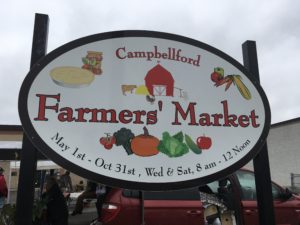 Campbellford is a tourist stop because of its "World's Finest Chocolate Factory",  the "Empire Cheese Factory" and "Dooher's Bakery" – home of the best donuts and butter tarts in the province.  All loopers are told they must get the famous BUTTER TARTS from Dooher's, and we did just that!  We also picked up some turkey pies and focaccia bread to accompany our salad ingredients picked up at the Farmer's Market.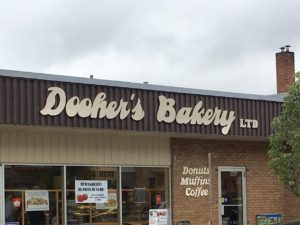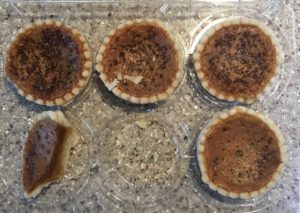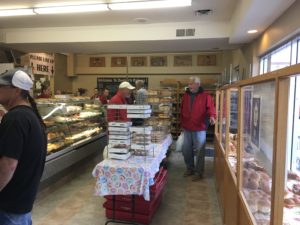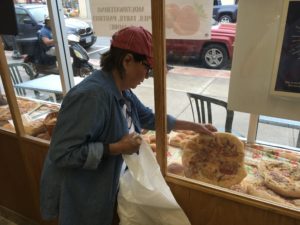 As in the prior day, we started our morning at the Senior Citizens Center.  Today was the annual crafts fair.  We like to support the local communities. Ron helped Herb hang his American flag and later we all walked to the local theater for popcorn and a movie.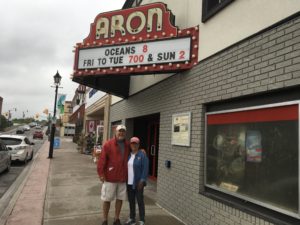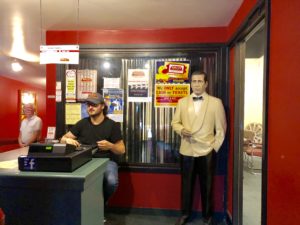 We had a docktail with Herb and Don and Barb on our boat before walking to Capers Tap House for dinner.  We met Don and Barb while going through the locks the prior day.  They have a beautiful 50ft. DeFever Yacht named "Cavara".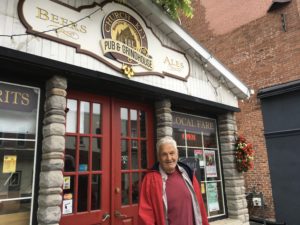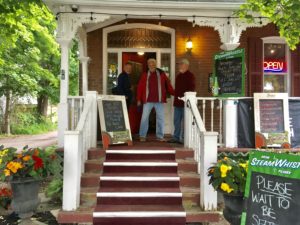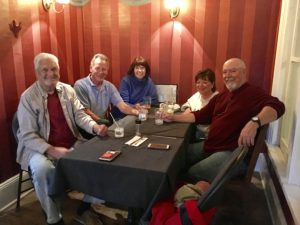 Walked for ice cream after dinner…..visited at the park's picnic tables where Herb taught us how to make a time-lapsed video of our ice cream social.  Ice Cream is big and everywhere in Canada.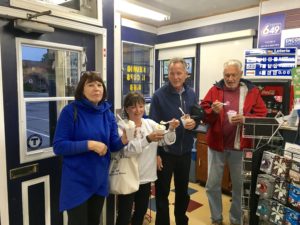 Random Stuff:  Gives a whole new meaning to "Hang Ten".  This little Christmas flamingo was a gift from our good friend Jane and, like Santa, he has been with us since before Christmas.  He normally rides in the salon window – starboard side – and has made it fine for seven months now.  It was humorous when we found him hanging upside down from his toes in the window after today's trip.