It's not Sunday morning, but always a nice reminder seen ashore as we headed out…..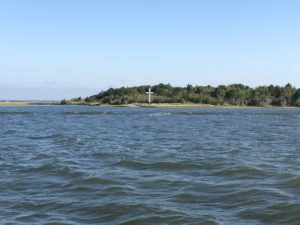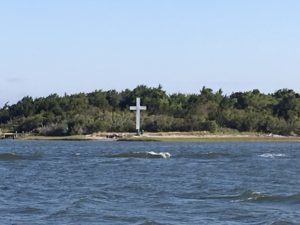 We followed Sea Change out of the channel and passed several other looper boats as we crossed through the Pamlico Sound before arriving at Belhaven Marina.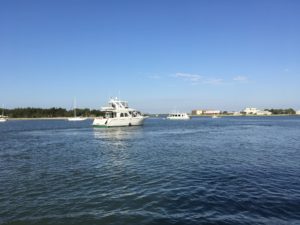 It was 73 miles to Belhaven but as you can see in the pic (upper left corner), we made good time….we're okay traveling at 10 mph, and that is frequently required when encountering no wake zones, small fishing boats and communities, bridges, etc.,  but when we can open it up and make good time we like that too!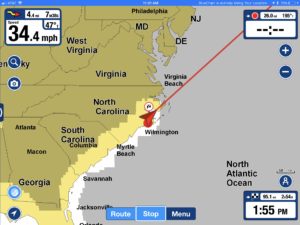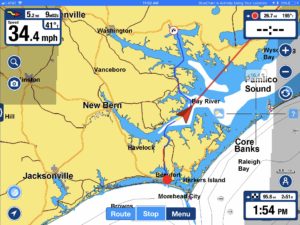 While underway today our radio hailed us on 16…."Kara Mia, up one" – that meant going to channel 17 and getting off the channel used for calling US Coast Guard, other stations or vessels, or for distress alerting.  (Channel 13 is used to contact a ship when there is danger of collision.  All ships of length 20m or greater are required to guard VHF channel 13, in addition to VHF channel 16, when operating within U.S. territorial waters…..I digress…..)  So we go up one channel to 17, "Kara Mia on 17" we report, then we hear a voice, "Ron, is that you?"  Off to our starboard was Captain Rick and XO Susan, aboard Ginger Lee!  We have not seen them since early January at C-Quarters in Carrabelle, Florida.  It always stirs up some excitement to see fellow loopers again, even if only underway.  Hopefully we will re-connect on land one day.
Those of us ending at Belhaven lined up our looper boats on the marina wall and prepared for the notorious docktail hour.  We met at the little gazebo with Dan (Intuition), Dan and Tammy (Sea Change), Craig and Elizabeth (Contentment), and Rick and Deedy (Rejoice).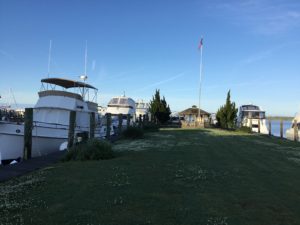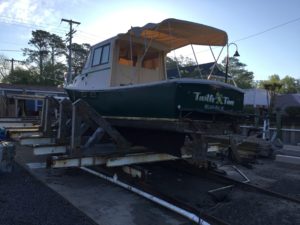 Karen caught her first fish so far on the loop…..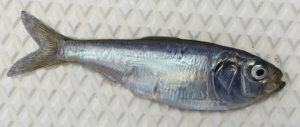 which is actually much smaller when put into perspective…..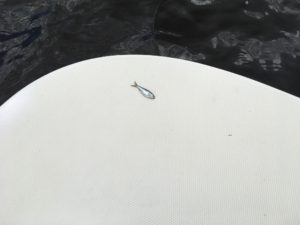 …not sure how or why it ended up on our swim platform!
It was just a short walk to Spoon River Artworks – a really, really nice (upscale) restaurant in a little bitty North Carolina town – where the hardware store also sells wine and cheese!  I had the best oysters so far on the trip, even beating out the ones at St. Pete – and picture worthy as well!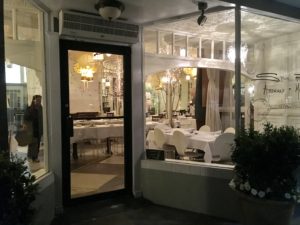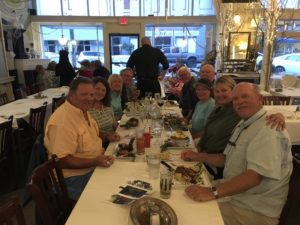 We ended our meal with a champagne toast – compliments of the owner!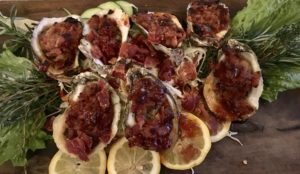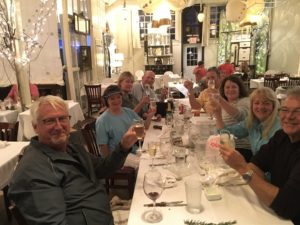 You can see the diverse assortment of items at the local hardware by the signs above each aisle – Aisle 1 notes "wine, cheese and giftware", Aisle 2 notes "power tools, tool belts and screwdrivers".  Too bad they had already closed as this would have been an interesting visit!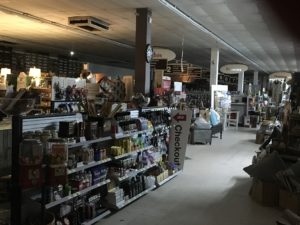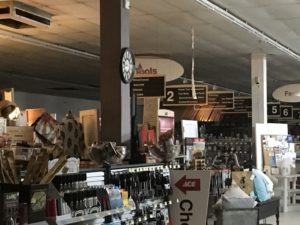 Belhaven Marina was a neat little stop – nice showers with free fluffy towels and free laundry!  What more could a looper want?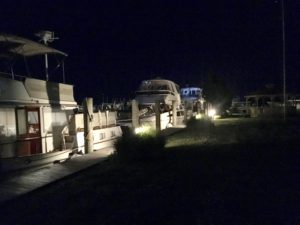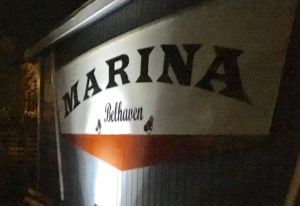 ….tomorrow – Alligator River