The waters today were calm and as clear as glass and the weather was perfect!  This was an unusual phenomenon for us on Lake Michigan so we thoroughly enjoyed our two hour boat ride back to The Irish Boat Shop in Charlevoix.  Since we had scheduled a few minor repair items to be done there, it was back through the blue waters of the Charlevoix channel, back through the crystal clear waters of Round Lake, back by the gorgeous homes and landscaping that dotted the shoreline, and back into Charlevoix Lake.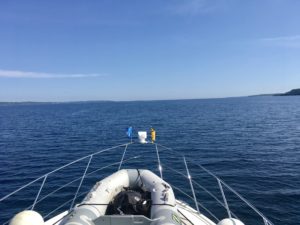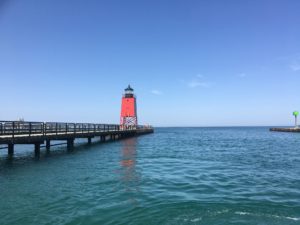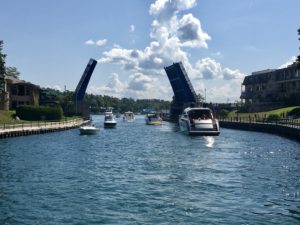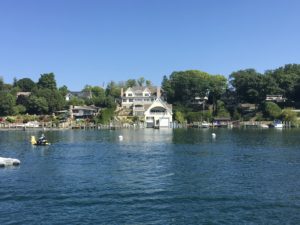 We learned that the colorful units along the Lake Charlevoix shore and beach are actually storage/dressing units assigned to individual members of the country club.  Charlevoix is a rather upscale community and the residents don't have to carry their stuff to the beach, but rather use these personal beach units for storing their chairs and umbrellas.  They also have private floating garages to protect their boats.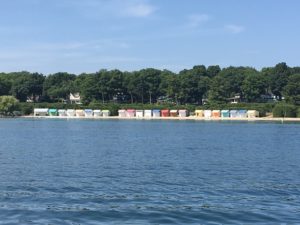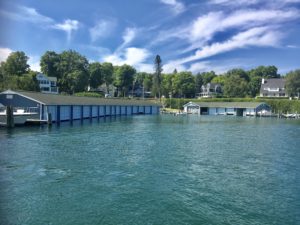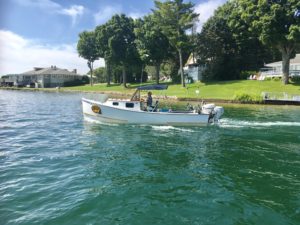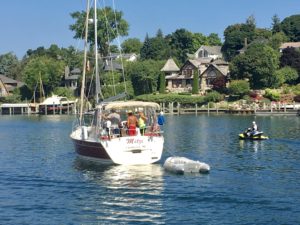 We docked (for free – yea) on the maintenance wall at Irish Boat Shop.  Although it was all steel and concrete on the shop side, we had a nice water-front view on the other.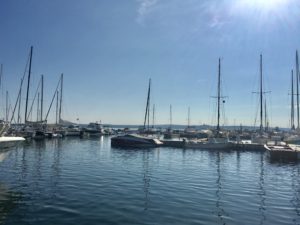 RANDOM STUFF:
Covert operations in Lake Michigan- who knew?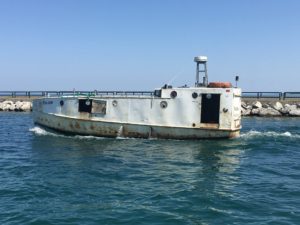 Repairs are scheduled for early in the morning – then we will boogie to Frankfort, 75 miles down the lake…..