Having seen a dog swimming across the ICW yesterday, it caught our attention when we saw a big furry head moving across in front of us today….we were so excited when we realized it was a huge black bear – our first bear sighting of the trip!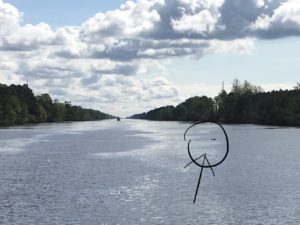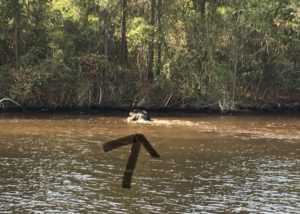 As we traveled up the Alligator River, the water changed to a rusty "tea" color.  It is preserved by tannic acids from the bark of the juniper, gum and cypress trees, which prohibits the growth of bacteria.  It was believed that the tea colored waters had magical qualities which, consumed on a regular basis, would prevent illness and promote long life.  We did not try any!  The tannic acid is also responsible for the brown "mustache" on the fronts of our boats!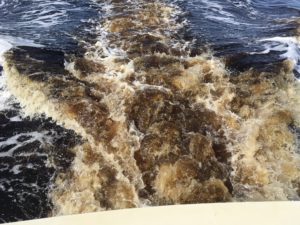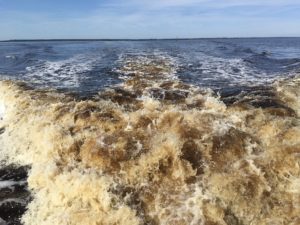 We had smooth sailing most of the day, but as we passed "Willow" and "Contentment", the storms were beginning to roll in…..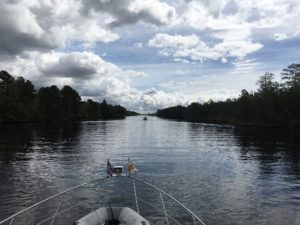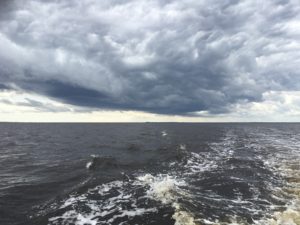 As we were steadily moving up the river, minding our own business, three stealth-looking military boats flew close by us before we even knew they were on our stern.  They were there and out of sight in a matter of seconds.  Good thing I had my camera in hand, but it did scare the living daylights out of us!  Further research leads us to believe they may have been the Navy Seal's newest toys, or possibly the Navy's long overdue smart and deadly Mark VI patrol boats.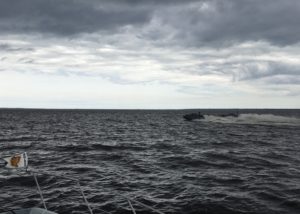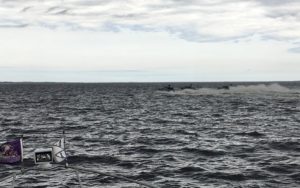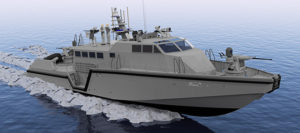 We arrived safely at Alligator Marina and once again lined our looper boats along the marina's wall.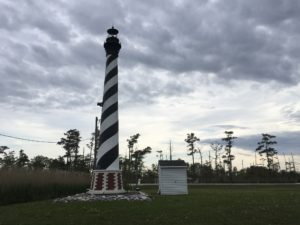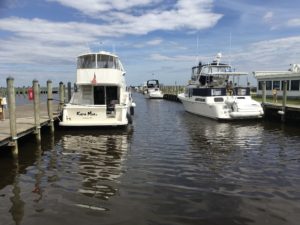 The skies cleared and we joined everyone on the dock.  This was a large group of Loopers except for the sailboat Willow.  They are not looping but we have crossed paths many times on the water.  Today we finally had the pleasure of meeting Chuck and Marla aboard Willow.  Marla always hails Santa on the radio and loves it when Santa waves to her as we pass.  We also tease Marla about her pleasant "Good Morning K-Mart Shoppers" voice over the VHF radio.  Along with several of "the regulars" (loopers), Anne (a travel nurse solo looping aboard Nautical Gypsy) also joined us.  We would all be at the next several stops together as we work our way up the east coast.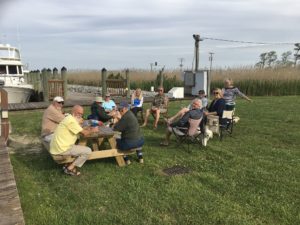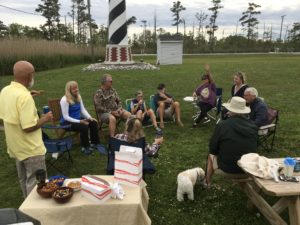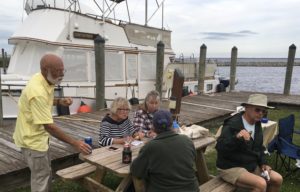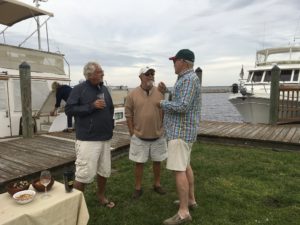 Rick and Deedy shared a toast from the gift of wine they received from The Spoon River Artworks Restaurant last night.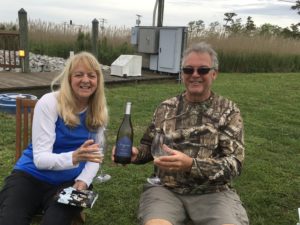 There are no restaurants near but the marina has a little grill in the back where we ordered our dinner to go.  Karen had a BLT and fried okra, Ron had chicken strips.  Our fridge tends to get overloaded with "go boxes"!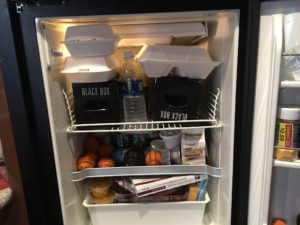 Ron walked to the "boat house" which houses showers, laundry, restrooms and a lounge……where he could watch the NFL draft on TV – they have ESPN and Ron was very happy indeed!  The Titans drafted a badly needed linebacker!
It was another good day at sea…………………